Good Morning.. A noisy hour or so through the Powell press conference with markets desperately seeking guidance but in the end it was a sell-off in equities and a rise in the USD. The Nikkei closed down 2.3% and S&P futures are down 40 odd points as I type. I have had some concerns about the equity rally and part of the reason for adding EURAUD yesterday, was to take into account that if stocks do fall, the AUD should fall further and faster than the EUR and it removes the USD aspect. It will be interesting to see if the rotation going on in US stocks continues as to get a proper fall, the NASDAQ will have to join in. EURGBP remains in its .8865-.9045 range but that Brexit clock is ticking. But the techs in many currencies against the USD remain positive and it will be interesting to see if the USD ever decouples from its inverted correlation with risk. If not, I still feel the EUR may slide slower than most for now. US Jobless claims later are due to show another 1.5mln seeking benefits and Powell is right; many will not be getting their jobs back for a while. On this he was quite dovish and concerned; rightly so but he failed to suggest any thought of "irrational exuberance".
Keep the Faith..
Details 11/06/20
Some on-going commitment from Powell but not a lot more than expected.
–
As Powell spoke it seemed the markets were struggling to decipher exactly what the message was. We saw the USD fall and stocks rise only to see stocks dip into the close and fall thereafter which then took the USD back up having seen EUR break above 1.1400 briefly and solid rallies in AUD and Cable. But as the dust has settled, we have seen stocks extend losses and the USD remain better bid overnight but apart from a commitment to keep the foot on the gas until unemployment sorts itself out, we got little we didn't already know from Powell. The crumbs we did get was that it appears the Fed will not taper MBS bond purchases and is why yields have dropped overnight but one would have thought that comment would have seen stocks rally. Also him saying "Will Never Hold Back Support For The Economy Even If Asset Prices Are Too High" would also have suggested stocks may continue to rise but no. It was made clear that they were actively discussing the pros and cons of YCC and it may yet be on its way; but we knew that. Again though, through the US session we saw a rotation away from S&P and Dow into Techs; the Russell is having a torrid time.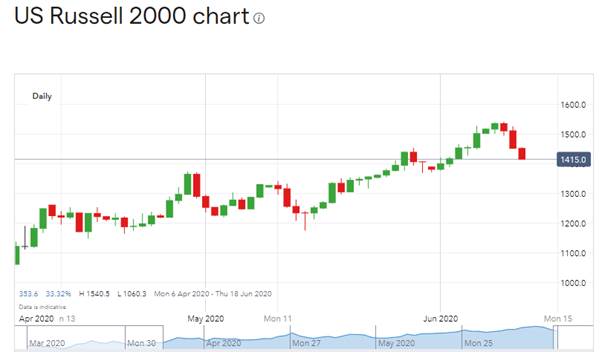 Overnight the Nikkei was down 2.3% with HK and China down over 1%. Stocks also reacted negatively to US virus cases topping 2milion!
"We're not even thinking about thinking about raising rates," Powell said but again, we know this and markets are not pricing hikes well past 2 years anyway. Reiterating his "whatever it takes" meme, he said that "We are strongly committed to using our tools to do whatever we can for as long as it takes". Again I would have thought stocks would like that commitment but again, we know all that. But I guess the markets wanted more but the sell-off in yields in the long end is suggesting risk aversion and gold traded up to $1740 last night. Having hit 1.74% last week the 30yr yield this morning as I type is back down at 1.49% and 10s at 0.72%.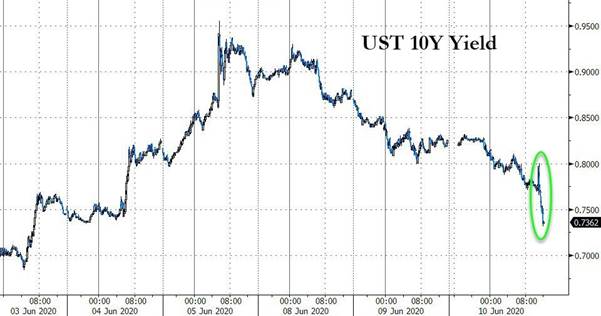 Quite a move in a week. It seems that the USD is still negatively correlating with risk and is part of why I added EURAUD yesterday to the portfolio to take into account that if stocks do fall, the AUD should fall further and faster than the EUR and it removes the USD aspect. All my recommendations remain the same. (See Macro Strategy at foot of page).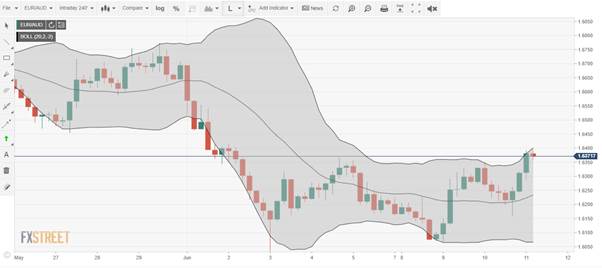 This is a 4hour chart (above) of EURAUD which to my way of thinking is starting to suggest further gains but it has to be said that confirmation is not there yet on the daily. Meanwhile, the EUR is making higher highs but EURGBP is still stuck in that .8865-.9045 range.
Officials forecast the U.S. unemployment rate would fall to 9.3% in the final three months of the year from 13.3% in May, according to median estimates, and to decline to 6.5% in 2021. No V shape there then. U.S. GDP was projected to contract by 6.5% this year before rebounding 5% next year. Inflation was forecast to remain below the Fed's 2% target through 2022. My take from all this was that apart from the economic forecasts, which to be honest are something of a guess in this unprecedented time in which we find ourselves, is that he stuck to the script from last time. It will be interesting to see if this dip in stocks attracts yet again but I am not sure S&P can collapse if the NASDAQ keeps going up. The rotation theme may extend but I think we need to see the NASDAQ join in for a proper sell-off and to be honest that is a possibility. Powell clearly felt the need to be dovish but pushed back on any question on "irrational exuberance" which I find very disappointing and rather irresponsible for a central banker who clearly knows what the Fed is doing here with inflating a dangerous bubble. "We're not looking to achieve a particular level of any asset prices, what we want is investors to be pricing in risk like markets are supposed to do," he said. I hate to tell you this Jay but that ain't the case as there is zero risk priced anywhere and if I know that, then I am sure you do.
He did talk some sense on unemployment and the recovery and I think markets took note of this and sold off. "The question that I've been concerned about, really, is this issue of longer-run damage to the economy; we're doing a fair job of getting through these first few months, more than a fair job," Mr Powell said. "The question though is, that group of people who won't be able to go back to work quickly, what about them? And that could be many millions of people." Here, he is dead right; and this has been a major concern of mine from the outset of this huge ramp higher in unemployment and many benefits are scheduled to run out in July. This idea of a quick recovery will never happen if so many are still unemployed and fears over further job losses continue as firms slash costs. Maybe Powell has sparked a concern among investors with this regarding a quick recovery. We have weekly Jobless claims later which are due to show another 1.5mln seeking jobless benefits. The front running of markets in the absence of any economic or corporate growth will certainly hit a wall; it always does as markets are NOT the economy; they are supposed to be a reflection of it. We may be closer to that realisation now that they have heard how weak this economy is and will be for a while, from the Fed.
Meanwhile America burns, as demonstrations and violence are seen across the country. This needs watching and has long reaching political implications and may start to dominate headlines. In Seattle, mobs drove police out of the precinct! Local mayors are struggling to keep order and Trump is not helping calm all this down. There is a real danger that this does not go away and the US seems rather rotten at the core. This is due to a massive wealth divide as well as any discrimination feeling and to some extent the Fed is responsible for this as all money printed goes to the wealthy investors and banks. Is this a USD negative? It could become that but if stocks are to fall hard then the USD needs to decouple from its negative correlation with risk. There is a chance of that and has been seen at times before. We have seen a decent trend lower in the s/t for the USD but the next move may be quite noisy.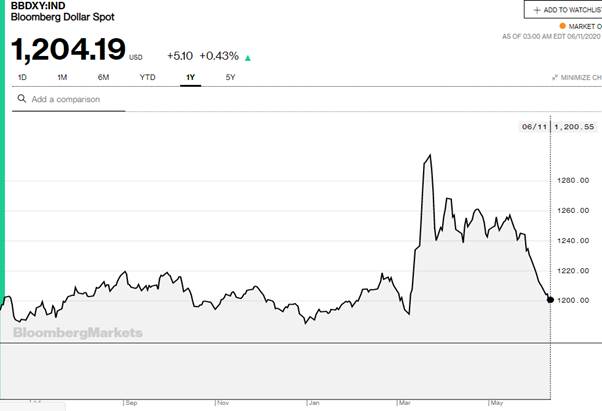 The US has taken great advantage of the dollar's role as the world's primary reserve currency and drawn heavily on surplus savings from abroad to square the circle. But not without a price. In order to attract foreign capital, the US has run a deficit in its current account (which is the broadest measure of trade because it includes investment) every year since 1982.
Is there a danger that things are getting stretched too far and there is a potential demand void for US debt? Even with a higher level of fear-driven personal savings recently, it is being outstripped by federal spending. In April, the budget deficit was a full 50% larger than the level of personal savings. There has been a lot of faith in the USD over the years but is there a danger that Trump is eroding this faith? He is starting to alienate America from its allies let alone its enemies and I think he could be putting the faith in the USD (reserve currency or not) under some threat. He needs to be careful how he handles the inequality issues at home but also US relationships abroad and none are going that well. At present we have seen a pike in domestic savings but that is unlikely to last and a quite a bit is being used to pay off some debt. But living standards for most in the US are falling rather fast. The 1% are doing great at what seems like the expense of the 99% and that, as seen throughout history, may be unsustainable and it seems to me things are bubbling up to something of a concern. At the same time we are seeing moves that are breaking down globalisation and that is turning many inwards, more protectionist, which threatens global peace. It may only take a spark in some far-off place to set the world on fire. But Trump is also facing a very real problem at home. Is the USD at the start of a major reversal lower here? It's early days but I do have my concerns.
Will debt ever matter; you bet it will one day. It took the US over two centuries to accumulate its first trillion dollars in Federal debt, a number which was surpassed for the first time in the fourth quarter of 1981. Fast forward to today, when according to the US Treasury, total US debt just surpassed $26 trillion!!! The staggering statistic here is that the US added the last trillion dollars in the shortest time on record, achieving this remarkable feat in just one month, since May 4, when total debt was just under $25 trillion.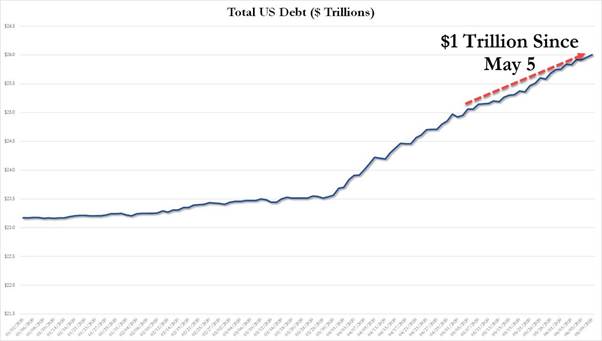 This suggests to me that the Fed keeping bond purchases at $4bln a day will not be enough and in light of the unprecedented helicopter paradrop of debt, it is surely clear the Fed's schedule, released yesterday of monetising "only" $80 billion in Treasury's each month, or about $1 trillion per year, will not be sufficient. The Fed may have to step up again to UST buying or endorse YCC. I think it will be the latter. But the Treasury still has to find a buyer for all this debt issued. Is this to become a USD issue? I am not sure yet but we may find out soon.
—————————————————————————————————————-
Strategy:
Macro:.
Long EURGBP @.8978 added @ .8940. Stop at .8825
Long EUR @ 1.1360.. Stop at 1.1200ish. Added at 1.1285.
Long EURAUD @ 1.6260 looking to add at 1.6100 or 1.6500.
Brought to you by Maurice Pomery, Strategic Alpha Limited.
—————————————————————————————————————-
Strategic Alpha Report Disclaimer
Doo Prime endeavor to ensure the reality, adequacy, reliability and accuracy of all the information provided, but do not guarantee its accuracy and reliability. All the information, analyses, comments, statements, and/or data provided in this report is for information purposes only. Client's use of any contents of the report as the basis for the transaction, the client shall fully aware of the risks and agreed to bear all the risks. Client shall cautiously judge the accuracy of the information. Doo Prime has no liability for any loss caused by any inaccuracy or omissions of the contents and subjective reasons of Client.
Risk Warning
This information is powered by Strategic Alpha. Any opinions, news, research, analyses, prices, other information, or links to third-party sites are provided as general market commentary and do not constitute investment advice.