Good Morning.. Crikey! Where to start? We all lived through the carnage of yesterday and so I won't dwell too long over it but the years of vol suppression were unwound in all markets. But the one thing that stood out to me was the fall in USTs as the Dow dived 10%. If we look at all the hedges that equity investors had used, they all collapsed. Gold and bonds followed stocks down meaning there is no hedge now. That leaves many naked long stocks and they had to sell. But the bond move has continued overnight, even with a rally in S&P futures and I am concerned that the bull run maybe over. If they can't rally in a 10% equity down day then they are going lower and that opens a whole new can of worms. The last thing we need now is rising global yields and a stronger USD which looks like it may be on the cards now. Many markets are rather untradeable but I would recommend a small short in EUR with a tight stop (see below) but some may wish to wait until after the weekend. Who knows what could happen. BTPs look just ugly and bunds and bonds are considerably lower this morning. Italy and Spain have banned short selling; who is next? USDJPY detached itself from risk moves again and latched onto the rise in USD yields. This may continue. Data today is rather irrelevant but one thing is clear; it's going to be very dangerous and it's a Friday so, "Be careful out there"…
Keep the Faith…
Data.. All Times GMT
12:30.. US Import Prices m/m Cons: -0.8% Prev: 0.0%
14:00.. US Univ. of Michigan Conf (Prelim) Cons: 95.0 Prev: 101.0
Speakers:..
None
Details 13/03/20
I don't quite know where to start after the moves yesterday: Bonds and equities collapsed and the plumbing is now leaking! Is the 11yr bond rally over? Small short in EUR.
The market moves yesterday were simply incredible with wild swings after the ECB meeting which eventually saw the EUR fall to 1.1050 but that was just the start of things. In the background, US stocks had opened limit down and fell further all through the day. Then the NY Fed stepped in and we saw a huge rally in stocks that didn't last and the USD was all over the place. We didn't even get the usual massive ramp into the close in stocks and it ended up a real stinker of a close with the Dow down an astonishing 10%. Cases of the virus, while allegedly slowing in China, show no signs of abating in Italy or the rest of the world. The USD was all over the place, Gold collapsed in a heap taking me out of the small long I had recommended and oil fell 6%. Anything that anyone had any profit in seemed to get dumped. Lagarde did what she could but by leaving rates unchanged seemed to suggest that was as far as they may go but she did suggest they could still cut but she made a huge mistake by suggesting that spreads were no concern of the ECB. BTPs are struggling to recover and opened lower again this morning. Considering the markets had fully priced 10bps, it seems clear the ECB is wary of doing more damage to the EU banks. But the banks did not get off lightly as CDSs spiked through the day. I am dipping a toe in the water and recommend selling EUR here at 1.1195 with a tight stop at 1.1250. I think we test the lows at 1.1050 again soon as the USD looks bid to me.
It was suggested that the BoE may do more and cut to 0.1% and the pound had a very bad spell indeed until the EUR took over. But the USD took a knock as well after the Fed announced it would pump trillions of dollars into the financial system in a dramatic response to signs of stress in short-term funding and US Treasury markets. This reversed the losses in EUR. This was always on the cards as the stress in that area has been building for months. At first it was seen as some form of QE but stocks could not hold the early gains. For the third time in four days, the Fed's New York arm announced on Thursday that it will increase the size of its lending in the repo market, where investors borrow cash in exchange for high-quality collateral like Treasuries — this time by multiples of the amounts previously on offer. The Fed will now offer up at least $500bn in three-month loans, beginning immediately, with another $500bn of three-month loans on Friday. It said it would also provide a $500bn one-month loan on Friday that settles on the same day. They must know something is really busted out there but will it work? Looking at the 9% drop in S&P last night, possibly not.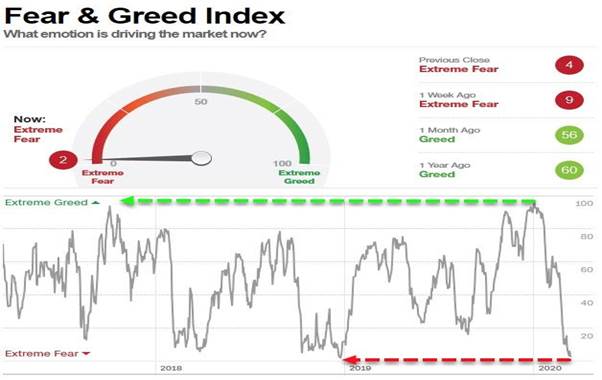 But it was an injection to help the funding area not stocks, I guess. The Dow had its biggest daily drop since 1987. If 500mln is not enough, I guess they just try 1bln; then 1.5bln.
What really worries me is that USTs are falling as risk is getting slammed.
This is not right at all and US 30s yesterday fell 3 big figures as the Dow fell 10%. This breakdown in the stock-bond correlation, with stocks underperforming 10-year yields, puts stress on all multi-asset portfolios, but Risk Parity funds in particular are likely struggling, having the worst 4 day period on record. For equity investors there is nothing left to hedge with. Gold has collapsed, Bonds are getting hammered Risk parity is puking and that leaves them naked long equities and they have to sell. With no hedges available they had little choice. VIX rocketed but the vol in bonds is extremely concerning.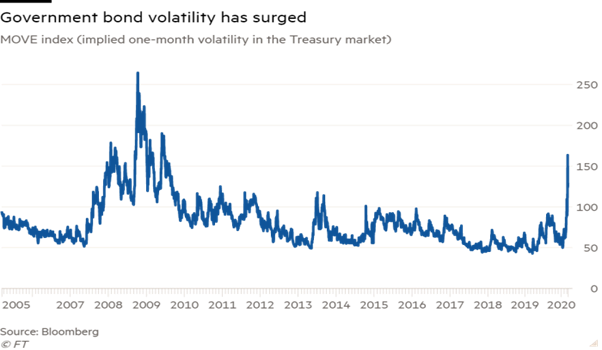 Powell is trying to prop the bond markets up but something is horribly wrong here and if vols stay up here there is more carnage on the way. The implications of this vol unwind come with a health warning. Relative value traders have been significant buyers of US Treasuries in recent years, helping to swallow the deluge of debt coming from the expanding government deficit but that bid may no longer be there and there is still a lot of issuance to come down the pipe; who will buy it? Are we looking at a scenario where the US cannot sell all its debt? Now that would be a story. The Fed would have to become the buyer of last resort! No wonder stocks dumped as we are looking at the plumbing springing a leak after all that creaking we could hear recently. The question is; can the plumber (the Fed) fix it?
The VIX term structure is now at levels associated with the Lehman's moment.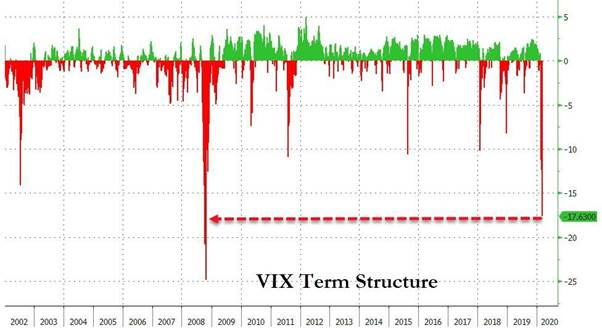 The VIX unwind has been both brutal and swift and it is the speed of all this that is so painful as many with ISA and other investments like pensions have not been able to get out in many cases. A lot of that is due to governments suggesting all this would pass until just a day or so ago. Now it's too late to hedge and what is there to hedge into? The credit space is starting to look like an accident about to happen.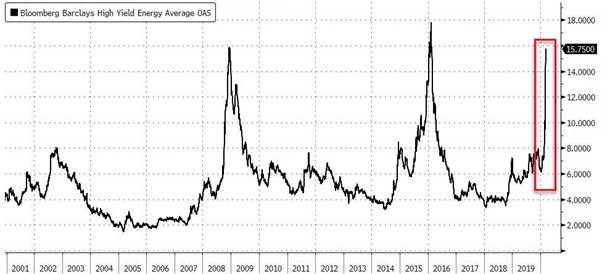 Yesterday was a real capitulation day but stocks may yet have more to go. For decades, economies have been run on massive debt and printing money and to be honest the US, Japan and many others have got away with it but this slowdown now facing us all is about to expose the fragility in the systems. The problem with the UK, US, Italy and just about every nation on the planet is that all this fiscal stimulus being promised is going to increase the already mountainous debt pile and someone is going to have to buy it. With so many now out with begging bowls, I do wonder if there is the demand for all the issuance. If I am right, then we have a massive game changer. If bonds have topped out then I am not sure that the Fed can stop yields rising and that causes all sorts of issues. The reason why USDJPY rallied while stocks catered was due to the ramp in US yields. That is a concern; have bonds topped out? Is the USD about to blast higher?
I note with some concern, as the stress in the repo market is seen and bonds top out, that the sovereign credit risk of USA has risen significantly in the last few days.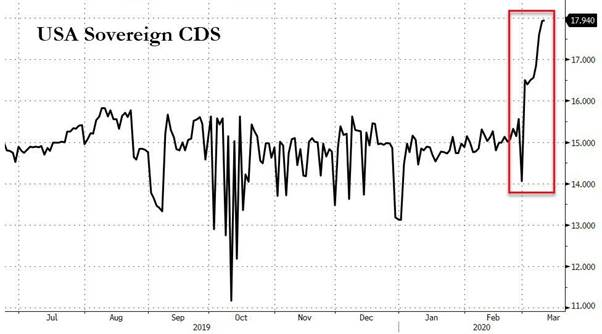 Are we about to face a debt issue from the United States? The Fed has a busy few weeks on its hands. Meanwhile the trade currencies like AUD, CAD and SGD have all been slammed as the USD takes off and commodities dump. Spanish and Italian regulators are banning short selling for a while and there is talk of some G7 or G10 statement over the weekend but I cannot confirm that. The market is increasingly pricing in a seizing of the real economy but the financial economy is in deep stress too. Compounding these problems is growing financial stresses as cash becomes dear, which threatens to create a negative feedback loop between markets and the economy. Poor liquidity, a breakdown in correlations, physical exchanges closing (CME for now), and many working from home compound the problem. While a 2008 style financial system meltdown may not be in the cards, the market is increasingly demanding greater liquidity backstops and greater fiscal action. I can only see the USD demand pick up and take the USD higher, although the commodity/trade currencies have already been hit. But more fiscal policies bring more issuance and someone has got to buy it. Central banks will be forced to monetize debt. The high volatility will finally see some contraction in leverage but it will be painful but hopefully a lesson learnt but central banks got us here; will we ever trust them again?
Markets are close to untradeable at present and the Aussie stock market saw one of the biggest swings seen ever as it fell 8% and finished up 4%. I am pretty sure we shall hear that G7 have been talking over the weekend so running any spec position over this weekend is high octane stuff. It's bad enough having a position when the markets are open as I am not 100% sure they are all functioning properly; something could break. The central banks or governments have to come up with something that takes vols down and panic away. But for me, as bad as the stock market rout has been, it is still the functioning of the funding space and credit that worries me. If that all seizes up then we have a real problem. The Fed is going to have to print money like never before to shore it all up. The big problem that is now under the spotlight is whether massive stimulus now works. What if the bond rally is over and rates start to climb? My point is, if they cant rally in times of extreme stress, then they are going down and that could create another can of worms.
—————————————————————————————————————-
Strategy:
Macro:.
Long Gold @ 1639.00 Stop below $1590. Stopped
Short EUR @ 1.1195 today.. Stop above 1.1250.
Brought to you by Maurice Pomery, Strategic Alpha Limited.
—————————————————————————————————————-
Strategic Alpha Report Disclaimer
Doo Prime endeavor to ensure the reality, adequacy, reliability and accuracy of all the information provided, but do not guarantee its accuracy and reliability. All the information, analyses, comments, statements, and/or data provided in this report is for information purposes only. Client's use of any contents of the report as the basis for the transaction, the client shall fully aware of the risks and agreed to bear all the risks. Client shall cautiously judge the accuracy of the information. Doo Prime has no liability for any loss caused by any inaccuracy or omissions of the contents and subjective reasons of Client.