Good Morning.. US stocks were on track for another stunning session until California announced it was locking down bars and restaurants and we may see more follow as cases keep rising and hospital capacity remains a concern. NASDAQ led the fall, dropping 2% and Asian markets were lower but calm. FX ranges were tight. But we saw some decent gains in EUR and EUR crosses yesterday and EURUSD had another look at recent highs against the USD at 1.1370. We need to close above for a look at 1.1422 which I think is coming. As the US struggles with the virus and the drag on the economy with lockdowns (same in Oz and HK), maybe the EUR becomes the new "safe haven" of choice. That would need the inverse correlation between the USD and risk to break but we have seen this break before. AUD is underperforming and again currencies from economies that are locking down are punished. But GBP fell against the EUR again yesterday and I think the UK spat with China over 5G is partly to blame. The UK needs friends not enemies right now and GDP for May was disappointing this morning. .. I am beginning to get concerned about the rise in geopolitical tensions, especially between the US and China over the South China Seas. Overall, I think the USDD may be on its way down. German ZEW, EU IP and US CPI on the ticket today..
Keep the Faith..
Details 14/07/20
AUD notably underperforms in the face of surging global equities but EUR is starting to move. Geopolitical risks are rising:
–
The somewhat staggering march higher in US stocks, led by an insatiable appetite for tech stocks, was set for yet another strong finish on Wall St yesterday and Tesla shares were a stand-out yet again but announcements that California was locking down again changed a lot of that (for now at least) and stocks tumbled into the last 2 hours of trading. But in all of this US equity euphoria, one would have a expected a strong bounce in the AUD and possibly a sell-off in the likes of EURAUD or other Aussie crosses but no. The AUD against the USD and the EUR is notably disappointing and possibly for good reason. Melbourne has seen a return to lockdowns which could be a drag on the broader recovery but I think the on-going spat with China is also keeping the AUD capped against many. Countries that are having to lock down again are seeing their currencies come under pressure and the USD is also now in the crosshairs. EURAUD actually rallied yesterday amidst that early US surge in stocks and traded above 1.6300. What will the cross do if US stocks start falling; the bottom could fall out of the AUD! This is not the price action one would expect and it looks like another correlation maybe breaking here. I think the AUD is facing some tough times ahead and I am keeping my long recommendation in this EURAUD cross and think a look back at 1.6600ish could be on the cards. Again, I think the EU could lead a few developed world economies out of this crisis on a macro basis.
EURAUD has been going somewhat sideways for a while now but I think we may be in the verge of a break higher. It is not yet clear on the daily (chart below) but the 4hour is starting to suggest a further move higher is possible.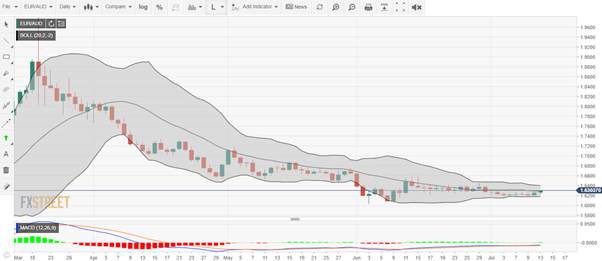 The MACD has just turned positive on the daily and this range suppression could suggest a vol spike but we need a couple more days of strength to confirm. But I think the EUR is going to outperform many and I note with some interest the solid bounce in EURGBP again yesterday. GBP had gained on the unlocking of the economy and some serious spending plans from the Chancellor but I think GBP may get caught up in the 5G spat with China at a time when the UK needs all the trading partners it can get hold of. (Johnson is set to ban Huawei from Britain's 5G network today). This could be an ongoing negative for GBP if and when China decide on some retaliation at a time when the UK needs friends.
Again I think this EUR is a fundamental move that may turn into a macro theme, as right now it appears the cleanest dirty shirt out there. I am very keen to see situations where the techs and the fundamentals align and I think the EUR is fundamentally undervalued and that the techs may start to back that up. We tested recent highs at 1.1370 but need to close above to target 1.1422 but the key against the USD is still 1.1497.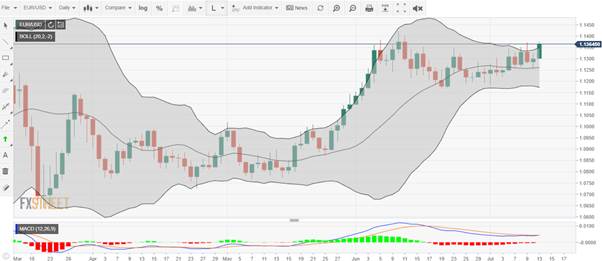 EUR Bollinger bands are starting to widen on the daily chart and a trend is in the early stages in my view. I am waiting for confirmation in the MACD signal but it is close. What we really need is some advancement in the joint bond issue this week although Merkel seems rather sceptical. The meeting, starting Friday and scheduled to run into the weekend, is not expected to garner a solution but I am hopeful that some concessions and compromise can be seen.
Apart from the top 5tech stocks, I think US equities may well have peaked against EU stocks and we have seen some evidence of out-performance in EU stocks recently. Unfortunately the massive drive into certain tech stocks has rather masked this fact. As far as the EUR goes, the world needs a weaker USD and I am amazed it is not lower but at present the USD is inversely correlated to risk moves. I just wonder if that correlation starts to break down if we get more US sunshine states locking down and further concerns over China relations. Maybe the EUR is the new safe haven in this virus crisis! But the Fed injections are USD negative and the debasement of the USD is partly why we see the rally in gold but on top of that, in a world of negative and zero yields, even gold can shine and attract the yield hunters; the world has gone mad. The USD no longer has a positive yield carry with rates set at zero.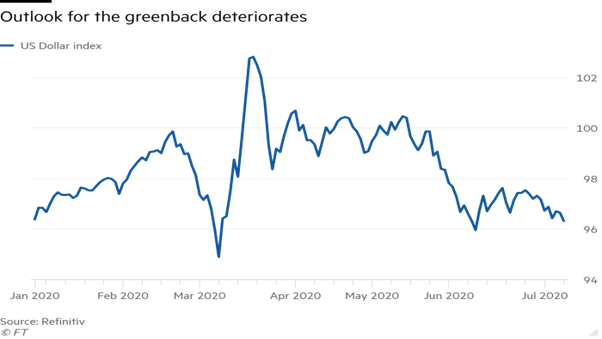 Line chart of showing Outlook for the greenback deteriorates
But also gold is an alternative to stocks in many ways and I do wonder if some asset managers are adding small amounts to their portfolios; why not? It would only take a tiny allocation to send gold screaming higher if they all bought into it. TINA may be a thing of the past as alternatives are indeed showing up. But I do think EUR strength is back and USD weakness may continue.
The markets have for some time now, been questioning how long all the stimulus can go on for both fiscal and monetary policies. Many of the fiscal schemes run out this month and a new set may indeed be needed but can they pass through the House? On the monetary side it seems the Fed are asking themselves the same question. Last night, Fed voter Kaplan said emergency lending facilities launched by the central bank were necessary to support market function, "but they won't be left in place indefinitely." "A number of those actions were necessary. The key is what we do from here. How long does this need to go on for? adding that he is a "believer that we will need to get back to more unaided market function without as much intervention from the Fed. We're just not at that point yet." Sounds like a discussion taking place to me though. He went on: "I think it's wise for us to be telegraphing as the economy improves, we'll be appropriate in showing restraint and pulling back some of these programs." OK when? What data will trigger this? I think the key is still unemployment and the day that returns to anywhere near previous levels seems a long way off to me.
There is so much talk that Fed policies drive US stocks ever higher but take a step back, remove the giant 5 tech stocks and the reality is somewhat different. Broad equity prices are not doing that great. In other words, the rest of the stock market – all its winners and losers combined – without the Giant 5 and despite the horrendous volatility, has gone nowhere since January 2018! The concentration of the top 5 is incredible.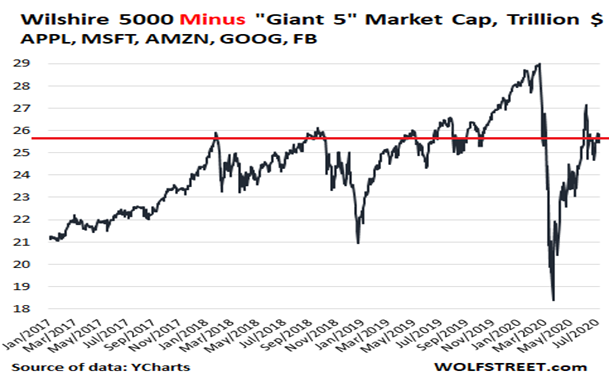 But of course, every portfolio does have these top 5 stocks in them. Just five stocks whose market values have soared beyond imaginable magnitude pulled up the entire market. That's a scary thought – that this entire market has become totally dependent on just five giant stocks with an immense concentration of power. And just as these stocks pulled up the entire market, they can pull down the entire market by their sheer weight. I am not sure what the catalyst may end up being; but I would keep an eye on the EU demands for digital taxes and the NASDAQ closed down over 2% last night and led the move lower.
Meanwhile, Trump had suggested there will be no more lockdowns but individual states seem to be moving against him and the rise in cases is not the only problem as hospital capacity is also a growing problem. Dr Fauci has warned that the infrastructure for US local public health is "in tatters" and has called for the government to learn the lessons of the current pandemic and to invest in preparations for the next one. The lockdowns and criticism from the scientists is a blow to Trump who has now taken to berating Fauci. Trump's election hopes could be in tatters if he is judged to have hindered the recovery effort. He wants US businesses back to full capacity to revive the economy but sunshine states locking down again is not going to help his cause. There is a clear rift between Fauci and Trump now that has all sorts of negative implications as Trump seems happy to ignore the professional advice. Fauci told the FT last week that, despite the surges, he had not briefed Trump for two months. These lockdowns will be a dragging anchor on the US economy and bubbling away in the background, we still have phase 2 of the trade war building. This is not good news for global trade, global growth or earnings and equity investors need to realise this.
I want to touch briefly on a subject I have mentioned a few times as geopolitical tensions rise. I have seen this coming for a while as China builds bases in the South China Sea. Since Trump's inauguration, the Pentagon has stepped up Naval operations in the contested territory, and sent dozens, if not hundreds, of destroyer-class ships and others to engage in "Freedom of Navigation" operations – or "Freeops", for short. Most recently, the US sent two aircraft carriers to the area to hold military exercises (while Chinese ships held exercises of their own nearby). I have mentioned the dangers of an accident but things seem to be heating up and no none seems to be looking. In a copy of the draft statement reviewed by WSJ, the administration claims that China's refusal to acknowledge the landmark ruling and continue with its claims of supremacy over the area poses "the single greatest threat to freedom of the seas in modern history." I think it is about time to keep an eye on the headlines. Since the ruling, China has continued efforts to build artificial islands and fortify them with weaponry, leading to the creation of what Steve Bannon has described as "mobile aircraft carriers".
Bannon has repeatedly warned that China is the most pressing threat to American security and economic interests. Those relations are just not getting any better, are they? "We are strengthening US policy in a vital, contentious part of that region, the South China Sea," Pompeo said. "We are making clear Beijing's claims to offshore resources across most of the South China Sea are completely unlawful, as is its campaign of bullying to control them." Relations are souring and China will not be pulling back from this advancement in these strategic waters. Additionally, "These threats will not deter us from taking concrete action to hold Chinese Communist party officials accountable for their ongoing campaign of human rights abuses in Xinjiang," the state department said. Phase 1 of the trade war was the deal to buy grains from the US but phase 2 is so much more with other issues including human rights, espionage, and more recently China's decision to impose a draconian national security law in HK. China sees this as interference and will not tolerate it and we may now see an escalation in all this. China is seemingly a serious threat to the US position on the global stage. Both sides are testing the other's strengths and weaknesses and things can go wrong; history is littered with such events and history suggests we should not ignore them.
—————————————————————————————————————-
Strategy:
Macro:.
Long EUR @ 1.1210.. Stop at 1.1150
Long EURAUD @ 1.6250 stop at 1.6080
Brought to you by Maurice Pomery, Strategic Alpha Limited.
—————————————————————————————————————-
Strategic Alpha Report Disclaimer
Doo Prime endeavor to ensure the reality, adequacy, reliability and accuracy of all the information provided, but do not guarantee its accuracy and reliability. All the information, analyses, comments, statements, and/or data provided in this report is for information purposes only. Client's use of any contents of the report as the basis for the transaction, the client shall fully aware of the risks and agreed to bear all the risks. Client shall cautiously judge the accuracy of the information. Doo Prime has no liability for any loss caused by any inaccuracy or omissions of the contents and subjective reasons of Client.
Risk Warning
This information is powered by Strategic Alpha. Any opinions, news, research, analyses, prices, other information, or links to third-party sites are provided as general market commentary and do not constitute investment advice.