Good Morning.. Asia shares mixed with Nikkei following Wall St higher but HK and China subdued somewhat after Trump singed the "special status" bill for HK last night. Relations with China hit another low and I fear the implications will impact us all. The danger here is that we shift from globalisation to a two tier existence with the US and China on opposite sides but those in the middle are left with some serious choices. The UK has clearly sided with the US after taking the decision on Huawei but right in the middle of this sits Australia. They have mortgaged their future on China growth but may be forced into a terrible choice between the US or China and early signs are they are aligning with the US. If Australia have to rebalance trade, then that will take a lot of time and be especially costly to their economic outlook on a macro basis. I am not sure this is priced yet. Many in the Asia-pacific region will have to make similar choices. As I have said, the 2nd phase of the trade wars will be far more damaging and I think that phase just started. EUR still looks strong to me and a test of key resistance at 1.1497 now look possible. I think this dip in EURGBP may also be worth dipping a toe in if we get back towards .9000 as I still see this higher. For me, the EUR is emerging as a safe haven. The Canadian rate decision later (no change) along with US Empire manufacturing and import price data. Later we get US IP and Cap U.
Keep the Faith..
Details 15/07/20
Trump Ends Hong Kong's Special Status With U.S.
–
Trump threatened ending this special status and has now delivered on it and it seems to me that relations with China are still sitting at extremely low levels now and this has implications for many. The next phase of the trade war is upon us which could impact the global economy and see geopolitical tensions rise, especially if China feels it is being backed into a corner. I think it is important to keep the South China Sea issue on the radar as the dispute there is growing into an interesting, if not dangerous issue. Countries that border the disputed sea space like the Philippines and many others, may, at some point in the future, need to decide which side to take; that of the US or China. Sitting in the middle of all this is Australia, who has strong trade ties with China and a close alliance with the US and a choice is going to be a tough one but at present, it seems Oz is aligning with the US over the virus and tech issues. Can Australia afford to antagonise China when it has mortgaged its future on the health of the Chinese economy?
The same applies to many others in the region and a choice either way could bring sanctions from one party or the other. Australia may be on the brink of a decoupling from China but that process will take time and not be easy for them to realign. In the meantime, the AUD may find itself badly underperforming. The RBA would certainly prefer a lower AUD while getting though this issue. On a macro basis I can see quite a drag on the AUD against many others and I remain of the view that EURAUD is going up. I think this could be a momentous decision for Australia in coming months and is a choice that is forced upon them. Do they stick with China and a trade base and antagonise the US or turn to the US and EU and antagonise China. I am not sure this is being looked at let alone priced yet but phase2 of the trade war may just usher in a split between China, North. Korea, Iran, Russia and parts of the ME against those of the US, EU, UK, and Oz. Are we at the start of a cold war? I do not like what I see shaping up in the world and one thing is clear, this would be a direct threat to global growth and thus, earnings. Australia has, in fact, mortgaged its future on China; it may now have to pay that off and look elsewhere and that is a huge and costly task.
The South China Sea now has Chinese and US naval ships all over it and I fear this becomes an area where resolve is tested and a skirmish or two cannot be discounted. Trump now has the power to impose more sanctions on China and this is going to make any negotiations on trade very difficult for China to accept; they will not be bullied into submission by the US as that is political suicide at home. Trump added that Beijing's squeeze on Hong Kong would threaten the city's position as a competitive financial hub and it will; and the people there must feel rather abandoned and I would not be at all surprised that many look to leave or move businesses elsewhere in the region. This is not a positive step for global trade and is the first shot in the second and more dangerous 2nd phase of the trade war. This escalation is a negative for the global outlook. HSI underperformed last night but stocks elsewhere were focused on some positive news on a potential vaccine but ignore this at your peril as it will matter and is not going away. Beijing said on Tuesday it would impose sanctions on Lockheed Martin, the US weapons manufacturer, over arms sales to Taiwan. This is just the start.
Talking of taking sides, UK PM Johnson moved against Huawei yesterday and this seems to me to be due to pressure from the US and the fact that the UK is desperate for a trade deal after leaving the EU and this appears to be one of the terms! This of course, will bring countermeasures from China against the UK at some point and again choices are being made between the two super-powers. Trump is pushing hard to cut China off from many of its trading partners and just where will this end, as many are heavily reliant on selling goods to China. The UK cannot afford a damaging spat with China but it desperately needs a US trade deal. The UK economy is going to take quite a while to recover and even longer if we do not leave with a significant deal with the EU. Even if they do agree on something with the EU at the 11th hour, I feel the danger is that it will be insignificant. Compromise always breeds weak decisions and the UK economy is facing some tough headwinds, which for some reason, the BoEs chief economist does not see!
It is not only the UK facing strong headwinds as a host of Fed speakers warned that the U.S. economy will have a slower-than-expected recovery last night, as the coronavirus surge in some parts of the country goes on unabated. Feds Brainard called on the Fed to commit to providing sustained accommodation. Fed's Harker (voter) said the US economy remains 'mired in a crisis' months after coronavirus arrived in the country and we are in a downturn that is both 'exceptionally painful and stubbornly long-lasting'; employment crisis would be worse without PPP but called the program a 'blunt instrument'. The positive vaccine news from Moderna is all very well but it will be a long time coming if indeed it proves to be a functioning vaccine. In between now and then, the US economy may well suffer as unemployment and job insecurity take their toll on the consumer.
US Earnings season kicked off with the 3 big banks and the standout for me were the bad loan provisions which between them totalled $28bln. Wells Fargo was hugely disappointing and maybe they didn't get the email about front running the Fed! JPM's Dimon said that "We don't know what the future is going to hold. This is not a normal recession," he said, adding that the bank was "prepared for the worst-case scenario" and sounded as concerned as the Fed officials.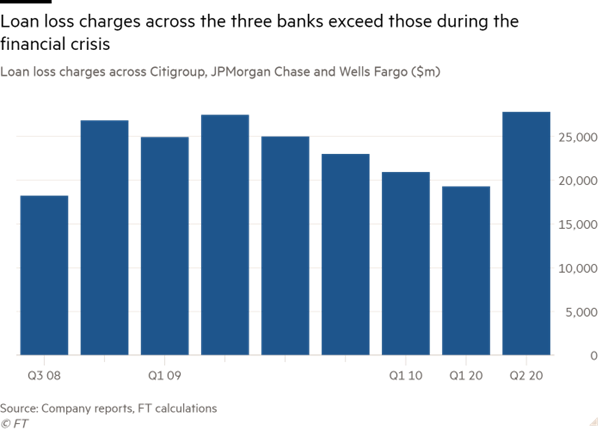 Column chart of Loan loss charges across Citigroup, JPMorgan Chase and Wells Fargo ($m) showing Loan loss charges across the three banks exceed those during the financial crisis
Maybe the banks know what is coming! What does this suggest for upcoming consumer and corporate defaults due to the US economic shutdown? If they and the Fed are worried, then so am I. But are these loan provision enough; they sound large but in reality, may not be anywhere near enough; they are guessing. Is there a default/bankruptcy Tsunami coming? I really do not think that any such event is priced and yet I can see many firms not getting through all this and certainly a large part of the population who have or are about to lose their jobs will also be defaulting on mortgages and other loans.
Meanwhile, I note with some interest that some funds are seeing some interesting outflows. An ETF designed to amplify the moves of red-hot US tech stocks has just suffered its worst ever week of outflows, suggesting that investors are growing wary of highly stretched valuations. Why not bag a profit and it must be a huge one. Investors pulled $491m from the ProShares UltraPro QQQ ETF last week in the biggest weekly withdrawal since the ETF launched a decade ago, according to data from Bloomberg.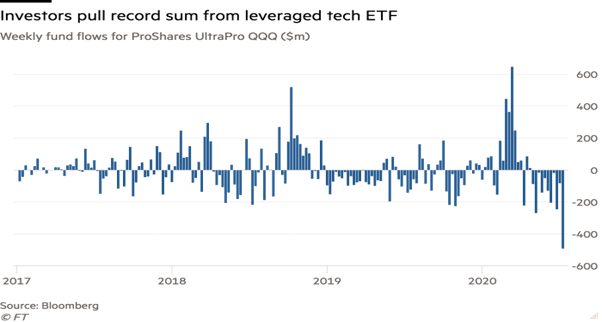 Column chart of Weekly fund flows for ProShares UltraPro QQQ ($m) showing Investors pull record sum from leveraged tech ETF
However, the outflows failed to make much of an impression on the fund's assets, which closed the week at a record $7.1bn, propelled by a strong performance for stocks including Apple, Amazon, Alphabet and Tesla. But there were also withdrawals from some Chinese funds, suggesting that hot run may be ending. Funds based outside the mainland sold a net Rmb17.4bn ($2.6bn) through trading link-ups between Hong Kong and the two main bourses in Shanghai and Shenzhen, according to Financial Times calculations based on Bloomberg data. Chinese stocks were down 2.5% at one point last night. Stocks still have to balance central bank stimulus with the reality that is dawning that the recovery in unemployment may be some way off and so is a vaccine. That matters in economies so reliant on the consumer, like the US and UK in particular. Is the EUR the new safe haven? A question I have been asking for a few days now. A break of 1.1422 and we will be testing key resistance at 1.1497 against the USD. EURGBP also looks set to retake the highs at .9175 in my view over time and you know my view on EURAUD.
—————————————————————————————————————-
Strategy:
Macro:.
Long EUR @ 1.1210.. Stop at 1.1150
Long EURAUD @ 1.6250 stop at 1.6080
Brought to you by Maurice Pomery, Strategic Alpha Limited.
—————————————————————————————————————-
Strategic Alpha Report Disclaimer
Doo Prime endeavor to ensure the reality, adequacy, reliability and accuracy of all the information provided, but do not guarantee its accuracy and reliability. All the information, analyses, comments, statements, and/or data provided in this report is for information purposes only. Client's use of any contents of the report as the basis for the transaction, the client shall fully aware of the risks and agreed to bear all the risks. Client shall cautiously judge the accuracy of the information. Doo Prime has no liability for any loss caused by any inaccuracy or omissions of the contents and subjective reasons of Client.
Risk Warning
This information is powered by Strategic Alpha. Any opinions, news, research, analyses, prices, other information, or links to third-party sites are provided as general market commentary and do not constitute investment advice.