Good Morning.. Higher oil and a general ignoring of the dangers out there took Asian stocks higher last night. It seems quiet markets still attract. But while some say that Powell comments over the weekend helped stocks (admitting the print dollars) and precious metals rise (gold at 7yr highs), I felt his comments suggested no V-shaped recovery but what do I know; stocks rallied. Markets clearly believe the worst is behind us but that is based on hope until a vaccine is found. We also have a worsening of relations between not only the US and China but Australia too is not backing down from China over this virus spreading issue. This is important as Oz has mortgaged its future to China and can ill-afford a massive trade spat right now. I would keep an eye on this row. Also, I think we may be starting to shift from a liquidity issue (which the Fed can deal with) to solvency issue (which it can't). Overall I still see little alternative to the USD and within that I still see Cable lower and the EU has massive headwinds to deal with and a hard Brexit is no better for the EU. AUDJPY is slow due to the demand in stocks still but I am starting to worry about the AUD again. No data today of note.
Keep the Faith.
Details 18/05/20
Powell shatters the V-shaped illusion (again) but says can do more: I see no real alternative to the US dollar still.
–
Over the weekend, Powell was interviewed on US TV and suggested quite clearly that the recovery is NOT around the corner. "The U.S. economy will recover from the coronavirus pandemic; but the process could stretch through until the end of next year and depend on the delivery of a vaccine" he said. Well, that is not what equity investors seem to think and yet again there seems to be a dangerous void between where central bankers see the economy and where equity investors do, as markets in Asia rallied again and they seem to be ignoring the growing animosity between the US and China. Of course, as we all know (and that includes the specs sitting long stocks), the production of a viable vaccine is now paramount as there is always a danger of a second wave. "For the economy to fully recover people will have to be fully confident, and that may have to await the arrival of a vaccine," Powell said. That could take 18months based on many assessments. Meanwhile, 36mln Americans have filed for unemployment benefits but many may hope to get their jobs back as the economy unlocks but not all will. Small businesses, the heartbeat of the US economy, are hurtling toward bankruptcy, while states and cities are confronting gaping budget shortfalls that could provoke a massive second wave of layoffs from the public sector. But Powell admitted that they print USDs digitally and gold and silver loved that honesty and he said the Fed can do more?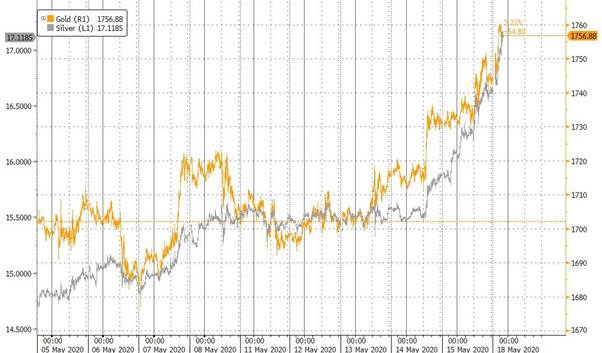 I think stocks liked it too.
But within this crisis there is a problem that just makes things a lot riskier and that is the fact that the WH, wrongly or rightly, accuse China of not coming clean or even deliberately spreading this virus! This is going to see the relationship hit an all-time low and that means heightened risk in my view. Trump seems more anti-China and anti-globalisation than ever before. In what is a shocking piece of political aggression, Navarro has claimed that China has deliberately sent airline passengers to spread the infection worldwide. This sounds more like the old Communist State talking rather than the leaders of the free world. Navarro's comments add to the almost daily barrage of U.S. attacks on China, including the unproven suggestions that the virus escaped from a laboratory in the central city of Wuhan. This, of course is all part of the trade war which is a disguise for the battle for supremacy over the years to come. The US want to hold China back and use the trade war to do so. The US is keeping ahead of everyone due to their tech strength and dominance in the chip technology business but China and others are catching up and Huawei is a prime example and thus, a target. But Navarro needs to be kept on a tight leash as he is doing untold damage with this stuff. Will global trade ever be same again under Trump and possibly after he has wrecked the globalised system?
Keep an eye on USDCNH over the next few weeks as a surprise could be coming as China allow or push it to weaken in response to US rhetoric. Biden and Trump have both picked up on American support for targeting China and both have started a race to be the most aggressive while the global economy sits in the middle and gets trashed; how is that good for stocks? This battle into the November election will make it harder for US policymakers to strike a conciliatory tone on China and we must assume that some form of retaliation is on the way. These are populist governments and will listen and deliver what the people want; no matter how good or bad it is, as it is all about getting into or keeping the WH.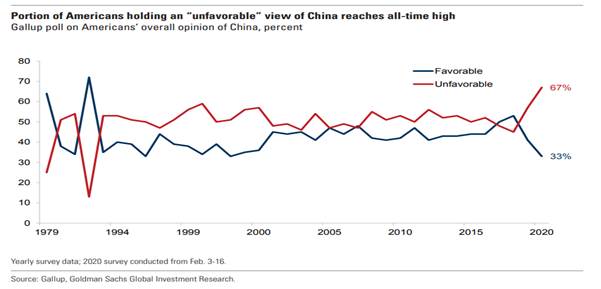 China are trying to play this down but are forced to react. On Sunday, China's commerce ministry said it is firmly opposed to the latest rules by the United States against Huawei and "will take all necessary measures to safeguard Chinese firms' rights and interests." The ministry said in a statement that it urges the United States to immediately stop the wrong actions, referring to the lockout of Huawei, which went into effect on Friday but has a 120-day grace period. AS CNH weakens and factory gate prices keep falling, China will be exporting deflation, as indeed we can already see and not just from China either. Stocks were uber-sensitive to any trade war news in the past and none of it is good now and looking forwards it seems it can only get worse.
Further moves by the U.S. against Huawei had little immediate impact on markets Monday. There was also little reaction to a Nikkei report that Taiwan Semiconductor Manufacturing Co. has stopped accepting new orders from Huawei after the U.S. tightened rules on chip supply. This is NOT going away and could unhinge markets. This de-globalization move by Trump is an interesting and dangerous event but China does seem to be losing friends as Australia is also not backing down on accusations over the virus spread. This is an interesting stance as Oz has mortgaged its future to China and can ill-afford a massive trade spat right now. China, the EU, UK and many others all need to get ready to deal with the enhancing anti-globalization and switch development strategies from integration to independent development.
The US knows it holds the dominant hand in chip technology and it is playing that hand but where does that leave the EU, Australia and many others which still lag so far behind in the tech space? This is what the trade war is all about; blocking the advancement of China and in doing so, others too may suffer. Nationalism and protectionism are now the new politics and that means that global growth suffers and geopolitical risks are rising. However, the AUD advanced and oil began the week on a positive note on supply cutbacks. California's economy is now 75% open, its governor said over the weekend while upstate New York is also set to reopen; great news. Apple Inc. said nearly 100 of its stores have opened. Again the focus is solely on good news while a ticking bomb is right there and gold seems to be sending a clear signal again which suggests risk aversion and appears to be a serious hedge now. But I think the narrative is shifting from liquidity (which the Fed can deal with) to solvency (which it can't). The US unemployment rate and bankruptcy filings normally run in lock-step. In late April and early May, half of all small businesses said they would be out of cash within a month, and only 17 percent said they could last 3 months or longer without revenue.
Meanwhile, US stocks are still dominated by the top 5 stocks, as shown last week but is worth showing again.
Global equity markets are not doing as well as the S&P or NASDAQ either and in fact there are some real signs of stress and weakness which is being camouflaged by the performance of a few. Valued near a record low relative to the S&P 500 on an estimated price-to-book basis, the Stoxx Europe 600 Index has lagged behind in the equity market's recent rally, adding 18% since the March trough, compared with a gain of about 30% in the U.S. benchmark.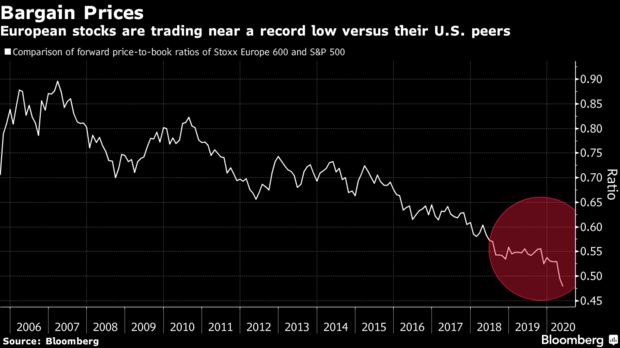 Banks, energy, autos, travel and many other sectors are on their knees but the focus for the world is just on 5 stocks in the US. So, here is the question, are European and EM stocks cheap (as the BB analyst suggests in the chart above) or US stocks expensive? I think you know my view; but it is so hard standing in front of this constant buying. But this time is NOT different and equity bears will have their day in my view. Trouble is, like in the "Big Short", it could be costly trying to be right.
Due to the massive US Government spending, the Fed has had to step up and buy a lot of the issuance from the Treasury and at the start of all this the Fed was buying more than was being issued. BUT the Fed is tapering UST purchases and no longer is buying as much as is about to be issued. The Fed has been monetizing nearly all the Treasury debt on offer but the Fed's daily and weekly POMO has shrunk substantially and as discussed earlier, it is down to just $30BN in Treasury purchases per week as of next week, which amounts to around $1.5 trillion per year. $30BN per week in TSY monetization is nowhere near enough to consume the trillions in Treasury issuance that is about to hit. In fact, all else equal, the Fed will very soon have to find a pretext to aggressively ramp up its treasury purchases again.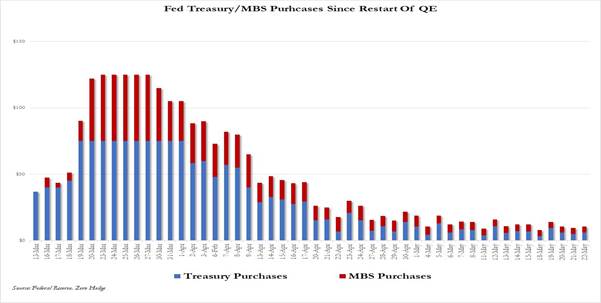 Clearly if the Fed fail to do increase purchases the whole system and US bond markets will crash in a heap and so it is only a matter of time before we see the Fed reverse its tapering programme. I guess in this screwed up world, stocks will like that but watch gold and silver explode higher on that as it is further debasement of the currency. But this is going to happen in the EU, Oz, NZ and even Japan (possibly the UK now too). But they do not hold the reserve currency. The trouble with the Fed reversing this tapering policy is that they may need an excuse and so far, they have got away with increasing the balance sheet when markets get crushed. Beware Fed speak in the next few days/weeks as they may need to create an excuse to soak up all this issuance!
As I am sure you are all aware, my view on the EU is less than positive, as I think they are beset with massive problems which are not going to go away and they are still rather reliant on China for growth. The reasons for the European market's relative cheapness are numerous, justified and were around long before the coronavirus crisis: political and economic tensions across European Union members, tepid earnings growth relative to the U.S. (and many others) and index composition that's heavily exposed to cyclical and value sectors. I keep hearing that EU bank stocks are cheap; maybe so but for a very good reason.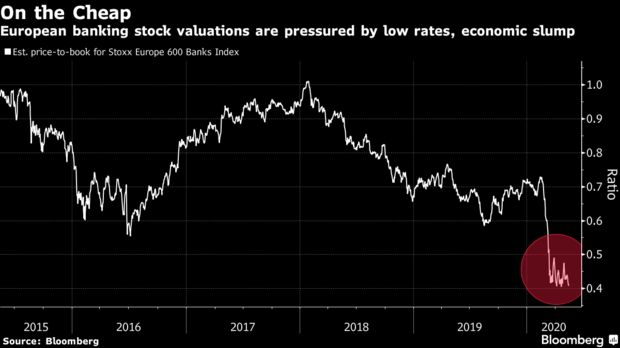 The EU is also not showing any unity as the rich will not commit to the poor. The EU is driven (excuse the pun) by the auto industry which lies in tatters and will do for a while as consumers balk at big ticket purchases. The upside for EUR looks rather limited in the FX space.
GBP is also still under pressure and again the USD appears a safer alternative (watch if DXY breaks 100.80) as fundamentals and technicals are pointing to more pain for Cable. I remain bearish and can see us breaking below 1.2000 quite quickly in days to come. Haldane, in an interview over the weekend suggested that negative interest rates will be discussed as he said "We can't go back to jobs nightmare of the Eighties''. "You mention negative rates, but there are other options beyond that or alongside that, that we're looking at as well." He adds: "With QE there is more we can do there on the gilt side and the corporate bond side in principle". So, are the UK about to follow the ECB and Fed and start buying corporate debt? I think that is probably on the cards quite soon, especially as the Fed has now endorsed the idea. Meanwhile Brexit negotiations are not going that well. According to the Times; Senior government figures have increased their planning for a no-deal Brexit adding that the UK's preparing to walk away from Brexit talks unless the EU gives ground. This is likely to keep investors nervous but while EURGBP has rallied, this is NOT good news for the EU or the EUR. Again the USD seems a better bet. TINA. (There is no alternative).
—————————————————————————————————————-
Strategy:
Macro:.
Short AUDJPY @ 69.25 added at 68.25 and Stop at 70.25 recent high.
Short GBPUSD @ 1.2335.. Add at 1.2415 Stop above 1. 2500
Brought to you by Maurice Pomery, Strategic Alpha Limited.
—————————————————————————————————————-
Strategic Alpha Report Disclaimer
Doo Prime endeavor to ensure the reality, adequacy, reliability and accuracy of all the information provided, but do not guarantee its accuracy and reliability. All the information, analyses, comments, statements, and/or data provided in this report is for information purposes only. Client's use of any contents of the report as the basis for the transaction, the client shall fully aware of the risks and agreed to bear all the risks. Client shall cautiously judge the accuracy of the information. Doo Prime has no liability for any loss caused by any inaccuracy or omissions of the contents and subjective reasons of Client.
Risk Warning
This information is powered by Strategic Alpha. Any opinions, news, research, analyses, prices, other information, or links to third-party sites are provided as general market commentary and do not constitute investment advice.