Good Morning.. A nervous end to this week with a long weekend ahead for the UK and US markets and the escalation in HK has made an unwanted return and this time I do fear for the future of HK. Whether this is an attempt to deflect the Chinese people from the dire state of Xi's Chinese economy or not is irrelevant as this is a process set inn motion some time back. It will be interesting, if protests do spring up, how foreign governments will respond, as there is already a lot of tension between China and many others including the US. I am sure we will hear something more from the WH on this soon. This could see stocks wobble and the USD rally and that will bring further pressure on Cable and a break of 1.2180 should see a new leg lower. I ream very bearish Cable/GBPJPY and AUD also looks vulnerable as China tensions rise and this move has hardly started in my book. Canada Retail Sales the only data later but with the long weekend coming up, I will be back on Tuesday but we are looking at a nervous finish and it's a Friday so, "Be careful out there"..
Keep the Faith…
Details 22/05/20
Markets unnerved by China moves on HK:
–
HK shares reacted badly to further actions suggested by China into HK democracy and it is fairly likely that protests will be organised again. This took HK shares down over 4.5% last night and sparked a general risk averse session across Asia with the Nikkei down 0.75% and US futures lower. The USD nudged higher on this and it will be interesting to see how this develops but the markets are fragile right now and a geopolitical issue like this could be damaging and I do rather fear what response we may get from Trump, who seems determined to remain rather aggressive towards China to appease voters in the US.
I think we need to brace ourselves here as China will react badly if Trump does get involved but it is clear that HK's days of being a free democracy are running out and I fear that all I can see ahead is further unrest in a place I spent 4 happy years living in. Shame.
Democracy advocates called for protests against sweeping national security legislation China introduced Friday, as authorities in Beijing vowed to end what they called a "defenceless" posture due to "those trying to sow trouble." This weekend could see some take to the streets and I am not sure how tolerant the authorities will be. We are running into a long weekend in both the UK and US and this could make for a nervous finish to the week. The measures being introduced sound rather concerning from a HK perspective, which is used to freedoms that fly in the face of Communism. Legislation slated for passage in the National People's Congress in Beijing would help complete Hong Kong's obligation to pass laws curbing acts of treason, secession, sedition and subversion, NPC Vice Chairman Wang Chen told lawmakers Friday. The measure would also seek to counter terrorism and foreign interference in Hong Kong, Wang said. That may just be a red flag to a bull for Trump. On Thursday, Trump warned that the U.S. would respond to any move to curtail protests and democratic movements in Hong Kong. US/China relations look set to sour further over this. The big question of course is IF the world is prepared to stay out of the takeover of HK, which China sees as totally justified and within its domestic law.
This is another risk now to global markets on top of China relations with the US and others over the virus issue and trade. China could lose a lot of friends over this issue and it further damages the outlook for global trade, which was already suspect due to the breaking down of globalisation led by Trump. The global economy needs China and China needs the global economy so this could be damaging in the near future and may speed the process of shifting supply lines. I think it is not only Trump who is looking to deflect the public's attention on a weak economy as Xi seems to be doing the same. The Party has not announced any forward guidance on growth for the first time as the economy remains under huge pressure and unemployment is rising. Is HK a distraction? If it is, it is a very serious one indeed and the fall-out from this is an unknown at present but a huge risk in my view. Although XI does not need to worry about voters, he does need to keep the populous happy and off the streets. The move will also embolden a nationalist Chinese public that has little sympathy for Hong Kong's frontline pro-democracy protesters — and even less for a US president they perceive as a bully intent on denying China's ascent to its rightful place on the global stage. (They may be right there).
China relations with the US are well documented but we can add a deterioration with Australia and India amongst many now. Australia has backed investigations into the spread of the virus and China has reacted by flexing its muscles on sensitive trade between the two nations. But China has a problem also with India over a disputed border in the Himalayas. The nuclear armed neighbours have a longstanding territorial dispute in the mountainous region that has recently emerged as a volatile geopolitical flashpoint. Just what damage will be done if the world turns against China and can China afford to lose so many "friends"? I do feel that we have seen peak globalisation now and we are seeing the beginnings of a more nationalistic world developing and that increases geopolitical risks. Global trade will clearly be impacted and that will stop any form of recovery in global growth. The impact on the likes of AUD and EUR could be quite telling on a macro basis. I am staying bearish on AUD and this this move has hardly started.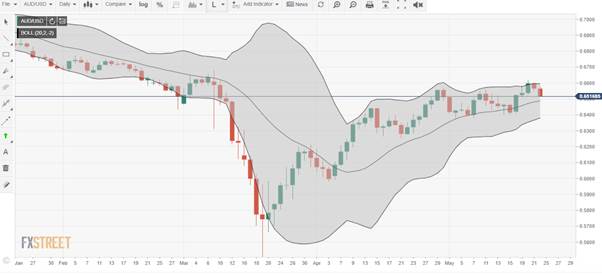 AUD daily above and for me a break of 6480ish may suggest a new leg lower.
Cable also looks high to me and I note the very weak Retail Sales this morning but the UK is burning through money in an effort to prop up the economy. PSNB came in at £61bln after £35bln expected! We still have the hard Brexit cloud hanging over the UK and the economy really does look weak but I guess most do. But I think the MPC are very close to deciding that if they can get away with it, having negative rates may be a cheap way of funding this spending. It won't help the economy at all and many central banks are averse to the policy as many feel it does more damage than good but I think the MPC are close to pushing this monetary policy button and markets are starting to price it. If Cable breaks below 1.2180 then I think we start a new leg lower. Chart below is a 4hour chart.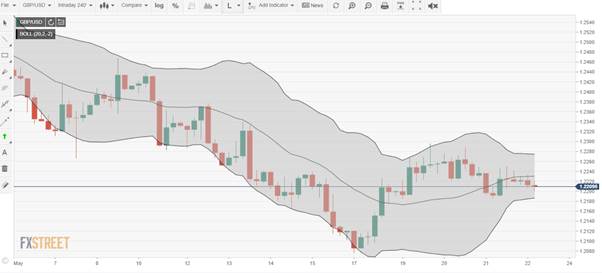 Below 1.2180 we have a previous low around 1.2080ish and then mind the gap! UK banks have hit out at the prospect of negative interest rates, saying the policy would slash their earnings and limit their ability to absorb an expected torrent of coronavirus-related loan losses. One banking executive said negative rates would have a "devastating impact on profits" They are right; but this is all about financing UK debt. Some central bankers are turning Japanese but where did all that stimulus get the Japanese? Last night Japanese April CPI came in at 0.1% y/y vs 0.2% cons and April CPI ex-fresh food at -0.1% y/y vs 0.4% prior while growth bumbles along the floor still. I remain bearish GBPJPY.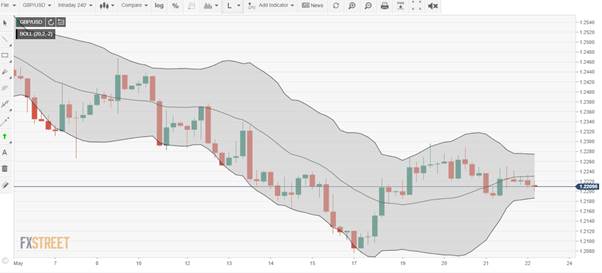 What I am struggling with is where growth is going to come from after this self-induced coma that economies have been forced into. I do not see China dragging us all out of this anytime soon and they are way ahead in terms of being past peak virus. Things are moving quite rapidly in the supply chain space and countries are taking a more protectionist stance on trade. The UK is leaving the EU, the US wants businesses to retreat to the US, manufacturers are pulling out of China and China is sparring with many trading partners. The outlook for global growth looks rather dim in my view and I still think this battle between China and the US is not going away just because or if Trump gets re-elected. This is nothing to do with buying grains or pork; this is about hegemony and the speedy rise of China as a challenger for the top table. None of this is good for global trade and not good for AUD or the likes of KRW. In the US, BoA is slashing its Q2 GDP forecast from -30% to -40%. There is no V-shaped recovery coming and if we get a U instead of an L then be thankful.
There is no precedent for what we are experiencing and in the middle of all this we have heightened tensions geopolitically and an ongoing trade war between the US and China. What an earth are stocks doing up here? To put this into perspective, in the Great Financial Crisis of '08-09, the economy declined 4%. This recession would clearly be much deeper and possibly much longer. I had a few emails regarding the bounce in many PMI data yesterday but we have to put this in perspective. We are coming off extremely low levels. It is important to keep in mind that many indicators will show a significant bounce as the economy moves out of hibernation but what initially looks like a V-shaped recovery is set to lose steam after the initial gain has subsided. This is what is sucking many retail accounts into stocks but the US and many other economies are in real trouble; just listen to their central banks. We may even see a decent bounce in employment but nowhere near back to where we were and we may see the US stuck close to 10% for longer than some expect. Banks are scared too as well as central bankers and rightly so as they make provisions for souring loans. I am not sure they have put aside enough!
—————————————————————————————————————-
Strategy:
Macro:.
Short AUD @ .6550. Stop @ .6685.
Short GBP @ 1.2260.. Stop at 1.2350
Short GBPJPY @ 131.95 Stop at 133.20
Brought to you by Maurice Pomery, Strategic Alpha Limited.
—————————————————————————————————————-
Strategic Alpha Report Disclaimer
Doo Prime endeavor to ensure the reality, adequacy, reliability and accuracy of all the information provided, but do not guarantee its accuracy and reliability. All the information, analyses, comments, statements, and/or data provided in this report is for information purposes only. Client's use of any contents of the report as the basis for the transaction, the client shall fully aware of the risks and agreed to bear all the risks. Client shall cautiously judge the accuracy of the information. Doo Prime has no liability for any loss caused by any inaccuracy or omissions of the contents and subjective reasons of Client.
Risk Warning
This information is powered by Strategic Alpha. Any opinions, news, research, analyses, prices, other information, or links to third-party sites are provided as general market commentary and do not constitute investment advice.