Good morning.. An interesting session yesterday but it seems to me Trump is trying to talk oil and equities higher with this threat to Iranian boats and is no way to run the most powerful nation on the planet in my view. Rant over. But equities dutifully followed oil higher and have done again this morning. But other risk assets have not bought this with gold, Euribor and the USD all suggesting risk aversion. EU bank stocks still look iffy too. On the subject of the EU we have the EU leaders video conference today and they need to agree to more than another plaster on a gaping wound. Make no mistake that they will be severely judged on their actions or inactions today. We also have US Jobless claims and another 4.2mlm Americans are expected to have been forced to sign up; this is not just a statistic, this is a human tragedy not of their making and will have deep connotations for the US economy for a lot longer than people seem to realise. I find it hard to understand this equity rally and m prepared to suggest adding to shorts up here. I also think oil will top out and a higher USD could see USDCAD back up and testing 1.4500+. See Macro positions below.
Keep the Faith..
Data.. All Times BST
08:30.. Germany PMI Mfg (Prelim) Cons:39.0 Prev:45.4
Germany PMI Services (Prelim) Cons:28.5 Prev:31.7
09:00.. Eur PMI Mfg (Prelim) Cons:39.2 Prev:44.5
Eur PMI Services (Prelim) Cons:23.8 Prev:26.4
09:30.. UK PMI Mfg (Prelim) Cons:42.0 Prev:47.8
UK PMI Services (Prelim) Cons:27.8 Prev:34.5
13:30.. US Initial Jobless Claims Cons:4.2mln Prev:5.245mln
14:45.. US PMI Services (Prelim) Cons:31.5 Prev:39.8
US PMI Mfg (Prelim) Cons:38.0 Prev:48.5
15:00.. US New Home Sales Cons:645k Prev:765k
Details 23/04/20
A potentially wild day ahead: Adding to short S&P and recommend long USDCAD
–
It was an interesting session yesterday and not so much because it was manic but how different markets moved throughout the session. Trump, in what seemed like an effort to put a bid in oil any way he can, suggested that US ships should shoot Iranian boats that harass US Navy Ships. This actually did the trick and oil moved higher and stocks (the main target for Trump again) dutifully rallied with it. This desire to try and help stock markets to rise into the election is just so wrong and is no way to run the most powerful nation on the planet. Interestingly though, while stocks and equities moved higher, front month Euribor fell 6points, gold rallied as indeed did the USD and all of which have held gains overnight as oil pushed higher again. Euribor, gold, EU bank stocks and the USD are not seemingly buying into the warm comfortable feeling from an oil rally based on Trump threats to Iran and nor should they; equities, if anything, should be falling on this but they seem to be latching on to oil moves. EU banks having a rough ride.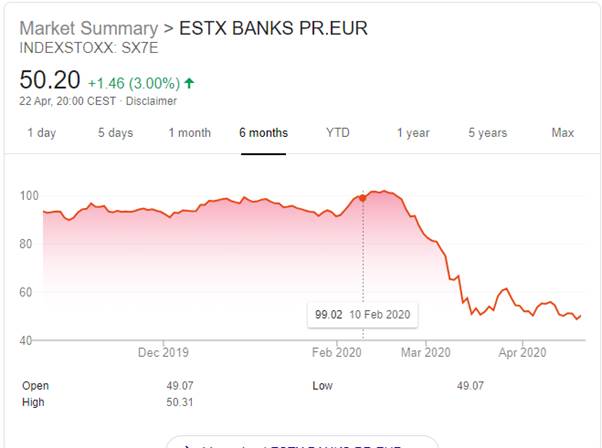 A strange day indeed which saw EU consumer confidence plunge to -22.7 from -11..6 and it may get a little busier today with hugely important Jobless Claims data from the US (where another 4.2mln Americans look set to have lost their job) and PMI data for France, Germany, the UK, EU and US. It will be services again that I will be looking at.
Overnight we saw Aussie PMI services come in at 19.6 after 38.5 previously and Japanese Services PMI was 22.8 after 33.8 last. I think the data today will be equally as bad as it covers up to mid-April. Japanese PMI below with manufacturing the lowest reading since April 2009 and services the lowest reading since series began!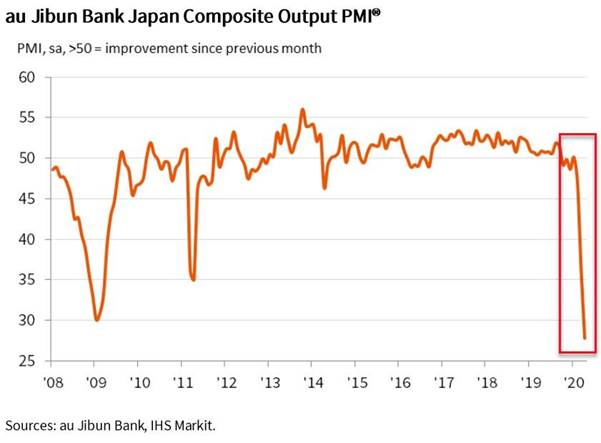 The current state of emergency in Japan will stay in place until 6May, although given Japan's lagged response relative to other parts of the world, one would expect this to be extended, meaning the harsh economic effects are likely to drag out further. OK the weak data may be expected but it is a reality and so too the millions losing their jobs in the US.
The impact on the consumer and the global economy is massive and this data should underline that yet again, as if we need any reminder of just how severe a crisis the world still faces. Again, it's that dichotomy between the depth of the crisis and the size of the response from CBs and governments. But as well as the data, that group of EU leaders that make up the Euro-zone meet via video conference yet again to decide how to deal with the crisis that is looking more and more like it may be an existential period for the EU dream. More compromise and less decision are probably what we shall get but that is unacceptable. It is said that the optimum group number to make better decisions than one person is 7 (some say 6). More than that and the group makes increasingly worse decisions. Extrapolate that to the EU, with 27 countries all with their own agendas, and it is pretty obvious that the noble idea is going to end at some point – and a crisis like COVID brings that poor decision making to the forefront. I am not sure the markets will tolerate more delay to tackling what is a huge crisis in the EU. Action is required now.
The decision-making process from this bunch of Ivory Tower residents is shockingly slow; it always has been for a crisis. While they prevaricate there are more than 100,000 people dead and the euro area is headed for its deepest ever recession; wake up! But can they agree on anything? The sticking point is still a union bond; call it a Corona virus bond or a Euro-bond. This is seen as an unacceptable wealth transfer mechanism by Germany and the Netherlands and I do NOT think they are prepared to allow that; even now. Can the likes of the Netherlands ever agree to what the Italians and Spanish need? They have to come away with something concrete surely this time. The EU group meeting starts at 2pm London time and may go on for some time but a decisive set of actions need to come from this or there could be a political backlash in nations throughout the Union. If this union is to survive then now is the time to show a collective drive to stabilise the union economy as a whole. I am not sure they can do that and seem to keep relying on the ECB to clear up the mess; to an extent that you can now dump junk and old wheelbarrows in the ECB skip and get cash. The CBs should not be buying this stuff.
We are now two months and four virtual meetings on from the first coronavirus death in Europe and here we are still kicking the can down the road. PMI data should be a wake-up call for them this morning with some pretty awful expectations seen.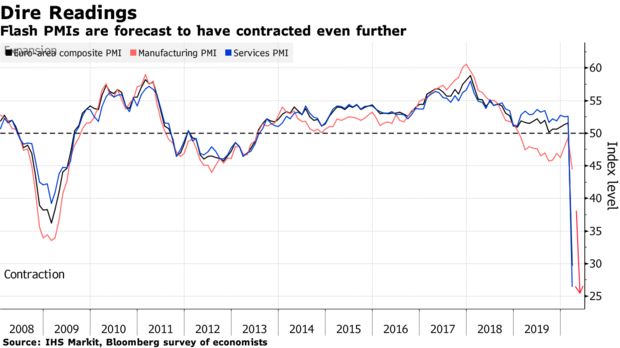 Time is running out for this group of leaders and some unity within the union is massively overdue. "Everyone is aware that the future of the EU is at stake in how we respond to this extraordinary crisis," French Finance Minister Bruno Le Maire said at a briefing in Paris on Tuesday. "All we've done to support our economies will be useless if we aren't able to decide on a massive, immediate and simple stimulus." Never a truer word! They need to be careful here as if nations feel they are getting left to the wolves, then the political backlash could be something they cannot stop. They must know this and so coming away with nothing seems almost unthinkable. Alas I fear all we may get is more plasters on a gaping wound. With the issue of joint debt unresolved, focus has shifted to another program: the EU's seven-year budget that's set to kick in in January. That's the only significant option in the EU toolkit for making direct transfers of public money from one country to another. No wonder EURGBP sold off again.
Then of course we have the Jobless Claims data where we expect to hear that another 4.2mln Americans are claiming jobless benefits. This is getting scary and will take the total to 26mln in 5 weeks. This is hitting a vast amount of US homes and the impact on the psyche of the consumer is unmeasurable. It could also stress the already unhealthy wealth divide in the US and social problems could arise from this. Whether a weak number is expected or not, the damage done from this is simply immense in my view. How can it not matter? There is some belief that Trump is under pressure to unlock the US but is that really a cure for this and a sudden re-hiring will take place? I think not as one thing is for certain, many businesses will be cutting costs for some time after the unlocking and the virus has passed its worst and people are expensive. Many businesses may never re-open. Consumer confidence will be hit for some time and non-essential spending is going to take a hit and not just in the US. It is the consumer that is the main prop for so many economies and is why the services PMI data is more important. These data may be bad for longer than many feel and that includes the central banks and economists, who suggest and bounce back will materialise soon. I doubt that. On that basis, I am adding here to my S&P shorts (2809) and will put a stop around 2880. I also do not think oil is going up much more and if I am right and stocks fall, the USD should gain. On that basis, I am recommending going long USDCAD (1.4140) looking for an initial test of 1.4500+. Stop around 1.3850ish. See chart below.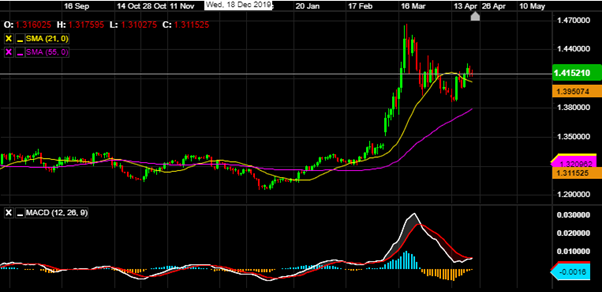 —————————————————————————————————————-
Strategy:
Macro:.
Small short S&P @ 2773 adding here at 2809. Stop above 2880.
Long USDCAD 1.4140. Stop 1.3850ish.
Brought to you by Maurice Pomery, Strategic Alpha Limited.
—————————————————————————————————————-
Strategic Alpha Report Disclaimer
Doo Prime endeavor to ensure the reality, adequacy, reliability and accuracy of all the information provided, but do not guarantee its accuracy and reliability. All the information, analyses, comments, statements, and/or data provided in this report is for information purposes only. Client's use of any contents of the report as the basis for the transaction, the client shall fully aware of the risks and agreed to bear all the risks. Client shall cautiously judge the accuracy of the information. Doo Prime has no liability for any loss caused by any inaccuracy or omissions of the contents and subjective reasons of Client.