Good Morning.. Asian markets had a muted reaction to the Trump press conference last night where he suggested a broader use of plasma in fighting Covid cases. FX markets hardly moved but the USD strength seen from last week, remained. We are at an interesting point here with the USD and this week could set the tone for a while. The charts were already suggesting the USD sell-off was losing momentum but the better US data Friday, set against weak EU data, saw a decent reversal. But we have Powell speaking later this week and the Fed has been at the heart of this recent USD sell-off and probably remains so. So, is this a bounce in the USD to sell or a base in place for a while? I am moving to the side-lines on the USD having been stopped out at minimal cost in EUR and EURJPY Friday and while the stop in EURGBP got hit, I am sure many of you bought this cross again as the EU/UK talks failed to move us any closer to a deal. But the charts do suggest we could see more USD strength and the set up in AUD looks similar to that of the Kiwi before it started coming off. The chart on AUDCAD looks set to suggest a further loss if we break .9440 and I have recommended a short this morning. No data of note and we may have to wait for Thursday for a clearer direction on the dollar.
Keep the Faith..
Details 24/08/20
Markets unimpressed with Trump claims on virus remedy: What now for the USD?
–
Trump press conference was hailed as delivering some breakthrough news on a vaccine but in the end seemed more like an electioneering stunt which markets took with a pinch of salt. He suggested that they had made a breakthrough using plasma donated by people who've recovered from Covid-19 which will be expanded to more sick Americans, widening access to a promising therapy even before researchers fully understand how well it works. "This is a powerful therapy," Trump said at a White House news conference yesterday. "Today's action will dramatically expand access to this treatment." Is this anything new? The FDA has cleared what's known as convalescent plasma for use in certain patients. The move would make it easier to receive the treatment, which Trump has promoted even though studies to prove its benefits haven't been completed. Stocks in Asia were less than ecstatic with marginal gains in Nikkei, Oz and Shanghai. Kospi and HK were the outperformers. It is suggested that Trump is also considering bypassing normal US regulatory standards to fast-track an experimental coronavirus vaccine from the UK for use in America ahead of the presidential election, according to three people briefed on the plan. But US stocks yet again had a strong weekly close and it is still hard to fight this constant buying.
S&P weekly chart above showing another strong weekly close.
Shorts in the US markets are throwing in the towel which may be a concern now as the euphoria forces many in near the top.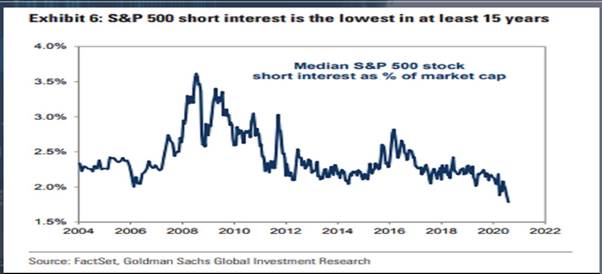 It is hard to see what catalyst could turn this as at present, as we see US markets, led by FAANGT (includes Tesla now) keep moving higher whether we get good news or bad and bad data has not hit stocks at all in the past 5 months. Again, this is due to Fed promises to keep on with monetary policies which gives investors few opportunities to invest elsewhere than in stocks. But there is a danger here that equities are becoming too big to fail and have a worrying grip on Fed thinking now. US stocks made a new all-time high last week in the middle of a recession as I said led by just a few stocks and the breadth of this rally is still a concern. But most of the companies in the benchmark S&P 500 index had nothing much to celebrate, with the majority of companies in the index still down on where they were. Share prices of a fifth of S&P 500 companies were more than 50 per cent below their all-time highs on Friday. The average stock in the index is 28.4 per cent below its peak.
The markets are not the economy and under the surface, away from the big6 tech companies, the reality is that companies are facing a tough time. This will spark more drastic cost cutting and job shedding in my view and defaults and bankruptcies will continue.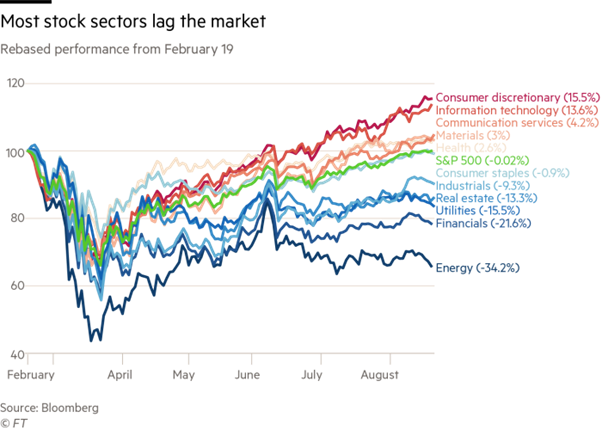 Line chart showing SP500 sector performance since February 19
It is what lies beneath in the core of the market that may be a cancer but the demand in the tech space is phenomenal. In the consumer part of that chart above, nearly all the move is based on Amazon and its rise helped offset declines by more than half of the other companies in the same sector. The top5 now has a market capitalisation of $7tn — more than the entire Japanese Topix index of about 2,170 companies, according to Bloomberg. No alternative or not, the discussion du jour is are we in bubble territory?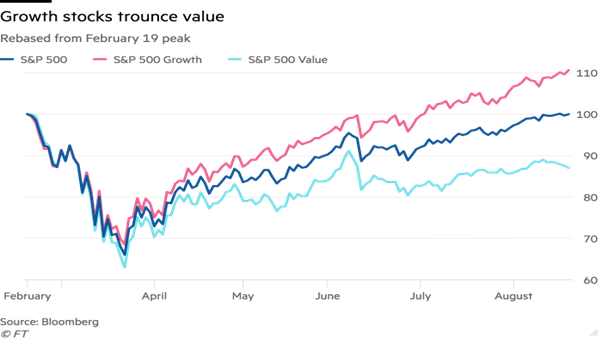 Line chart of Rebased from February 19 peak showing Growth stocks trounce value
Maybe a different approach or a shift in monetary policy is the one thing that can destabilise the markets and on that, we have Powell speaking at the JH symposium this Thursday in what is now a virtual gathering. There are some expectations that he may give an early "heads up" on how the Fed policy review is going, which has been ongoing for over a year now. This could have implications for all assets as it is thought that he may announce a new way of looking at inflation; possibly using an average inflation rate which would allow inflation to run higher for a while. Markets are extremely sensitive to what the Fed is doing and thinking and so it will be interesting to see if any of what he says, spooks the markets. To be honest, US data is starting to look rather better in some areas and the PMI and housing data again on Friday beat expectations and put against some poor EU data releases the same day, the USD had a decent bounce. The idea that the EU maybe coming out of all this stronger and earlier was thrown out.
I had concerns over the technical picture for the EUR Friday as I mentioned and was why I kept a very tight stop at 1.1780 and that was indeed triggered. This USD bounce may continue and I am moving to the side-lines on this for a short while to see if we get confirmation and EUR needs to hold 1.1700 in my view or the rally may be over.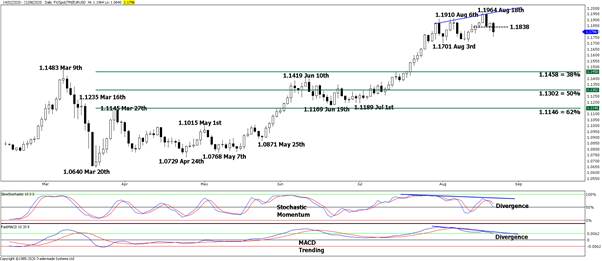 Break that and we could be looking at 1.1480 looking at the daily chart above (courtesy of Richard Adcock). Kiwi still looks heavy and there are signs that AUD could be about to roll over now too.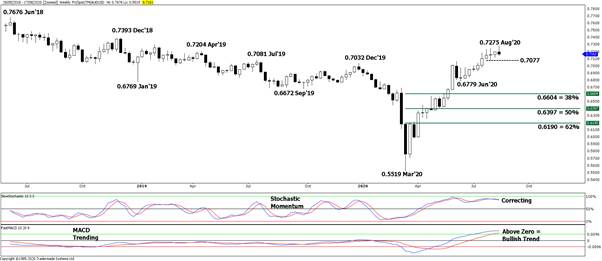 This weekly AUD chart above shows a similar pattern to what we saw in Kiwi just before it took a serious ride lower and a break of .7077 should confirm the top may be in place for a while. Rather frustratingly, EURGBP also hit my stop just before we got the reaction to the less than positive end to the recent EU/UK trade talks and it seems that the two parties are still as far away as ever on this. They reconvene talks on September 7th but time is seriously running out. I am sure many of you would have re-entered longs on this cross on the breakdown in talks again but we do still remain in a well-defined range for now and would need to break .9175 to get a new leg higher.
I think we have seen a significant shift recently against the US dollar but the data has created something of a curveball. But at the core of the USD weakness for me, is still the Fed and so the jury is out on whether the USD has turned back up for good. We may have to wait until we hear what Powell has to say this week to take any further action on the USD view. EURAUD is still trapped in a tight range but again, there are signs of AUD starting to top out. EURJPY also had its stop triggered but again for a small loss as the EUR underperformed Friday. Right now I just have gold and the EURAUD position. I do think there is a chance that we see a move in AUDCAD though as the charts seem to suggest further weakness here. I am prepared to dip a toe in short here at .9445 as I think a break of .9440 could be significant and open up a deeper sell-off.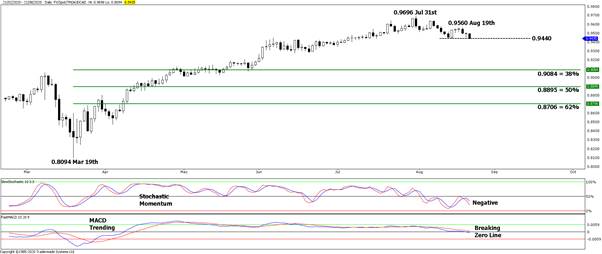 I think the stop can be quite tight at .9565.
The disconnect between the all-time highs in the stock market and the broader economy has never been greater and one of the places where this chasm is most glaring, is in the staggering number of major corporations filing for bankruptcy in 2020. Indeed, this year large US corporate bankruptcy filings are running at a record pace and are set to surpass levels reached during the financial crisis in 2009 (when the S&P was far from an all-time high). In total, 157 companies with liabilities over $50 million have filed for Chapter 11 bankruptcy this year and many more are likely coming. Unemployment in the US may stay stubbornly high as companies start to slash costs to survive. This bankruptcy cycle may just be starting and I do wonder if/when this hits equity investors confidence. The spike in bankruptcies comes despite trillions of dollars in government aid to mitigate the fallout of the coronavirus pandemic on businesses, highlighting the catastrophic and lasting impact Covid-19 is having on the US economy. Not all the bailout monies are finding a home.
Meanwhile, the US economy is driving right over the fiscal cliff as Congress failed to extend emergency Covid benefits, sending spending by those receiving Unemployment Insurance sharply lower. I am wondering if this starts showing up in Retail Sales data soon.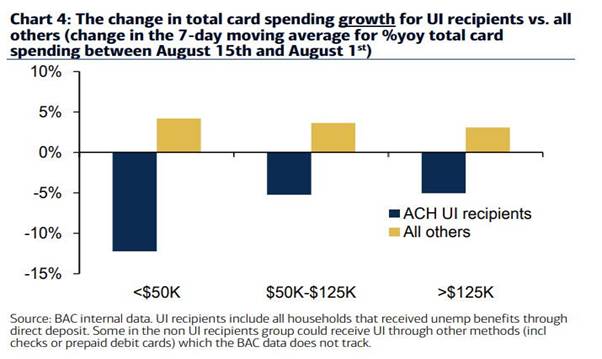 The chart above shows that the less well paid are taking the brunt of this slowdown. We have to assume that ending the $600 per week federal unemployment benefits will push tens of millions of Americans into, or uncomfortably close to, poverty. They won't have the money to buy billions of dollars' worth of goods and services. As a result, the entire economy will suffer and the unemployed face a long wait for a job and many overqualified people will be taking lower paid jobs, which forces those less able onto the long-term unemployed list. They simply cannot compete. While stocks fly ever nearer the sun, the harsh reality is that millions of Americans are desperate; and you can see that spilling onto the streets across America which is seeing disturbing social unrest. Are the markets far too confident now and are all the shorts out? Markets have a tendency of reversing when that happens and scratch the surface and the global economy is still in trouble.
—————————————————————————————————————-
Strategy:
Macro:.
Long EURGBP @ .9030.. Stopped at .8950.
Long Gold @ $1875 Stop at $1875
Long EURJPY ´126.00 Stopped at 125.10.
Long EURAUD @ 16515 Added at 1.6420 and Stop below 1.6235.
Long EUR @ 1.1876 Added at 1.1810 and Stopped at 1.1780
Shorth AUDCAD @ .9445 with a stop at .9565.
Brought to you by Maurice Pomery, Strategic Alpha Limited.
—————————————————————————————————————-
Strategic Alpha Report Disclaimer
Doo Prime endeavor to ensure the reality, adequacy, reliability and accuracy of all the information provided, but do not guarantee its accuracy and reliability. All the information, analyses, comments, statements, and/or data provided in this report is for information purposes only. Client's use of any contents of the report as the basis for the transaction, the client shall fully aware of the risks and agreed to bear all the risks. Client shall cautiously judge the accuracy of the information. Doo Prime has no liability for any loss caused by any inaccuracy or omissions of the contents and subjective reasons of Client.
Risk Warning
This information is powered by Strategic Alpha. Any opinions, news, research, analyses, prices, other information, or links to third-party sites are provided as general market commentary and do not constitute investment advice.