Good Morning.. Welcome back to those that enjoyed the sunny bank holiday in the UK. The positions I am running have stalled due to the constant rise in global equities and it seems HK was keen to calm nerves after some violence over the weekend. But I am not convinced this problem is going away (see below). Much of this equity rally last night was on hope of yet another vaccine. Equities surged, fuelled by a potential coronavirus vaccine from Novavax, which has started human testing and results are hoped for in July. But the disconnect between stocks and data continues and I don't know anyone who is looking for a V-shaped recovery now. China is upsetting a few trading partners over its handling of the Virus and Trump and Biden seem to be using China as some kind of political football. This is NOT good for global trade and how can we get a fast recovery when globalisation is in retreat? I am holding current positions but they are exposed to this surge in stocks. But I still feel that the impact from unemployment will ripple out and while the Fed and other central banks are throwing record amounts of liquidity at this crisis, the Fed cannot print jobs.
Keep the Faith..
Details 26/05/20
Pressure builds in HK: Focus on Australia and the EU.
–
The pressure-cooker that is HK is back on the big burner again after a period of relative calm and comes at a vulnerable time for markets but it has to be said that so far, markets have not reacted badly to this rise in geopolitical pressure. That is what is building here as I am not sure if the world is prepared to stand off and watch HKs democracy be taken away and anyway you slice it, this latest piece of legislation is another big step towards HK being fully engulfed by China. The real concern is that HK knows this is coming and has done for a while and the only way it can create delays to the inevitable is to make HK a scene of victims fighting for a political freedom that they know they can never hold onto and hope that foreign democracies intervene. The problem with that is it could set the two biggest super-powers into a confrontational cold war or worse. To be honest, I have no idea where this is headed but I do fear that HK will put up a long and bloody fight as they wait for outside help that may never come. Shame.
Having said that, markets seem to be shrugging off this issue as oil and equities pushed higher again last night with the S&P futures now back above 3000 and oil back at $34.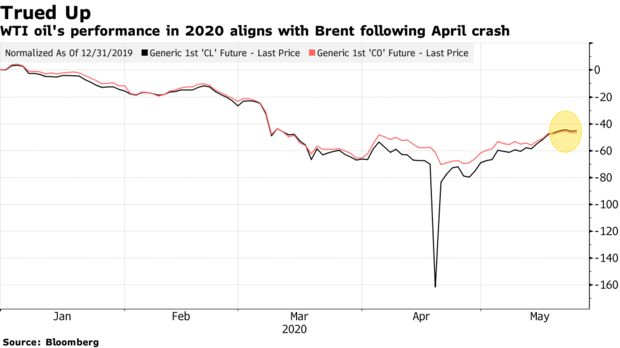 WTI oil's performance in 2020 aligns with Brent following April crash
There seems to be a lot of hope that unlocking of economies will see a rapid return to normal but that remains to be seen and this rally still seems driven by rather low volumes and flies in the face of what data are telling us. The move appears dangerously speculative to me and this China/HK issue is not one to be ignored. HK shares rallied last night (over 2% with Nikkei up 2.5%) even as tensions between Washington and Beijing remain in focus with China condemning the U.S. for adding 33 Chinese entities to a trade blacklist, but without announcing any retaliatory steps so far. Meanwhile, China sought to reassure Hong Kong that its judiciary would remain independent under a new national security law. But what we are really hearing hear is that from China's point of view, they have waited for HK to get itself sorted out but has waited long enough; so China is sorting HK discipline out for them.
China has sought to reassure international investors that a proposed national security law that critics say gravely threatens Hong Kong's autonomy would instead improve the business environment in the Asian financial hub. I am sorry but HK does not need to improve its business environment and has been a shining beacon for trade in Asia for 200 years. It is the most business-friendly place one could imagine and has a population devoted to commerce and hard work. "The legislation will alleviate the great concern among the local and foreign business communities about the violent and terrorist forces attempting to mess up Hong Kong," said Mr Xie, China's foreign ministry commissioner in Hong Kong. Well, I think this is nothing to do with terrorism as HK has never seen such things and this is China justifying its actions. HK is NOT going to go quietly and we need to discuss what implication this may have on global markets. I can see why China has chosen this time to push this next phase in the HK integration as the world is looking the other way at the virus issue but it does matter. On Sunday, police fired tear gas and arrested about 180 people among the thousands who marched to protest.
The reason it matters is that Trump is keen to usurp Biden as American voters seem to like an aggressive stance on China and into the election, we may see some strong words exchanged and the danger is that China is now the political football for this election. The US has threatened to impose sanctions on Hong Kong and China if the law is implemented but China's foreign ministry spokesman Zhao Lijian said China would respond if the US undermined its interests in Hong Kong. You can see where this could escalate to and Trump is in no mood to pull any punches with China and the Trade dispute still a concern for global markets; is that now in tatters? China is angry at an American proposal to sell arms to Taiwan and Taiwan may also revoke the special status it has granted to Hong Kong if the law is passed, which would make it harder for people from Hong Kong to travel to Taiwan and would likely anger Beijing. Beijing is losing more friends after losing many over the handling of the virus spread and has spats with the US, Australia, India and a few others. The danger here is that the US, which is becoming more insular under the Trump administration and the Chinese fronting up to many trade partners, creates a stand-off like Russia and the US had for decades.
This is a world that is reliant on global trade, globalisation and mutual respect for trading partners, all of which are being undermined.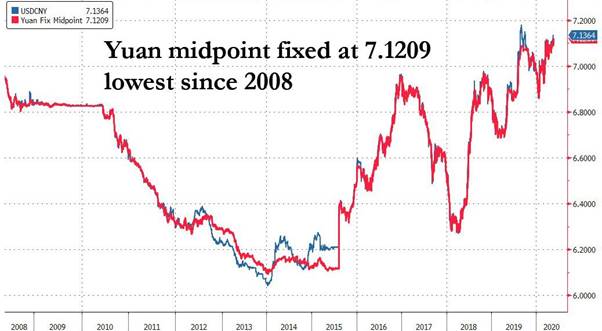 This was Monday's fix and if we take a look at USDCNH we see a high made yesterday of 7.1585. I think this may have implications for the whole USD complex which could start testing recent highs again with all the nasty side-effects that go with it. In fact, I am surprised that USDCNH is not higher but I think it will be. The danger of a flashpoint is high in HK but it may be more about how Trump reacts in coming weeks that moves markets. This seems like a "red rag to a bull"; In an editorial published in China's Global Times, the authors claim that Trump is indeed nothing but a paper tiger and that "US talk of Hong Kong a nothing burger" in response to Beijing's formulation of a national security law. To be sure, the article is filled with the usual jingoist allegations; but I am sure this editorial will find its way to Trumps desk. This is NOT over yet as China may have just called Trump's bluff.
Meanwhile we must also remember that the EU is still very reliant, as indeed are Australia and many others, on a solid Chinese economy which needs to be growing fast for those to benefit and right now that is not the case. The EU is very heavily committed to China and may fare badly if things turn sour between China and the US and also its neighbours. But the EU has other problems to deal with and that is a lack of confidence in the very structure of the EU itself! I note with some interest that an Italian poll sees China as the friendliest foreign country, followed by Russia! (What?) Germany is considered the least friendly foreign power, followed by France. Another poll says 44 per cent of Italians favour staying in the EU against 42 per cent who want to leave. For your guide, two years ago, that relationship was 65 per cent against 26 per cent in favour of staying. A lot of this may have to do with Italians feeling rather betrayed by the wealthier nations and the thought of Italy leaving does seem absurd but politics have a momentum all of their own; trust me, sitting in the UK, I am well aware.
Whatever the reason, these are deeply alarming figures. Twenty years of eurozone membership have taken Italians to a point where they consider China as their most important strategic partner and for those twenty years they have hardly been out of recession. They may have solid reasons to question their membership. The EU is facing some reputational damage with Brexit but it faces an existential crisis if members turn to China for trade over the EU. But China is risking a lot here too and cannot afford to damage global trade relations at a time of such economic weakness and rising unemployment. This highlights the sensitivity of what China is gambling with over HK; incurring the wrath of Trump and others over a democracy issue and putting strains on global partners who were just coming around to trading agreements. Can China afford to withdraw inwardly? No; and I do not see that as a goal from Xi but HK is a thorn in his side that may not go away and the HK protestors will want this as front page news for as long as possible; the human costs I fear, maybe high.
Meanwhile stocks seem to keep rising on hope that a vaccine will be found very shortly but there is evidence that the retail sector is now driving this rally, which suggests a potential problem ahead. They are concentrating their buying in those FANGMAN stocks as well.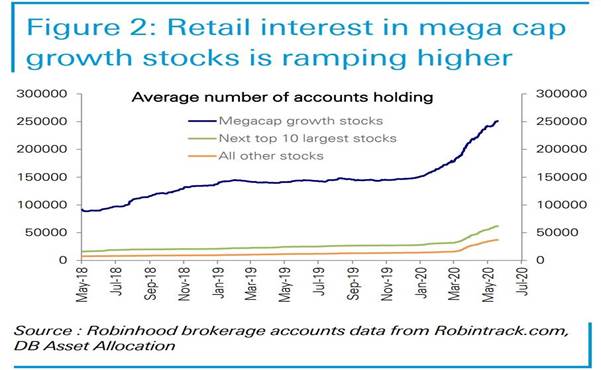 These sorts of moves often finish in tears but who knows how far this could extend as those who sold into this rally cover shorts. The market needs to be very long to crash. However, as Goldman confirms in its latest hedge fund performance tracker, the continued surge in retail investor trading activity has helped boost the growth stocks most popular with hedge funds, adding that "data collected by our equity analysts from brokers show daily average trades more than doubling in early 2020 relative to the typical pace in recent years." I find that a tad scary and these guys don't hedge and many are buying stocks on credit cards. While some may smile at the fact that retail is outsmarting those clever hedge fund guys and while it is certainly a novelty to see retail investors outperform hedge funds, I doubt this divergence will last long; do you? But equities are still jumping on any positive Vaccine news and last night was no exception with optimism fuelled by a potential coronavirus vaccine from Novavax, which has started human testing and results are hoped for in July.
Many analysts and economists are trying to predict the shape of the economic recovery post-Covid19 and I have been asked many times but my usual answer is that "L" shaped recoveries are not unusual. In fact, I would say V-shaped are the less common and we have to consider that we still have NO vaccine. On that basis, it seems naïve to me to suggest we are past the worst of all this economically.
This chart shows precisely how economies can recover and is a good visual for those unsure of where we might end up. The issue for me and why we may end up with the L shape is that I have rarely seen a quick recovery when unemployment has risen sharply and we have no idea if, when or how many will get back to work, especially in the US. I think most are now convinced that a V-shape is off the table but the jury is out on what happens next as economies unlock. But I think it is important to stress that if we look at the past three decades of recoveries after a crisis, we can see that the last three recoveries have been weaker, with less productivity, a lower rise in real wages, and poorer investment growth than the previous three. That is vitally important to bear in mind here and is a significant and concerning trend. Also, how can global growth recover when globalisation is in retreat?
The signs of an L-shaped return to normal post-Covid-19 are starting to appear. In China, most sectors are posting disappointing levels of return to normality, and if we exclude those sectors -like cement- that are driven by government building and state-owned enterprises producing to build inventories, the recovery is clearly very far away from V-shaped. Japan's economy is in tatters after all they have thrown at this issue with exports from all major Asian exporters still extremely weak; global demand is still a long way off normal. Even if you don't like what Powell is saying about the potential risks to the economy, JP Morgan estimates that 2021 will still show a level of corporate profits that will likely be 20% below the 2019 level. Central banks and bank analysts are suggesting there is a lot of pain ahead still and this should disprove the V-shaped recovery and bullish arguments about most stocks, but also proves that even investment banks, who always provide reasonably optimistic estimates looking at a benign scenario, are pushing back the recovery to 2022. Data may well improve but coming from such extreme levels does not mean a recovery is taking shape.
Higher oil (after a complete collapse) dynamics and potential drug developments are among the key reasons stocks are higher but realistically, that does not mean we should ignore the risk of second waves, prolonged weak growth and geopolitical issues. Everywhere, I am reading forecasts which are becoming less optimistic and the divergence between this and where US stocks are is a major concern now. Unemployment matters in all corners of the economy and the ripple effect from unemployment is felt across the consumer/services sector, the very engine of developed markets growth and one thing is clear; While the Fed and other central banks are throwing record amounts of liquidity at this crisis, the Fed cannot print jobs.
—————————————————————————————————————-
Strategy:
Macro:.
Short AUD @ .6550. Stop @ .6685.
Short GBP @ 1.2260.. Stop at 1.2350
Short GBPJPY @ 131.95 Stop at 133.20
Brought to you by Maurice Pomery, Strategic Alpha Limited.
—————————————————————————————————————-
Strategic Alpha Report Disclaimer
Doo Prime endeavor to ensure the reality, adequacy, reliability and accuracy of all the information provided, but do not guarantee its accuracy and reliability. All the information, analyses, comments, statements, and/or data provided in this report is for information purposes only. Client's use of any contents of the report as the basis for the transaction, the client shall fully aware of the risks and agreed to bear all the risks. Client shall cautiously judge the accuracy of the information. Doo Prime has no liability for any loss caused by any inaccuracy or omissions of the contents and subjective reasons of Client.
Risk Warning
This information is powered by Strategic Alpha. Any opinions, news, research, analyses, prices, other information, or links to third-party sites are provided as general market commentary and do not constitute investment advice.