Good Morning.. A mixed session Asia with strength seen in Tokyo but weakness in HK as the US talks of removing HK's special relationship. This is big news for HK and could spark capital flight from the ex-colony. The US no longer sees it as "one country, two systems" and the tensions between the US and China are worsening by the day. Australia is getting caught in the middle and China is also flexing its economic muscle with the Aussie government. I am surprised AUD is not lower… The EC announcement on the bailout deal sparked a rare reversal of fortunes for the EUR and its crosses and I think this move in EURGBP could extend and I have gone small long here at .8978 looking to add on a dip. A break of .9000 looks significant to me and with Brexit back on the radar next week, GBP is probably going to struggle. Equities almost had a wobble yesterday but again demand was seen on the dip but earnings look set to become an issue and earnings matter. The Fed is propping everything up with liquidity but that is not the only problem facing us. A lot of US data today with GDP, quarterly Core PCE, Durable goods and jobless claims.
Keep the Faith.
Details 28/05/20
The European Commission has put forward its proposal for a major recovery plan. US to remove special status from HK.
–
EUR and EUR crosses rallied yesterday as the plan to bailout the EU was unveiled. To be honest it all looks pretty sensible and maybe it could work but as ever with big solutions for the EU, this needs to get passed by all 27 members and three or four seem less than keen. EUR and EUR crosses all rallied and EURGBP, broke above chart resistance at .8985 at one point and held solid gains overnight. The UK is still facing an 11th hour decision on whether talks progress next week and this cross could be on its way higher. As you can see from the daily chart below, a break above .9000 and there is little to stop it on the charts.
I am fearful of buying up here (I should of sent a note out yesterday) but I do think this could make a difference IF the EU can get all 27 to agree to this deal and am now looking to dip a toe in an buy small here at .8978 and buy more lower as there does seem to be some hope that it can do some good; whether or not it is enough depends on how long the recovery takes and that remains an unknown but in the short-term I think some shorts in EUR products will get squeezed. I will look to buy more if we dip back to .8940 ish. Facing its worst recession in living memory, the EU has crossed a new bridge: It will harness its collective strength to raise massive amounts of money that won't need to be repaid by the recipient countries. Well, that is the theory. "This is Europe's moment," European Commission President Ursula von der Leyen told the European Parliament in Brussels on Wednesday. "We either all go it alone, leaving countries, regions and people behind and accepting a union of haves and have-nots, or we walk that road together." Too true and for now, there is some hope.
Sitting behind the grand statements and the "Big plan" sits some concerns as the commission chief is also proposing a suite of new EU taxes and levies to pay back the debt over the coming decades — hitting everything from tech giants to carbon emissions — to raise tens of billions of euros a year. Merkel also warned that we should not expect any agreement on this plan at the next EU meeting. Coming on the back of concerns over Trumps spat with Twitter, alongside the EC proposals for environmental taxes, the commission is exploring a new levy on large businesses, which could yield about €10bn a year for EU coffers. A tax on big tech companies such as Facebook and Google could generate about €1.3bn a year if it went ahead, some say. The EU plan wraps together the recovery fund with the bloc's next seven-year budget, which is due to run from the start of next year and which has yet to be agreed by EU leaders. What we have seen is some shorts squeezed out of EUR and peripheral bonds. Trump taking on Twitter is a concern but if the EU is going to tax the tech giants as well then we may be heading for a problem with those popular stocks.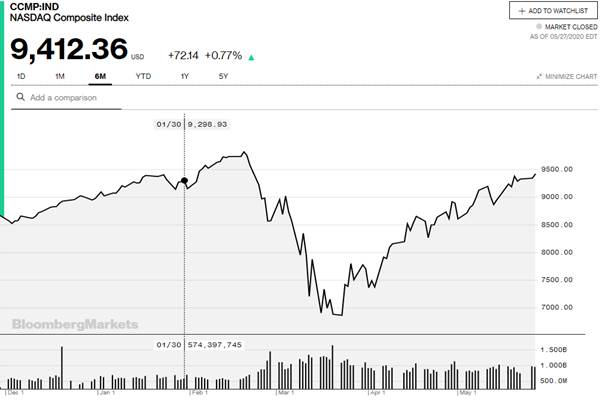 We saw some rotation out from tech yesterday as Trump promised action against the likes of Twitter.
On top of all this we have China flexing its economic muscles with Australia again and is really piling on the pressure on the Aussie government. According to those in the know, China is expected to promote the use of domestic coal by tightening import rules, starting with shipments from Australia. This sent AUD tumbling and the early selloff in stocks added some pressure to AUD but as ever, stocks rebounded and AUD stabilised somewhat. Such a move would add to tensions between China and Australia. Beijing has already slapped an import ban on Australian beef and applied punitive tariffs on barley following Canberra's call for an independent inquiry into the origins of coronavirus, which was first detected in the Chinese city of Wuhan. A strange fight to pick by Australia (biting the hand that feeds you), when they could sit back and let the US take the fight to China. To my mind, the AUD still looks exposed to US/China relations which are not improving at all. Oz needs China badly still but China needs the world's consumers. US secretary of state Mike Pompeo has said Hong Kong is no longer autonomous from China, taking a potential first step towards removing the special trade status that has helped sustain Hong Kong as Asia's financial capital. Oz sits right in the middle of all this as global trade is about to take another hit if this escalates.
The point here is that if the US were to revoke Hong Kong's special trade status, it could subject bilateral trade between the two to the same tariffs, sanctions and export restrictions the US applies to China, and imperil the city's standing as a global financial centre. This is big news for HK if passed and China will not be best pleased. If the US considers that the "one country, two systems" no longer applies then HK could be cut adrift. The damage to HK is far greater than it is to China and could spark a flight of assets from the ex-colony and possibly push many to thinking of leaving. What pressure would that bring on the HK peg? The gloves are coming off between the US and China and still stocks and many other assets ignore the risks. I think there is little chance that we get a significant recovery in global growth as this spat is probably going to worsen into the US election. Keep an eye on USDCNH as well as we are breaking all-time highs here.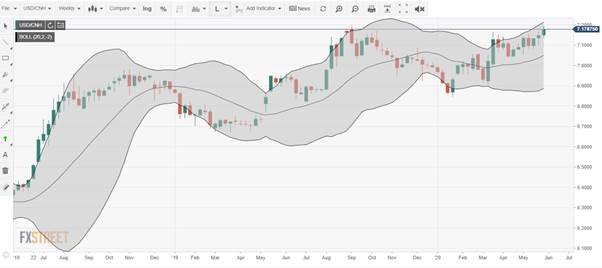 We made a high of 7.1875 last night.
For a moment yesterday, US stocks looked in trouble but yet again demand came back quickly and pushed stocks higher into the latter part of the session. While S&P 500 companies posted a record decline in Q1 operating profits, exceeding the previous single-quarter collapse that occurred during the Great Financial Recession, the decline in Q2 operating profits will prove to be far bigger. Corporate solvency risks are alive and growing while equity valuations are at crazy levels. This may, at some point, test the resolve of equity bulls.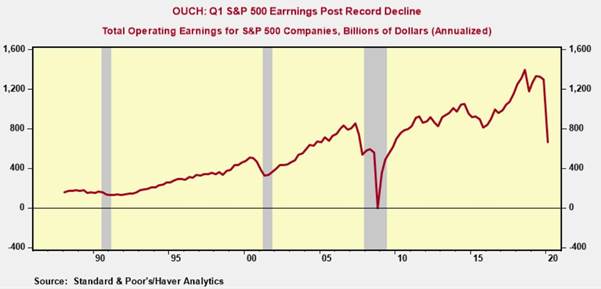 I keep coming back to the fact that earnings will matter. The Bureau of Economic Analysis (BEA) will publish its first official estimate of Q1 operating profits when it releases its second estimate on Q1 GDP today. The GDP profit figure will exclude any capital losses in Q1, but it will include the operating results of a small and mid-sized business, many of which were hurt even more so than S&P 500 companies. GDP is rather backward looking though but I fail to see how corporate profits are going to rebound if the consumer is not spending due to fears over job security. Global growth cannot rise if US/China escalate their rhetoric to actions. The trade war has not gone away and global growth will respond badly as globalisation retreats. It has to and again Oz sits in the middle of this spat.
Looking to the future: We are facing a crisis, there is no doubt about that but this crisis will present different issues than what we have seen over the last 20 years. We will be showering the economies with money at a time when the supply of goods and services is diminishing due to work stoppages, loss of consumer spending, production declines, distribution bottlenecks, and import restrictions. It is also commonly believed that debt no longer matters; if so, why did it ever? But it is debt that has crippled global growth. So, in essence, we will have more money chasing fewer goods and services and this could create a recipe for stagflation, whereby prices go up even while the economy contracts, creating a horrible economic situation for those at the bottom of the economic pyramid and a nightmare scenario for the Fed and other central banks to deal with. Stocks will dump if stagflation does raise its ugly head. Debt and monetary expansion look almost certain to increase if we listen to our central bankers and governments and who knows, the dollar may eventually buckle under the weight, dragging the bond market down with it. It's hard to say what the economy will look like once the bill comes due, but investors have had plenty of warning. For now the Fed are propping everything up with liquidity but liquidity is just part of the problem, as discussed here many times.
—————————————————————————————————————-
Strategy:
Macro:.
Short AUD @ .6550. Stop @ .6685.
Short GBPJPY @ 131.95 Stop at 133.20
Long EURGBP today @.8978 looking to add @ .8940.
Brought to you by Maurice Pomery, Strategic Alpha Limited.
—————————————————————————————————————-
Strategic Alpha Report Disclaimer
Doo Prime endeavor to ensure the reality, adequacy, reliability and accuracy of all the information provided, but do not guarantee its accuracy and reliability. All the information, analyses, comments, statements, and/or data provided in this report is for information purposes only. Client's use of any contents of the report as the basis for the transaction, the client shall fully aware of the risks and agreed to bear all the risks. Client shall cautiously judge the accuracy of the information. Doo Prime has no liability for any loss caused by any inaccuracy or omissions of the contents and subjective reasons of Client.
Risk Warning
This information is powered by Strategic Alpha. Any opinions, news, research, analyses, prices, other information, or links to third-party sites are provided as general market commentary and do not constitute investment advice.