Good Morning.. Stocks headed lower into the Wall St close but after hours we saw Alphabet beat estimates on earnings and stocks went straight back up. Japan is closed but decent gains were seen in Asia. This saw the USD trim gains again but we still see EUR underperform, especially against AUD and to some extent JPY today. I think this may continue as we have a huge deadline coming up after the ECB meeting. May 6th is the deadline for the 7yr budget and the delivery of the bailout package. I am not sure they can hit that deadline. I am happy to add EURAUD here at 1.6625 to the short EURJPY recommendation.. Looks like German CPI might come in stronger and I note Aussie inflation was up last night. US GDP also today which may start picking up some of the crisis but rather backward looking for me. But of course it is what the Fed has to ay tonight that matters. I am not sure stocks can hold these gains into that..
Keep the Faith
Data.. All Times BST
10:00.. EU Consumer Confidence April Cons: -22.7 Prev:-22.7
13:00.. Germany CPI y/y (Prelim) Cons:0.6% Prev:1.4%
Germany CPI mom (Prelim) Cons:0.1% Prev:0.1%
13:30.. US Core PCE q/q (Adv) Cons:1.7% Prev:1.3%
US GDP Annualized q/q (Adv) Cons:-4.0% Prev:2.1%
15:00.. US Pending Home Sales m/m Cons:-10.0% Prev:2.4%
19:00.. US FOMC Rate Decision (Lower Bound) Cons:0.00% Prev:0.00%
US FOMC Rate Decision (Upper Bound) Cons:0.25% Prev:0.25%
00:01..UK GFK Consumer confidence April Cons:-15 Prev:-9
Speakers:.
19:30.. US FED Chair Powell Press conference
Details 29/04/20
EUR under-performs even as unlocking on the cards: FOMC
–
As we head into the ECB meeting tomorrow, we are seeing continued weakness in the EUR, mildly against the USD but more so against GBP, JPY and the AUD. I expect the weakness in the crosses, to continue, as for me the EUR is rapidly running out of time. Not only is the virus impacting the economies hard across the zone with some of the worst hit economies on the planet, but they also face a moment of truth with regard to the ongoing strength of the union itself. Firstly the economic impact on the Euro-zone maybe the biggest there is and I am pretty sure the EU may be one of the slower zones to recover. France's economy is set to shrink by 8.6% this year as seen in a Bloomberg Economics' central forecast, and that assumes the pandemic is brought under control and government support limits any lasting damage. There is talk of opening up France as many EU nations look to restart their economies. The real danger is that the administration does too little or that support fails to reach those who need it. The damage to the economy and public finances would then last much longer, with GDP plunging 14.4% in 2020 and debt shifting to an upward path above 120% of GDP from 2021 -– following Italy's experience after the global financial crisis.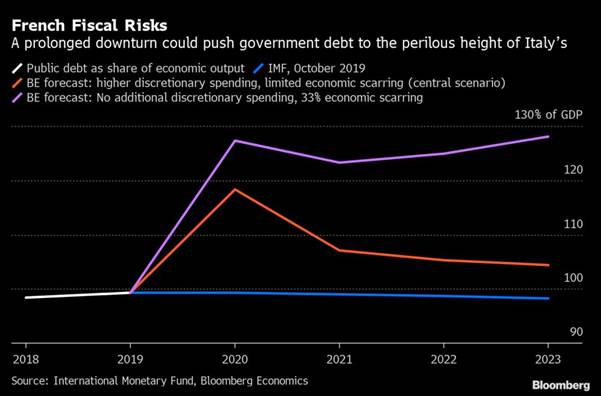 France's economy may look more like Italy's soon and Fitch downgraded Italy to a notch above Junk last night (But said the outlook was stable!! Really?) The rating agency said it expects the country's ratio of debt to gross domestic product to rise by around 20 percentage points this year to 156 per cent, as a surge in spending combines with an 8 per cent contraction in the economy. An announcement from Fitch on Italy was not expected until July. Keep an eye on BTPs. Fitch said: "Downward pressure on the rating could resume if the government does not implement a credible economic growth and fiscal strategy that enhances confidence that general government debt/GDP will be placed on a downward path over time." Haha OK; good luck. (Useless; it sure looks like Junk to me; rating agencies should get it over with but always bend to political pressure due to the huge conflict of interest in my view; rant over).
On top of this, the clock is ticking for the EU leaders to agree how to deliver the rescue package designed to help the weaker nations. The 6th of May should be highlighted in bold in your diaries, as that is the deadline set for the long-term budget for the EU and the plan to finance the recovery of the EU economy. The numbers involved are large which is about time but delivering it is a whole different issue. The EU leaders cannot afford NOT to agree on all this but negotiations on a long-term budget have struggled before this virus was ever recognised. Setting a budget in these conditions for the next 7years is not going to be easy and I am not sure the individual nations can ever agree to any compromise which will be the best they could come up with, let alone by May6th! This is a ticking bomb for the EU and the EUR and is why I remain staunchly bearish (unless of course they bury their differences and get this over the line). The EU struggled to get any agreements before the crisis evolved and to my mind have little chance of any agreement next week! EUR was weaker against most yesterday but especially AUD and I see this lower still and EURJPY.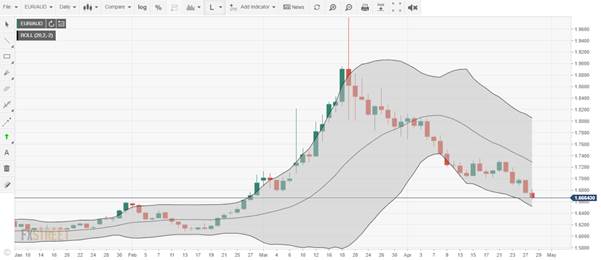 This date is a huge day for the EU and no one seems to be talking about it. At the same time, fiscal rules are being thrown out the window. Meanwhile the German IFO said that 29.2% of firms surveyed said they can survive for 3mths or less if C-19 restrictions remain for a longer period; these worrying numbers point to a wave of insolvencies and that means more job losses.
Across the Pond in the US, the data still flies in the face of the equity market euphoria, as consumer confidence crashes.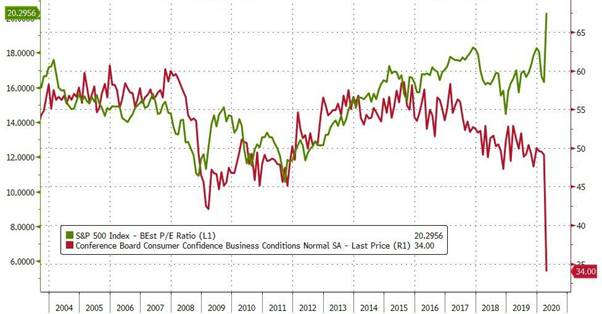 This, my friends, is the 70%+ of the US economy that believe all hell is about to break loose. The impact on spending from this shock could be massive and yet stocks only dipped marginally as we saw a rotation from tech to defensives yesterday. The Conference Board's headline index plummeted by 31.9 points, the sharpest drop since 1973 to its lowest since May 2014. Tell me that 26mln+ Americans losing their jobs is irrelevant. The Present Situation crashed to 76.4 (its biggest drop ever). The psychological impact of unemployment is going to kill the US economy as the recovery is unlikely to be anything like V-shaped. At the same time the Richmond Fed fell to its lowest ever. US yield curve flattened somewhat and I am not surprised and the USD moved back up off the lows.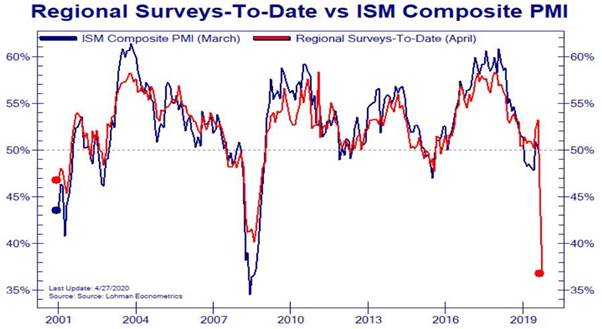 The future looks grim for the next set of PMI data. Optimism in equity investors is now way ahead of reality and while US stocks looked soft into the close, it only took better earnings from Alphabet to send them straight back up again last night. Again the top 5 stocks are leading this whole move and we await Amazon earnings which surely will be solid. But with this unemployment issue and a dive in confidence, it is impossible to model the damage this is doing to the main pillar of the developed world's economies; the consumer. Without them, confident and spending then we have a real problem. It has to be so.
Jobs matter and not just in the US but across the planet. Airlines are shedding staff with SAS dumping about 50% of workers who will NOT be re-employed and BA is talking of letting 12k go. Airlines are busted and jobs will go to cut costs and this will spread across a host of industries in my view in time. This will happen even if airlines get bailed out in some cases but not all will survive. The bailouts are for those airline executives who left no cash on their balance sheet, and who allotted themselves 100 of millions of stocks in options through depleting the same balance sheet with massive stock buy-back programs. This is morally wrong and sends all kinds of moral hazard warnings. But again, some won't survive and jobs will be lost. This will have a long, deep impact on many economies and along with the peak in globalisation, suggests to me that growth will remain weak and central bank activity, as we have seen in Japan, may not help. Consumer spending is one of the most important driving forces for global economic growth. For that they need jobs and decent wages.
As consumers grapple with uncertainty, their buying behaviour becomes more erratic. What is clear however, is that they have reduced spending on all non-essential products and services but the issue now is how long this lasts. If consumers are worried about job security or of a 2nd wave of infections, then they may wait quite a while before non-essentials attract. As restrictions in China lift, many categories such as gasoline, wellness, and pet-care services appear to be bouncing back, which could be a positive sign for other countries following a similar trajectory. But while consumers ramp up their spending on the things they need, they also anticipate spending less in other categories. It is this lack of demand for non-essentials that we need to focus on. Travel and transport, hotels and restaurants look particularly exposed still and many job losses will be seen in these industries. According to the World Travel and Tourism Council, a staggering 50 million jobs are at risk in the industry, with 30 million of those jobs belonging to employees in Asia. This on top of 26mln+ US job losses and an estimated 30mln across the EU. The psychological impact will last in the minds of consumers for a very long time. The point is, that considering the travel and tourism industry accounts for 10.4% of global GDP, a slow recovery could have serious ramifications and a slow recovery is what looks likely.
Let's wait and hear what the Fed outlook for a recovery is like tonight but I am pretty sure they are still concerned. It is of course, impossible to know how long the damage will impact for but for me, many asset markets are not pricing the scale or fall-out from the unemployment levels. It can take a long time for consumer sentiment to recover from a shock like this. How can restaurant models work if only half the customers are allowed in due to social distancing? If you give them money, they may well choose to save it. As seen with Netflix and other "stay at home" businesses, some are doing very well from all this but the disaster is lying elsewhere. I am sure Amazon will report strong earnings and stocks will rally on the back of it but there are some deep wounds in the global economy which may need more drugs and bigger plasters. There is hope that we can return quickly to normal but maybe it will be a new normal with different values and spending habits. Regardless, every industry faces one universal truth: life after the pandemic will look significantly different.
—————————————————————————————————————-
Strategy:
Macro:.
Long USDCAD 1.4140. Stop 1.3850ish.
Short EURJPY @ 116.13.. Stop above 117.25
Short EURAUD @ 1.6625.. Stop above 1.6740
Brought to you by Maurice Pomery, Strategic Alpha Limited.
—————————————————————————————————————-
Strategic Alpha Report Disclaimer
Doo Prime endeavor to ensure the reality, adequacy, reliability and accuracy of all the information provided, but do not guarantee its accuracy and reliability. All the information, analyses, comments, statements, and/or data provided in this report is for information purposes only. Client's use of any contents of the report as the basis for the transaction, the client shall fully aware of the risks and agreed to bear all the risks. Client shall cautiously judge the accuracy of the information. Doo Prime has no liability for any loss caused by any inaccuracy or omissions of the contents and subjective reasons of Client.