Good Morning.. Asia followed Wall St lower as the virus cases seem to be the main focus again. But we have a few more issues resurfacing at the same time with a rise in rhetoric between the US and China and indeed the EU and China on trade. This is no time for the resurgence of trade war concerns. The USD rallied against a few Friday but within that the EUR held up and is making strides higher this morning. As US equities fell, USDJPY went up in a clear sign that the JPY is no longer linked to risk moves. EURGBP traded briefly above .9100 as concern over the trade talks linger and I think this cross is starting its next leg higher. USDCAD broke chart resistance and over time, I see this higher too (or CAD weaker). I am sticking with the rather slow EURCAD long. NASDAQ may be worth watching again today as Facebook took a hit Friday with a few others pulling ads but also talk of large corporations pulling all advertising from social media!! Plenty of risks out there in this shortened week due to the US holiday Friday.
Keep the Faith..
Details 29/06/20
Virus cases jump and China/US relations are back to the forefront:
–
Risks rarely go away quickly in financial markets; they are sometimes moved to the back burner as it almost seems investors cannot focus on more than one item at a time but they bubble away and make unwanted reappearances just to keep the market on its toes. We had another session on Friday that reminded of what lurks in the darkness away from the equity euphoria. S&P dropped 2.4% and closed below the 200 dma at 3018 in a day where we saw disturbing data from the US on the virus issues and we must also be aware that unlocking economies elsewhere is seeing a rise in cases. The world may now be ignoring the virus and its implications; but the virus is not ignoring the world and the impact on global trade and the global economy, still looks concerning. But this is by no means the only risks facing the US and indeed the global economy. The heat/rhetoric between the US and China is rising and with Trump trying to show his strength on the run into the election in November, he may keep the heat on; and the markets are in no mood for that at all.
The U.S. and China relationship continues to sour and are in danger of impacting financial markets at a time of extreme nervousness. Both sides are now upping the ante and are exchanging regulatory punches that threaten a wide range of industries including technology, energy and air travel. This is a real threat to the global economy and thus, global markets. Many US and indeed other countries businesses have spent a fortune getting into China and the danger is that the rug is pulled from underneath them. Both sides seem prepared to keep pushing but the next phase of the trade war is good for neither side to be honest. More sanctions will hit both sides and China is not in a position of strength as it is in desperate need of foreign investment from rich countries for both economic and political reasons. The US, while stepping back from the globalised world still needs China trade and more importantly a vibrant and recovering global economy. All this is at threat of being cast aside and Trump clearly still blames China for spreading the virus.
The virus is clearly gaining some momentum and global cases top 10mln and deaths move close to a disturbing 500,000. But many nations seem to be giving up on the virus; suggesting it is only a real issue for the very old and infirm but while the young may not die from this, they can still spread it to those who could. The markets are extremely sensitive to further lockdowns and individual States in the US are rolling back re-openings. This caught the attention of the equity markets and the USD rallied but EUR held up in all this and with USDJPY rallying in a broad USD rally, weirdly EURJPY finished the day higher Friday. The JPY has clearly broken its correlation with risk moves.
This is a 4hr chart of EURJPY from Friday above and this as the S&P fell 2.4%. Last night saw the Nikkei fall over 2%, Shanghai down almost 1% and HK down 1.6% and USDJPY stayed above 107.00 with EURJPY at 120.50 on the highs of the session. Trading JPY crosses on risk on or risk off, no longer brings much reward so if you are bearish or bullish stocks, then trade the stocks and not the JPY derivative as it is not working.
But we did see the USD gain on Friday against a few and a few interesting levels were broken; notably USDCAD breaking resistance at 1.3668 and this has been on the cards for a while in my view and is part of why I recommended the long EURCAD trade. EURCAD traded as high as 1.5372 and to be honest it is a slow burner and will be for a while but stick with me on this as while I see further CAD weakness and I think the EU will fudge together something allowing some form of joint bond. Meanwhile EURBP traded briefly above .9100 and the long recommendation is starting to bear fruit after a slow grind higher and Cable on the charts looks weak. There is not much on the EURGBP charts now and I still see this higher on both a technical and fundamental basis and I am prepared to stick with it. Merkel suggested that it appears that Boris and the UK negotiating team do not want a deal! This again may be part of the art of the deal but it is a concern, as do we really know how much Boris and his team are prepared to compromise? Brussels is calling on the UK to reveal its post-Brexit policy on state aid, saying that Britain's lack of a public plan for a domestic subsidy regime risks hampering the two sides' future relationship talks. The public comments were the second in a week where Barnier had hit out at the absence of a UK proposal, in a sign of the importance of the issue going into an intensified negotiation period starting today.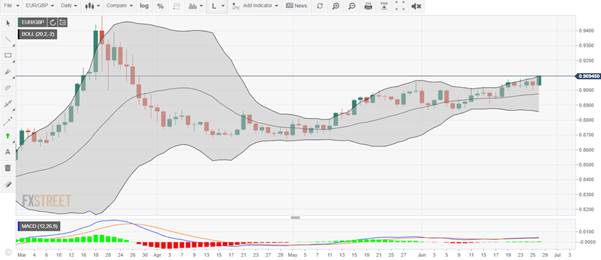 To my mind the stochastics are crossing positively above zero and the bands are now starting to widen, suggesting to me that the next leg higher maybe commencing. On my charts, .9182 looks like a first target on a retracement basis but nothing of note at all really.
Meanwhile there are signs of risk aversion which never really went away as US bonds remain in solid demand. Benchmark 10-year Treasury yields at 0.64% are barely changed from the end of March, even as we have seen a strong rise in the equity space. Not much is spoken on bonds now since the massive interreference from the Fed but the result is that Treasuries are up about 9% in 2020, on pace for the best first-half performance in the Bloomberg Barclays U.S. Treasury index since 1995. Yes, we have seen investors withdraw monies from MM funds but there is clearly a demand for some hedges as we see bonds and gold bid. This week we get another chance for the BLS to surprise us again with the NFP report due (on a Thursday this week due to July 4th Holidays) but last month's release was a farce. But it is unemployment that will keep the developed world and especially the US economy from recovering quickly in my view and I would not be at all surprised to see stocks lower.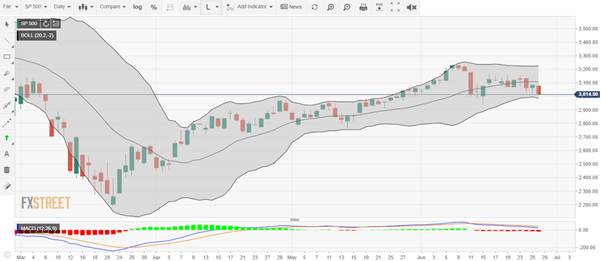 I am cognisant of selling low but whilst we have been tracking sideways for a while, we may be seeing the start of something more concerning but the base of the range remains around 2910ish (22nd May low) for me; that needs to hold now. But it won't if the US steps up the pressure on China and unless you forgot, we have a trade war going on here and is another nagging risk that seems to be making a comeback to the headlines. Additionally, we see that companies are not only pulling advertising from Facebook but some are talking of pulling advertising from all social media. That could unnerve a few.
Also, with States now beginning to back off reopening plans, it is highly likely that current earnings estimates will need to be guided lower over the next couple of months. With no precedent for what we are seeing, there is a danger that the most significant risk to investors currently is a "reliance on certainty" about future outcomes, when in reality, there is no certainty at all. But the Fed does still have some bullets and they may need them with all the issuance still to come down the pipe and they could be back expanding that balance sheet if we get another day or two of big losses and they can cite the increase in virus cases for action. We get to hear from Powell and indeed Mnuchin this week.
So, is the reality that this furious 50-day, almost 40% rally may have been nothing more than a bear market rally? I think we might be about to find out unless Mnuchin and Powell surprise us all yet again when they appear this week. The Guru, that is CS's Hartnett, shows that the current rebound has largely been following the trajectory of the three "greatest bear market rallies of all-time" (1929, 1938, 1974), which would put the S&P at 3300-3600 sometime between Aug & Jan'21, but what follows would be a far more painful move lower, as was the case after all these bear market rallies fizzled resulting in lower lows. Maybe the rally has not peaked already and the bottom of this range needs taking out first for me to get excited. Let's face it, these are no ordinary times as looking back in time we see that it typically takes about 1 and a 1/2 years to recover from a 20% drop. Instead, the S&P 500 rose 40% in 50 days, the fastest rebound in nine decades. Anyone who tried to use 2008 as a roadmap was badly burned. These are unprecedented times and we need to clear our thoughts of what happened before. But one reality is the slump in global trade and this is certainly not priced in equities (yet).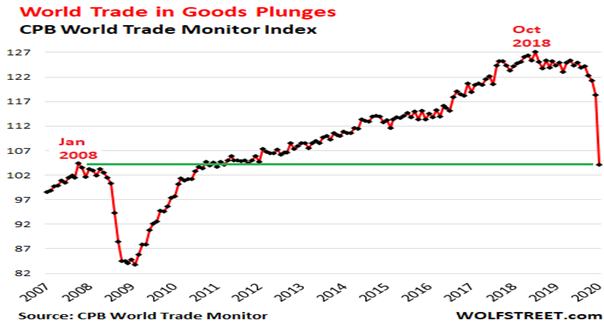 In fact it was falling since 2018, well before Covid 19.
But it is not just US/China relations that are a cause for concern, as China seems to be up against more than one opponent these days with a spat with Australia and the EU and it has border skirmishes with India and things are hotting up in the South China sea with the US Navy. Brussels has said that negotiations with Beijing on an investment treaty are entering a "critical stage", warning that it is readying new instruments to restrict Chinese investment into Europe unless China agrees to level the playing field on trade. This, plus the US pressing hard against globalisation is a real concern for the future of global growth and peace across the planet! "We need to address the issues related to state-owned enterprises, we need to address issues related to subsidies, to forced technology transfer," Dombrovskis said. He added that one of the EU's aims would be to secure the same protections that were outlined for the US in its "phase-one" deal with China, unveiled in January. Yeah; good luck with that. "We expect the same access to the Chinese market as the Chinese have in Europe," Ursula von der Leyen told France Inter radio on Friday. Of course you do; again good luck and look out for the counter move.
Meanwhile, back in the US, it now seems certain that the US government is going to have to step up with more support programmes, many of which are set to end as soon as July as many millions may not be going back to work. But we have an election looming and the opposition may not want Trump being able to take the credit for this and so many may face an uncertain time ahead. This is a big story for me. Without a bill to extend more Federal Aid via Payroll Protection Programs and increased unemployment benefits, the ongoing restriction on trade will likely lead to a further surge in bankruptcies and layoffs and we haven't even started seeing the cost cuttings from many companies! According to Bloomberg data, no less than 13 U.S. companies sought bankruptcy protection last week, matching the global financial crisis's peak.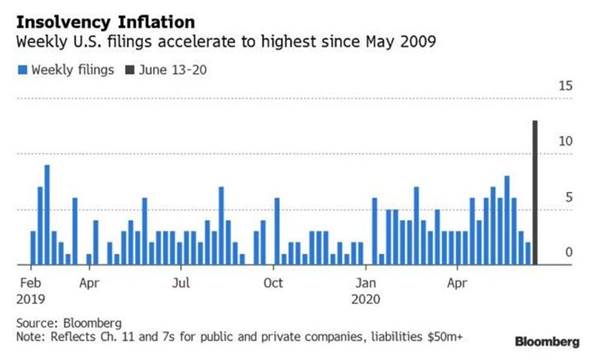 The filings, led by the perennially weak consumer and energy sectors, were the most for any week since May 2009.That data is very likely to get a very great deal worse going forwards if the government has its hands tied. Chesapeake Energy Corp. said Sunday that it had filed for bankruptcy protection as an oil- and gas-price rout stoked by the coronavirus pandemic proved to be the final blow for a shale-drilling pioneer long hamstrung by debt. This has been brewing for a while and we have not seen the worst of this yet.
—————————————————————————————————————-
Strategy:
Macro:.
Long EURGBP @.8978 added @ .8940. Raising stop to .8940
Long EURCAD @ 1.5340.. Stop at 1.5220
Brought to you by Maurice Pomery, Strategic Alpha Limited.
—————————————————————————————————————-
Strategic Alpha Report Disclaimer
Doo Prime endeavor to ensure the reality, adequacy, reliability and accuracy of all the information provided, but do not guarantee its accuracy and reliability. All the information, analyses, comments, statements, and/or data provided in this report is for information purposes only. Client's use of any contents of the report as the basis for the transaction, the client shall fully aware of the risks and agreed to bear all the risks. Client shall cautiously judge the accuracy of the information. Doo Prime has no liability for any loss caused by any inaccuracy or omissions of the contents and subjective reasons of Client.
Risk Warning
This information is powered by Strategic Alpha. Any opinions, news, research, analyses, prices, other information, or links to third-party sites are provided as general market commentary and do not constitute investment advice.