Good Morning.. Oil sent equities up yesterday but I have a few issues here. Trump's suggested a deal but Russia do not seem keen. The Saudi's, who have called an OPEC+ meeting Monday, want ALL producers to cut; good luck with that. This is just a meeting and big cuts are not guaranteed. I also do NOT think that the oil story is the big news; unemployment across the developed world is. Oil rising $10 is not going to cure the problems now facing the EU and US or the global economy. The human tragedy that these job losses are bringing will be felt for a long time; the psychological damage is huge and will impact consumers and financial markets. PMIs today as well as NFPs but many are final readings but not so Spain and Italy. Also watch for Norway unemployment today. I remain bearish the S&P and EURGBP has now broken support at .8747 and I see this lower still. NFPs are going to make this a bumpy ride this afternoon and it's a Friday so "Be careful out there"..
Keep the Faith..
Data.. All Times BST
08:15.. Spain PMI Services March Cons: 25.5 Prev 52.1
08:45.. Italy PMI Services March Cons: 22.0 Prev 52.1
08:50.. France PMI Services (Final) Cons: 29.0 Prev: 29.0
08:55.. Germany PMI Services (Final) Cons: 34.3 Prev: 34.5
09:00.. Eur PMI Services (Final) Cons: 28.2 Prev: 28.4
Norway Unemployment Cons: 13.5% Prev 2.3%
09:30.. UK PMI Services (Final) Cons: 34.8 Prev: 35.7
10:00.. Eur Retail Sales m/m Cons: 0.1% Prev: 0.6%
13:30.. US Avg Hourly Earnings m/m Cons: 0.2% Prev: 0.3%
US Avg Hourly Earnings yoy Cons: 3.0% Prev: 3.0%
US Nonfarm Payrolls Cons: -100k Prev: 273k
US Unemployment Cons: 3.8% Prev: 3.5%
14:45.. US PMI Services (Final) Cons: 39.1 Prev: 39.1
15:00.. US ISM Non-Mfg Cons: 44.0 Prev: 57.3
Speakers:..
12:00.. UK BoE APF Announcement
Details 03/04/20
One of the more perplexing questions, with all the Fed has shoved into the USD funding markets, is what happens to the USD? Can we ever believe anything Trump says?
–
I said yesterday that on the one hand, the Fed adding liquidity at such a rate, forcing FRA-OIS spreads back in and swap lines that helped ease the demand for the USDs suggested the US should fall, the other issue in times of real stress, what else is there than the USD; the home of the world's reserve currency and the deepest pools of the US bond markets. Interestingly, it now seems we have something of a pivot point in the USD index but of course the DXY is heavily weighted by the EUR. The DXY broke back above 100.15 last night as the EUR took a dive and I can fully see why on both a EUR and a USD perspective. We saw a weak bounce in EUR as stocks rallied but even then, it struggled to hold a rally and I think EUR is headed lower against the USD and a few others still. EURGBP broke down and came close to my first objective, the 61.8% retracement at .8747ish. That needs to hold, or we are looking at .8500. This has been an aggressive move with few pullbacks. I remain bearish but have moved my stop down to the entry level at .8901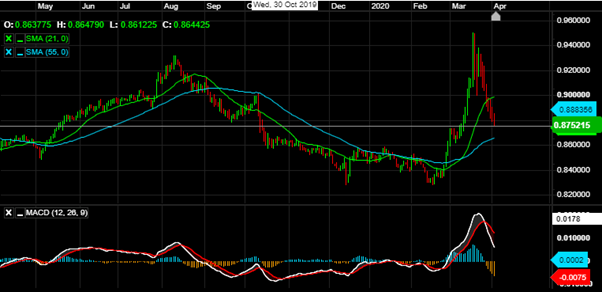 Taking some profits down here makes sense but I would keep a few just in case. EUR looks set for further losses against a USD that looks like it may rally as risk sentiment shifts back down and a test of 1.0635 cannot be ruled out. Stocks turned down again last night with Nikkei down 0.63% after early gains faded. Risk off is probably going to dominate again today as we head into NFPs today and while Services data in many cases is a final look, it is a preliminary release for the likes of Italy and Spain this morning. I expect some dreadful numbers with Spain services due at 25.0 and Italy due at 22.0 after both having readings above 50 last month.
I am not sure we can believe anything Trump ever says about anything ever again after this oil story. Yet again he seems to think it is OK for a president to stray from the truth and he got found out about an hour after he released that Tweet. But for a while, the oil news seriously changed the mood yesterday but there are few details and a many doubts flying around still but my point is; does a $4 or $5 rally in oil cure the problems facing the world economy and in particular the US? Not to my mind it doesn't. In typical Trump fashion, he suggested that he had brokered a deal that would have Saudi Arabia and Russia dramatically ratcheting down their oil production. The news sent oil prices surging but someone forgot to ask the Russians about that. It seems a deal is not done and a call for an emergency OPEC meeting was met by a demand that many non-OPEC members should also be there. Even the Saudi's suggested his 10mln barrels cut was an exaggeration but he just cannot help himself bigging everything up. There is another problem: even if Saudis cut from 12mmb/d to 9mmb/d and Russia cuts by 500k, that's 3.5mmb/d less in supply. Meanwhile, global demand is down by over 15mm barrels! In other words, the only way the oil market will rebalance is if both Saudi Arabia and Russia both stop pumping, even as shale continues to flood the world with US oil. The Saudi's want cuts from every producer: good luck with that. Stocks turned lower and to be honest I was not surprised but markets still latch on to any scrap of good news still. Maybe the real capitulation is not done yet then.
Again, when all the noise dies down and the dust settles, it is still about how long it is until countries can get back to normal, people return to work and factories return to full capacity; this is not an oil story. But in the US, where the problem is going to be far worse than anywhere else, Dr. Anthony S. Fauci says that the United States will not come out of lockdown until there are no "new cases" of coronavirus, prompting some to question precisely how long that will be. The US is probably months away from that and haven't hit peak yet. I am somewhat amazed stocks are not already back on their lows if he and the administration are serious about that. It could be months. Companies are being mothballed and goodness knows how the likes of WeWork and others aligned with Softbank are going to survive. Corporate defaults are still the shock that is coming.
The market indices of the US, Japan, South Korea, Canada, France and Germany and the share prices for many of the world's largest companies including Apple and Microsoft are at the tipping point. These markets need to hold here or we may see the big one. Stocks and indices reached their post-crash and relief rally closing highs from March 25th through March 27th. None of the indices for the six countries has since closed above those highs. Since making their relief rally highs all eight of the indices have declined by 4.2% to 7.4%. I think it decision time for those sitting and hoping for a bounce. If it was coming, I think it would have happened but we may have had it last week. The technicals seem to suggest to me that S&P is headed back to 2200.
These sorts of relief rallies are very common in deep selloffs, or crashes if you will. We may well get another one but it all depends how high we can get. Until the damage has been repaired to the global economy, it is pure guesswork predicting a significant bounce in equities. To my mind it looks far more likely that a re-test of the lows is seen and I remain bearish the S&P as long as we remain below 2620ish.
Later today, we get the NFP data and to be honest, that will be more of a lottery than it usually is but to say the weekly jobless claims were a shock would be an understatement as they beat all the bank analysts wildest forecasts.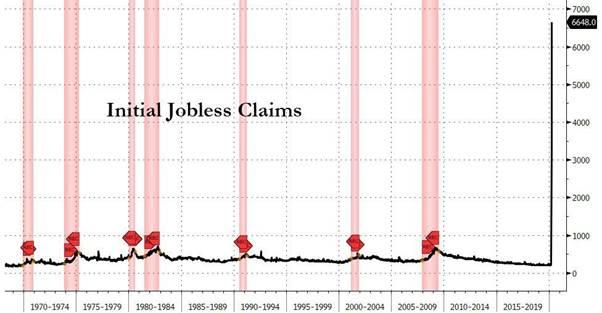 That chart looks unreal but sadly for those involved it is very real and a human tragedy. The impact of this is off the scale and many are not only family members but consumers. The sentiment damage is enormous and others can now see how serious this is. Non-essential spending will collapse. Any associated businesses like luxury shops, restaurants and many others will close and never re-open. What is worrying here is how long this psychological damage lasts. For a two-week period, a sum of 10 million new Americans are now forced into claiming unemployment benefits. As a result of the freshly passed 'relief' bill, self-employed and gig-workers who previously were unable to claim unemployment benefits are now eligible.
In addition, the unemployed will get up to $600 per week for up to four months, which is equivalent to $15 per hour for a 40-hour workweek. By comparison, the government-mandated minimum wage is about $7.25 per hour and the average jobless benefits payment was roughly $385 per person per month at the start of this year. Which begs the question; why work? Mnuchin said that the 1st support payments will be directly deposited within 2 week's, social security recipients will get their cheques soon after but for many, that is a long time to go with no money. While the Fed's actions may prop up financial markets in the short-term, it does little to affect the most significant factor weighing on consumers – their jobs. I really don't care if oil rallies 5 or 10 dollars, this is more important. Confidence and sentiment play a huge role in both spending habits and financial markets.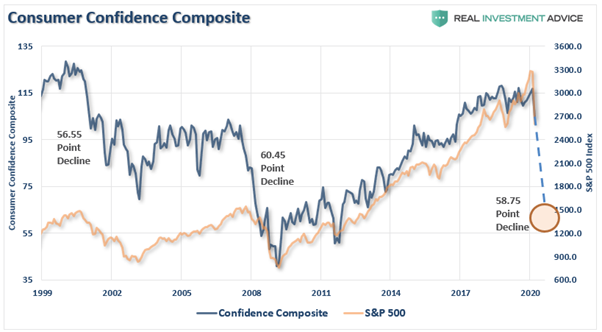 The chart above (courtesy of Real Investment Advice) is a "composite" confidence index, which combines several confidence surveys into one measure. Notice that during each of the previous two bear market cycles, confidence dropped by an average of 58 points. Some pretty dreadful data is still to come and today's NFPs may just be the start. NFPs are due to come in at -100k after +273k last. That is a guess at best but again it is a human tragedy sweeping across the developed world and we should not underestimate what impact this will have on all sorts of human nature. These are very stressful times.
There is another concern facing the US and that is the sudden and unpredictable inability of mortgage borrowers to make their scheduled monthly payments as the entire economy grinds to a halt due to the coronavirus pandemic. Bloomberg reports mortgage lenders are preparing for the biggest wave of delinquencies in history. And unless the plan to buy time works, there is a distinct possibility the Treasury's plan to provide much needed liquidity to America's small businesses may be on the verge of collapse – an even worse crisis may be coming: mass foreclosures and mortgage market mayhem. Again it all comes down to how long the business closures last. Governments everywhere are trying to get money to those that need it to bridge the gap. But what about all those illegible, like illegal immigrants/workers. Is there a danger that social unrest starts to build in Italy, France and many other places? I hope not.
—————————————————————————————————————-
Strategy:
Macro:.
Short EURGBP @ 8901.. Stop @ entry now.
Short S&P 2558
Brought to you by Maurice Pomery, Strategic Alpha Limited.
—————————————————————————————————————-
Strategic Alpha Report Disclaimer
Doo Prime endeavor to ensure the reality, adequacy, reliability and accuracy of all the information provided, but do not guarantee its accuracy and reliability. All the information, analyses, comments, statements, and/or data provided in this report is for information purposes only. Client's use of any contents of the report as the basis for the transaction, the client shall fully aware of the risks and agreed to bear all the risks. Client shall cautiously judge the accuracy of the information. Doo Prime has no liability for any loss caused by any inaccuracy or omissions of the contents and subjective reasons of Client.