Good Morning.. Looks like another nervous week ahead, culminating in NFPs Friday. With many still waiting for peak virus and shutdowns being extended, I really do not understand this equity rally this morning and I am recommending selling into it. For many, the worst is still to come and especially in the US. I still see the USD lower but we may have some noise now but within that I do still see EURGBP lower and would like to see a rally to sell but they seem rare now. I am not sure Italy, Spain or a few others will ever forget if they get left behind by the group. Meanwhile, there is a lot of chatter about China recovering and pulling us all out of this but really? China is facing a huge credit shock (see below) and they will have to bail many out but they cannot help them all. Oil is still dropping like a stone and producers are running out of storage space. To my mind the risks are still tilted to the downside and the light at the end of the tunnel may well be a train coming. We are not past peak virus yet and the global recovery phase is some way off and in the meantime job losses will be brutal. The impact of that is yet to be fully understood in my view.
Keep the Faith..
Details 30/03/20
The USD fall is underway, stocks may have further to fall now. Oil hits an 18year low! Going short S&P.
–
The USD has now seen a significant fall from the highs and the speed of the move has caught many out but I am not sure this is done yet or that the idea exactly what the Fed is doing is fully realised. Cable hit a high of 1.2485 on Friday as the USD took a dive across the board but I still feel the EU is facing some of the toughest challenges and so the EURGBP cross could still be headed lower. To me a look back down at .8500 looks very possible (below). Again nothing wrong with taking profits in Cable up here though.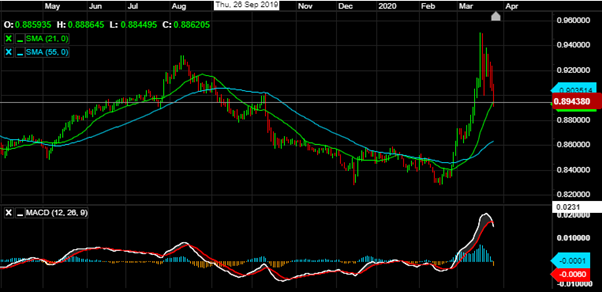 With regard to the USD, I am not sure a deep risk off move is necessarily going to see a USD surge as the problem is that the US is about to become the most damaging headline maker as Trump wants to reopen America as the virus hits it peak; utter madness and he is gambling with peoples lives to get re-elected and he is also ignoring the scientists. Infectious Diseases Director Anthony Fauci said that U.S. coronavirus deaths could reach 200,000; try getting re-elected when that headline hits Donald. His power greed knows no limits and I am surprised stocks are up here. I recommend a sell here with minis trading at 2558.
I am not sure at all that stocks can maintain this rally; a lot of which was driven by quarter end which is done now. The next big headline, especially from the US may bring the reality of the size and length of this issue back to the frontal lobe of investors. I realise this is sticking my neck out after such a huge rally but I am not sure yet that the low is in for many equity markets. Liquidity is clearly not great as we encounter equity moves that are extreme to say the least. After falling into a bear market at the fastest rate ever, the S&P 500 just recorded its quickest three-day advance in nine decades.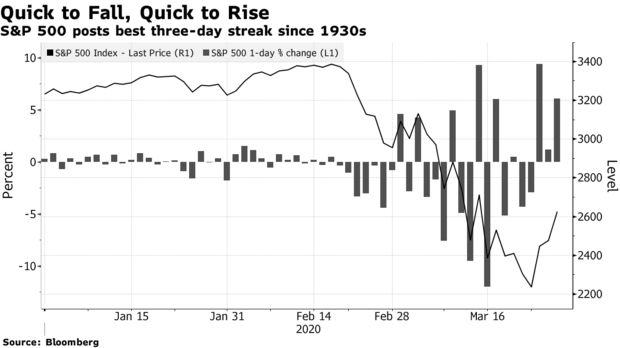 But euphoric rallies are always part of a big sell-off and I still have concerns over this. Blackrock's Fink says it is time to invest in equities but as brilliant as the man is, he has a vested interest and I am not convinced this is a rally worth chasing just yet; we do not have peak virus globally. The issue here is how long the global industry shutdowns have to last and the time it will take to rebuild supply chains and get people back to work. Also, how long will it take to rebuild investor and consumer confidence; both vital to recovering markets.
Don't get me wrong, Governments and central banks have made a huge commitment to build a bridge from now until the problem passes but when will that be? About $12trn has been committed in spending in March alone!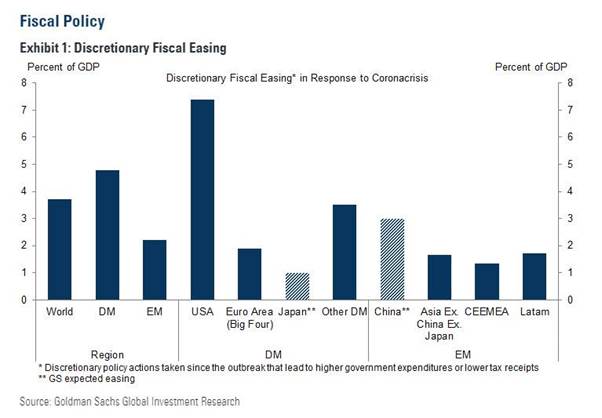 This is huge and will, over time make a huge difference but when? Businesses need to be open and at full capacity for a recovery and that seems weeks if not months away unless we get a massive breakthrough in the science. The reality here is that the global economy just stopped. To recap, global policy makers have not only cut rates 65 times so far in 2020, but also pledged some $12 trillion ($7 trillion in monetary and $5 trillion in fiscal stimulus) to reduce volatility and credit spreads, allowing credit to lead a vicious bear market rally. This is as the big five central banks (excluding China) have already bought $13tn of financial assets since Lehman and are set to buy a further $7tn this year. This is massive in the extreme but takes time to impact. The monetary easing will more than likely have little impact and if it does it will be seen about 12 months down the road. Between now and then, just how many jobs will have been lost? In the US, the focus now shifts to Friday's NFPs data. I am not even going to bother trying to guess what the number may be but it's going to be a stinker. Having said that, the non-farm payrolls report will not reflect the full impact of the coronavirus outbreak, given that the most stringent lockdown policies were not in place until later in the month.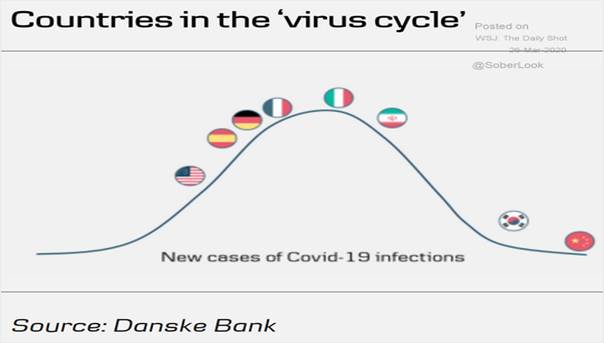 I fear that investors are being lured back into stocks up here after such a strong bounce but the issues are far from fixed yet. We have NOT reached peak virus, especially in the US, the Fed is STILL seeing stress in funding and credit markets and people are still losing jobs as businesses continue to shut down. We are NOT through this yet and my fear is that maybe as early as this week, we see another lack of faith and markets plummet again. Trump is playing games with American lives and to me the big headline shocks are still to come. The bounce in the S&P was indeed impressive but bear markets are almost never fixed in a month. S&P below.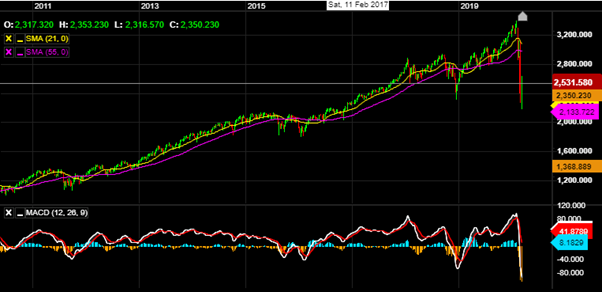 We have had a nasty earthquake but the after shock is still to come in my view. I could even see the S&P hitting 1500 and I realise that is a big and scary call for many and I hope I am wrong but Trump is undoing a lot of good work. Does this look fixed to you? (Below).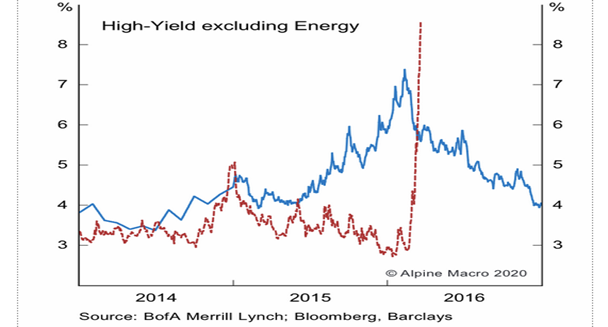 Regarding the Fed, they are now free to do stuff they never were allowed to do before and this may have long-term macro implications. There is effectively no obstacle to monetization of US government debt, meaning large increases in government spending financed directly by the Federal Reserve. Modern Monetary Theorists might be happy about this, if the funds were put to good use. They won't be.
Capitalism is at risk here as markets become more nationalised. Capitalism depends upon competitive markets to correctly price and distribute resources and risk. In theory, financially-sound businesses get loans and capital, whereas profligate or obsolete companies do not. Those days are officially over, as price discovery is dead. The Fed manipulation of markets is going to be felt for a very long time indeed. There is another s/t danger too and that is that the majority of businesses will run out of money long before SBA loans, or financial assistance, can be provided. This will lead to higher and longer-duration of unemployment. The massive package, signed by Trump, will only support the economy for up to two months; peak virus may not have even hit the US by then. What the cycle tells us is that jobless claims, unemployment, and economic growth are going to worsen materially over the next couple of quarters and to my mind, earnings could collapse and quite a few will not make it through.
The global markets are changing as well and how they have been operating for a decade is changing. Buying any dip is not going to attract as fear dominates over greed and many corporations are being denied the opportunity to buy back shares and that was a huge crutch for the equity markets, especially in the US. Don't get me wrong, I can see things recovering but maybe not from the base we have right now and a turn down again after all this hope will deeply impact sentiment and the very psyche of the investor. But it is not only the investor who is feeling this crisis and I do have a nagging fear that if these lockdowns do extend into the summer and food supplies get hit, then unfortunately there is a danger of social unrest. This all started as a supply shock but the demand shock may hit industries (including China as demand falls) for far longer than expected.
Oil continues to race lower and has hit levels not seen for 18years as the Russian's and Saudi's fight it out and keep pumping oil to a market suffering from a demand shock. US crude fell below $20 and I am not sure that is a base either. Some oil producers are finding that storage is becoming an issue as the world drowns in an oil glut and either they cut production or they are going to heave to sell it very cheap. I hear talk of oil being sold at $12 under the official price just to get it shifted. There is nowhere to store the stuff. Oil prices have fallen by more than half in the past month as widespread lockdowns in Europe and North America have slashed oil demand, with analysts forecasting as much as a quarter of normal global consumption could be lost. Shale companies are going to feel this and quite a few may not survive now (another issue in the credit space looming). Oil is not helping investor sentiment and the Nikkei was down 3.2% with HK down 0.75% and China down over 1.2% but for me the driver of this move lower may well be the US. The S&P closed down 3.3% Friday at 2541 and I can easily see a re-test of the recent lows.
I hear a lot of stories suggesting that China is through this and the recovery there can drive us all out of this nightmare but in reality, with orders cancelled, supply chains disrupted, and payments delayed – the road to recovery in China is going to be a bumpy one at best. Overly optimistic analysts who have been touting a V-shape recovery in China, thus the world, in the first half of the year, will likely be wrong. According to the Nikkei, over 85% of small businesses – which employ 80% of China's population – expect to run out of cash within three months, and a third expect the cash to be all gone within a month.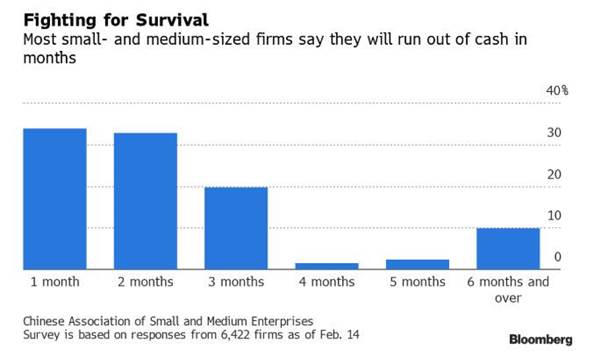 They contribute more than 60% of gross domestic product and, for the government, more than 50% of tax revenue. In short: they are the beating heart of China's economy.
The administration is looking at some serious defaults and may not be able to bail them all out or even a small percentage of them. The PBOC has cut the 7day repo rate 20bps to 2.2%, injects 50b Yuan via OMOs at lower rate; the cut was unexpected & previous PBOC cuts had also been smaller in size. But there is still a huge credit risk in China and investors need to realise that. The SCMP reports, "a global consumer default wave is just getting started in China" as overdue credit-card debt in China has soared by about 50% in February, while researchers at the Peterson Institute warn that what is happening now in China is "a preview of what we should expect throughout the world." The social impact and potential unrest around the globe is just a horrible thought but we must look at the realities of this. We need a solution and a breakthrough fast and I think the secret lies in testing and finding out those who have had the virus and those who are immune. We cannot get those tests out quick enough in my view but I do have some hope on that front. I am so looking forward to writing something more upbeat.
—————————————————————————————————————-
Strategy:
Macro:.
Long Cable at 1.1675.. Stop Moved to 1.2000..
Looking to sell EURGBP on a rally back above 91.00.
Short S&P 2558 today..
Brought to you by Maurice Pomery, Strategic Alpha Limited.
—————————————————————————————————————-
Strategic Alpha Report Disclaimer
Doo Prime endeavor to ensure the reality, adequacy, reliability and accuracy of all the information provided, but do not guarantee its accuracy and reliability. All the information, analyses, comments, statements, and/or data provided in this report is for information purposes only. Client's use of any contents of the report as the basis for the transaction, the client shall fully aware of the risks and agreed to bear all the risks. Client shall cautiously judge the accuracy of the information. Doo Prime has no liability for any loss caused by any inaccuracy or omissions of the contents and subjective reasons of Client.