Good Morning.. It seems that US equity markets picked up on Faucci comments that the US may see an easing of conditions earlier than expected.. This as the US death toll overtakes Spain's to 2nd behind Italy but the US administration is putting a lot of pressure on the scientists. But I still think equity markets are too focused on the virus and not the dramatic impact on the economy. I have been wrong on stocks but the facts remain if only one is prepared to look. We will get another reminder of that today with another massive jump in weekly US jobless claims due. There is talk of an OPEC+ deal on production cuts but they look set to be less than the demand fall. EU Fin Mins meet again to try and come up with a deal but I see no Eurobonds and no Corona bond either so the political fall-out will start. I did not see the equity market rally coming yesterday so my EUR short was stymied by a weaker USD but the crosses all fell and EUR struggled to gain against the USD. We may see some profit taking into the meeting and the long weekend but on a macro basis, I still see EUR lower against all the majors. It is going to be a nervous run into what is a very long weekend for some and I will be back on Tuesday. Today will feel like a Friday so "Be careful out there"..
Data.. all Times BST..
09:30.. UK Industrial Production mom Feb Cons: 0.1% prev: -0.1%
UK Trade balance Feb Cons: 1bln
UK GDP mom Feb Cons: 0.1% prev: flat
UK GDP 3m/3m Feb Cons: 0.1% Prev: flat
13:30.. US Weekly Jobless Claims cons: 5mln Prev: 6.668mln.
US PPI mom March Cons: -0.4% Prev -0.6%
Canada Net employment Macrh Cons: -500k
Canada unemployment rate Con: 7.5% Prev 5.6%.
15:00.. US University of Michigan Confidence April Cons: 75.0 Prev 89.1
Details 09/04/20
I think markets may be focused on the wrong thing: EUR weakness extends:
–
I have to say that the rally in stocks yesterday caught me by surprise and I think the rally in the US at least, was based on positive comments about the virus from Dr Faucci who suggested things may be easing up and the US may be able to unlock sooner than thought. That, to my mind is dangerous, as the US death toll overtakes Spain's to 2nd behind Italy but the US administration is putting a lot of pressure on the scientists. But is this really just about peak virus and an end to the lockdown, as for me there are far greater risk now that markets are going to have to deal with and that is not the recovery of patients but the recovery of the economy. I realise that the S&P and DAX are both 20%+ from the lows now which is an impressive bounce, but I think the damage done to major corporations may see the credit space react badly again very soon.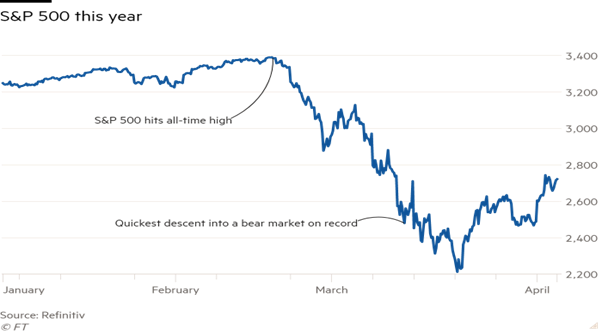 This is shown in libor and Euribor rates and EDs still show signs of weakness. There is stress building and there still seems to be a strong demand for dollars even as stocks rise. I received a note from a friend last night in which he suggested that the real pain persists in the high-yield bond market, with traders pricing in a groundswell of bankruptcies. An example: Hertz's 2-year borrowing costs were less than 6% in February & are now implied to be 32%, with prices on its notes falling from par to 60 cents on the dollar. Hertz is not alone.
Many companies are having to offer massive returns for raising capital now and Hertz is not alone. This sort of thing is not going to pass in a few weeks, this is what is facing markets for the next 6-12 months and some may not make it. Unemployment, particularly in the US is not going to return to 3.5% in the next 3 months either and so consumer spending is likely to remain subdued in an economy 70%+ reliant on services as most of the developed world is. We are looking at steep falls in output, widespread business failures, higher unemployment and a pile-up of fiscal deficits and who knows what they will bring. Governments and central banks are bailing out sensitive businesses but will want a say in how they are run with the Fed having clearly discussed equity buybacks at the last meeting and regulation may be on the way, removing a massive crutch from equity markets. Dividends are being cut across the board making holding many companies far less attractive. What will all this disruption mean for capitalism and globalization; can the global economy ever be as powerful with more protectionism, less coordination and populist governments?
Maybe we should be more concerned about peak globalization! Times are changing and I am not sure that equity markets are pricing this. I think markets also rallied on a view that OPEC+ may get a deal today but with a drop of about 15mbpd in demand, I am not sure a 10mbpd cut is going to cover it. But it may stabilise oil prices for a while but this was never about oil. The FT made a very good point this morning: Low-paid workers in precarious employment took the hit after the 2008 crash. They will not be willing to do so again. Coronavirus should have taught us that our economies cannot function without all those minimum-wage workers caring for the sick and elderly, stocking the supermarkets and delivering Amazon's parcels. The notion of fairness has acquired political potency. The super-wealthy are in the crosshairs now. One thing is clear though and that is populist politics will rise as the people demand a voice and about time too. But we must stay focused on the costs of this to the global economy. Wall St banks suggest that hit will be huge and I agree. The coronavirus pandemic is set to rob the global economy of more than $5 trillion of growth over the next two years; that is like losing Japan! JPM suggest that even with unprecedented levels of monetary and fiscal stimulus, gross domestic product is unlikely to return to its pre-crisis trend until at least 2022. That is a long time and earnings will get clobbered.
Within all this the spread of the virus continues and Spain still looks in real trouble. But it is not only Spain and Italy's fight with this virus that is the issue here; it is the lack of unity within the Union which I have covered at length. I recommended selling EUR yesterday but clearly, due to the unseen equity rally, should have sold it through the crosses as EURGBP, EURAUD and others all took a hit. This will continue in my view as we are likely to get some weak fudge from the EU Fin Mins who meet again today. We traded in EURGBP back down at .8747 and I think the next time we get down there, we keep going but some profit taking is likely in front of this meeting and into what is a very long weekend for many. The headline will trumpet a deal to help the weaker nations but it will NOT be a Eurobond or Corona virus bond where an unlimited wealth transfer mechanism is put in place.
UniCredit research published this week suggests that Spain is set to suffer more from the crisis than any other European economy, estimating a 15.5 per cent decline in gross domestic product this year and a fiscal deficit of 12.5 per cent of GDP. They are going to need a lot of help. The limited fiscal space relative to other countries is a big part of the reason why Spain wants Eurobonds, corona bonds, mutualisation of debt; Italy too. After all the hype and noise, when the dust finally settles, we will then enter the next phase of the infighting within the union and it will get ugly in my view and I am not sure the EU can recover from this. IF the EU leaders get this wrong then the dream is over and a lot of political work is still to be done at a time when we are about to lose Merkel. The pandemic, the German chancellor said, presented the EU with the biggest challenge since its foundation. The response, she added, must be about solidarity: "about showing that we are ready to defend our Europe, to strengthen it". Fine words Angela but good luck with that as it is your country that refuses to accept a banking union or a Eurobond.
Then of course we return to the weekly Jobless Claims data today. The range of forecasts would be funny if not so scary. They range from 2mln to 7mln. Who knows but even the lower bound is dreadful and a real human tragedy? US unemployment is going to be worse than the UK and EU as we furlough staff whereas, the US in most cases, sheds staff and sends them a cheque. Wall Street consensus expects another 5.5 million in initial claims to have been filed although the truth is that nobody has any idea how to quantify and estimate what is essentially the US economy sliding into an economic depression (supposedly a short one, but again, who knows). That said, the actual number will likely be even higher due to the bailout itself: as a reminder, the Coronavirus Aid, Relief, and Economic Security (CARES) Act, passed on March 27, could contribute to new records being reached in coming weeks as it increases eligibility for jobless claims to self-employed and gig workers, extends the maximum number of weeks that one can receive benefits, and provides an additional $600 per week until July 31. A recent WSJ article noted that this has created incentives for some businesses to temporarily furlough their employees, knowing that they will be covered financially as the economy is shutdown. Meanwhile, those making below $50k will generally be made whole and possibly be better off on unemployment benefits.
Meanwhile rents are not being paid and nor are mortgages. How long can this go on with lenders coming under stress, especially non-bank lenders. Unfortunately, this is just the beginning, as according to Moody's Analytics, as much as 30% of homeowners – about 15 million households – could stop paying their mortgages if the U.S. economy remains closed through the summer or beyond and that would produce a chart like this.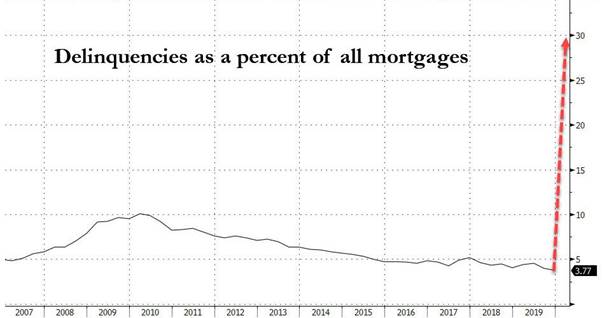 The great financial crisis happened over a number of years; this is happening in a matter of weeks. We are facing so much more than a virus and it will last long after we have passed peak. Banks and nonbanks – the "shadow banks" – are reducing mortgage lending and tightening up lending standards. Nonbanks, which include the largest mortgage lenders, are asking for a bailout because, as mortgage servicers, they're facing a liquidity crisis. The Fed is not so keen on bailing the non-bank lenders and thus, the stress will build. To my mind the real issue is not the virus anymore but markets are wearing blinkers. I am not prepared to buy into this rally and to me the USD stays bid for a while longer. Maybe that short EURUSD position will play out after all.
—————————————————————————————————————-
Strategy:
Macro:.
Short EURGBP @ 8901.. Stop @ entry now (took substantial profits at.8760)
Short [email protected] 1.0870.. Stop above 1.0940
Brought to you by Maurice Pomery, Strategic Alpha Limited.
—————————————————————————————————————-
Strategic Alpha Report Disclaimer
Doo Prime endeavor to ensure the reality, adequacy, reliability and accuracy of all the information provided, but do not guarantee its accuracy and reliability. All the information, analyses, comments, statements, and/or data provided in this report is for information purposes only. Client's use of any contents of the report as the basis for the transaction, the client shall fully aware of the risks and agreed to bear all the risks. Client shall cautiously judge the accuracy of the information. Doo Prime has no liability for any loss caused by any inaccuracy or omissions of the contents and subjective reasons of Client.