Building A Superior Network Security Protection Barrier, Securing Funds With Robust Data Encryption 

As more and more organizations move to hybrid and multi-cloud environments in the new normal, there are growing concerns about data security. Over the years, hackers have started to target large organizations – even global transportation network company Uber, and Australia's second largest telecom provider, Optus fell prey as victims.
On this account, Doo Prime, as an advanced online broker, boasts a robust data encryption technology to reliably protect the safety of our clients' funds.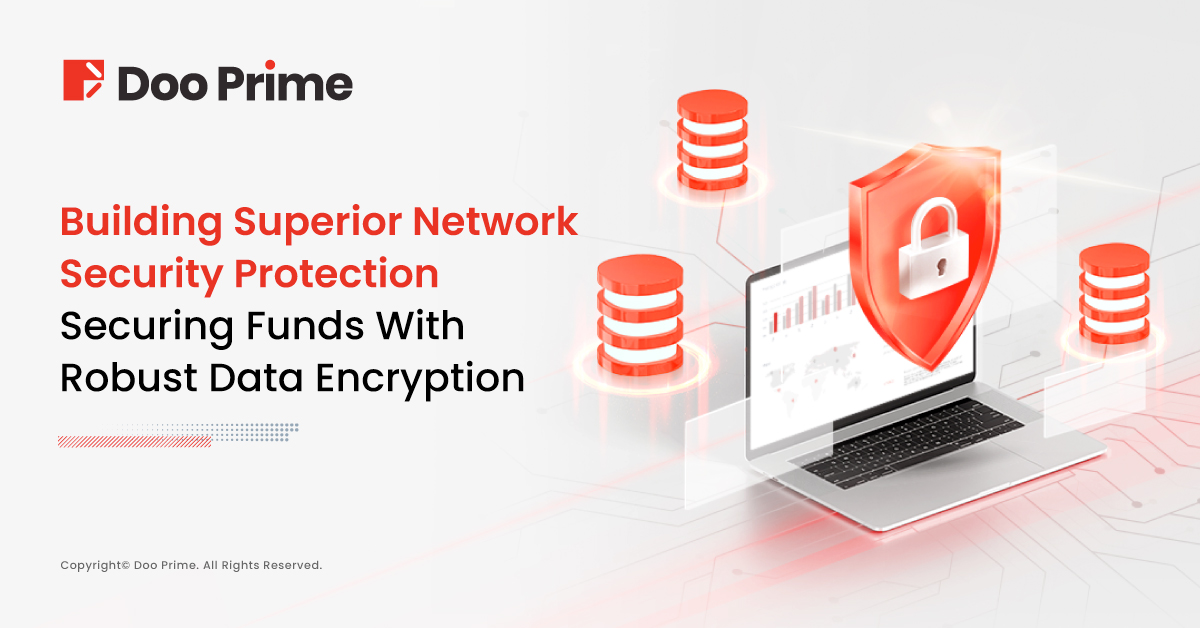 Large-scale Data Breaches Reoccurring Frequently Worldwide
In recent years, a number of companies have been exposed to data breaches due to inexperience or lack of high-end technical support. These incidents have not only caused huge losses to the companies concerned, but also seriously threatened the privacy and security of their customers.
In March 2021, a European brokerage platform suffered a data breach, exposing billions of records and risking the personal privacy of millions of users on the platform.
In other news, in November of the same year, a U.S. brokerage platform was hacked and the data of more than 7 million customers was leaked. 
In fact, data encryption can effectively prevent data leakage and mitigate security issues. At Doo Prime, we attach great importance to the privacy and financial security of its customers and encrypt data in all inter-system communications. 


What Is Data Encryption?
Data encryption is the process of altering and converting easily readable data into an unreadable format that appears to be a useless and unintelligible set of text. This is then called ciphertext. The encrypted text requires a complex set of decryptions before it can be read or processed.
Data encryption possesses the following advantages: 
1. Protects users' privacy and asset security: As mentioned, data encryption helps protect confidential information, and companies are duty-bound to protect their customers' details and information from malicious theft.
2. Helps organizations adhere to regulations: Financial services, healthcare providers, etc., have strict regulations regarding the use and storage of user data. With data encryption, it guarantees organizational compliance.
3. Cross-device data protection: Data encryption can be easily stored on multiple devices, helping to protect data across devices. This acts as an additional security measure that deters unauthorized users.
4. Helps maintain data integrity: Data encryption technology effectively prevents hackers from altering data and maximizes the assurance that data will not be maliciously tampered with.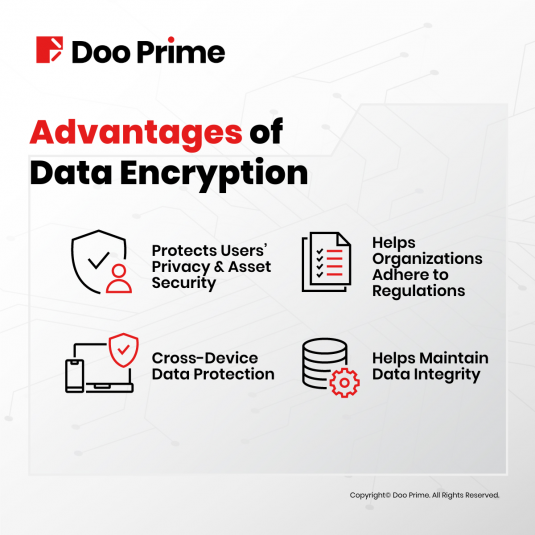 Vigorous SSL Encryption Technology As An Impenetrable Wall 

Doo Prime adopts SSL encryption technology for all inter-system communications.  
Based on the current computer computing power limit, any attempts to crack the encryption may take up to 10 years. SSL encryption ensures that all clients' data and transaction data are strictly encrypted and securely transmitted. Through this, the stability and security of the trading system will be secured. 
Generally speaking, symmetric encryption and non-stacked encryption are the two most common encryption techniques. Symmetric encryption means that both parties agree on the same key for encryption and decryption. Just like a WiFi password, you can log in as long as you enter the same password as the server setting. Therefore, this encryption method is relatively easier to crack.
Doo Prime integrates another technique – namely, asymmetric encryption with SSL encryption technology. Asymmetric encryption consists of more keys – a "public key" and a corresponding "private key" as opposed to conventional symmetric encryption. The public key is used to encrypt outgoing information, while the private key is used to decrypt the content of the information. The data encrypted with the recipient's public key can only be decrypted with the corresponding private key.
For example: 
When computer A and computer B send information prior to applying the encryption method agreed upon by both parties to encrypt (public key), computer B will use its own decryption method to decrypt the information (private key B) and then reply. 
Computer A will then receive the reply and proceed to decrypt the information with its own method (private key A).
If the information of these two matches, the two parties will complete the information transmission successfully.
This is the process of asymmetric encryption.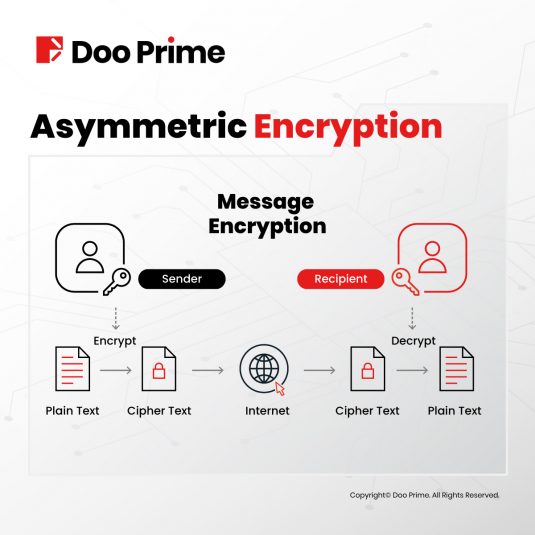 The SSL encryption adds a digital certificate verification link to the asymmetric encryption process. Meanwhile, the SSL is the certificate here, which undoubtedly further strengthens the rigor and security of the entire process. 


Employs The World's Leading Data Center Provider, Multi-Protection On Transaction Security
Doo Prime anchors on Doo Group's engagement with the world's leading data center and colocation provider, with data center nodes in London (LD5), New York (NY5), Hong Kong (HK2), Singapore (SG1), and other financial centers. The employed data center tier is of the highest, Tier 4, which warrants the best infrastructure for the highest quality trading environment.
Doo Prime has one of the most skilled technical research and development teams in the market, deploying targeted security policies for information security. This is alongside a 24-hour technical team that carefully monitors infrastructure, network conditions, and market dynamics in order to proactively respond to any unexpected situation that may arise and ensure that we can handle each and every case properly at all times. These measures help to further protect our customers. 


| About Doo Prime
Our Trading Instruments
Securities | Futures | Forex | Precious Metals | Commodities | Stock Indices
Doo Prime is an international pre-eminent online broker under Doo Group, which strives to provide professional investors with global CFD trading products in Securities, Futures, Forex, Precious Metals, Commodities, and Stock Indices. At present, Doo Prime is delivering the finest trading experience to more than 60,000 professional clients, with an average trading volume of more than USD51.223 billion each month.
Doo Prime entities respectively holds the relevant financial regulatory licenses in Seychelles, Mauritius, and Vanuatu with operation centers in Dallas, Sydney, Singapore, Hong Kong, Dubai, Kuala Lumpur, and other regions.
With robust financial technology infrastructure, well-established partnerships, and an experienced technical team, Doo Prime boasts a safe and secure trading environment, competitive trading costs, as well as deposit and withdrawal methods that support 10 different currencies. Doo Prime also incorporates 24/7 multilingual customer service and extremely fast trade execution via multiple industry-leading trading terminals such as MT4, MT5, TradingView, and InTrade, covering over 10,000 trading products.
Doo Prime's vision and mission are to become a financial technology-focused broker, streamlining international global financial products investment.
For more information about Doo Prime, please contact us at:
Phone:
Europe : +44 11 3733 5199
Asia : +852 3704 4241
Asia – Singapore: +65 6011 1415
Asia – China : +86 400 8427 539
E-mail:
Technical Support: [email protected]
Account Manager: [email protected]

Risk Disclosure
Trading in financial instruments involves high risks due to the fluctuation in the value and prices of the underlying financial instruments. Due to the adverse and unpredictable market movements, large losses exceeding the investor's initial investment could incur within a short period of time. The past performance of a financial instrument is not an indication of its future performance. Investments in certain services should be made on margin or leverage, where relatively small movements in trading prices may have a disproportionately large impact on the client's investment and client should therefore be prepared to suffer significant losses when using such trading facilities.
Please make sure you read and fully understand the trading risks of the respective financial instrument before engaging in any transaction with Doo Prime's trading platforms. You should seek independent professional advice if you do not understand any of the risks disclosed by us herein or any risk associated with the trade and investment of financial instruments. Please refer to Doo Prime's Client Agreement and Risk Disclosure and Acknowledgement Notice to find out more.
Disclaimer
This information is addressed to the general public solely for information purposes and should not be taken as investment advice, recommendation, offer, or solicitation to buy or sell any financial instrument. The information displayed herein has been prepared without any reference or consideration to any particular recipient's investment objectives or financial situation. Any references to the past performance of a financial instrument, index, or a packaged investment product shall not be taken as a reliable indicator of its future performance. Doo Prime and its holding company, affiliates, subsidiaries, associated companies, partners and their respective employees, make no representation or warranties to the information displayed and shall not be liable for any direct, indirect, special or consequential loss or damages incurred a result of any inaccuracies or incompleteness of the information provided, and any direct or indirect trading risks, profit, or loss arising from any individual's or client's investment.