For investors, time is of the essence. Taking this into account, the speed of deposit and withdrawal is one of the most vital criteria for investors. Doo Prime realizes the significance of this and offers a variety of efficient and secure deposit methods that allow clients to seize every investment opportunity.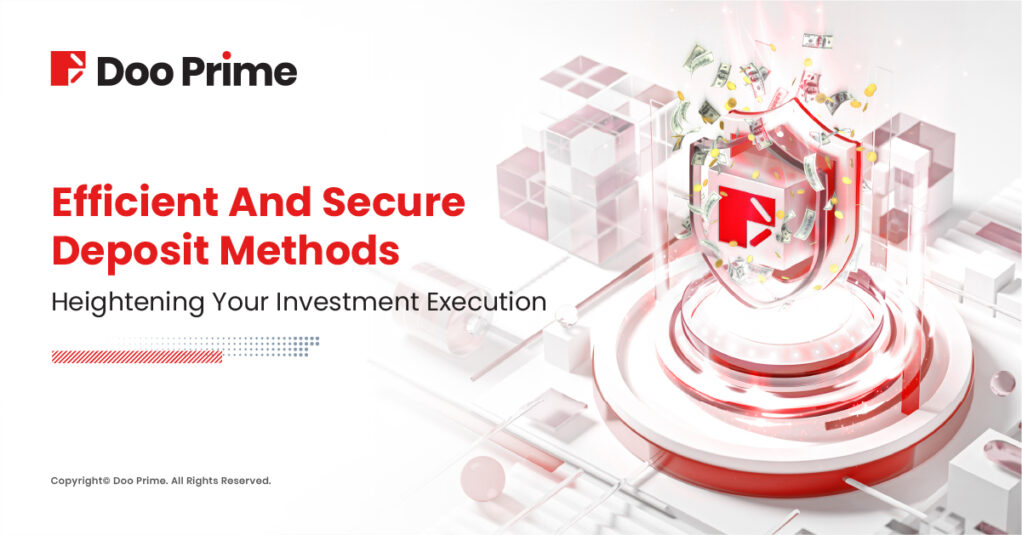 Take On Price Fluctuations During This U.S. Stocks Earning Season  
In an environment of global inflation and interest rate hikes by central banks, the stock market has been unpredictable in recent months. Despite the bear market, a number of investors are still actively looking for good news, and company earnings reports are one of their main concerns.
In addition to laying out a company's profitability and providing a deeper understanding of the company's prospects, earnings reports can also directly influence market sentiment and trigger dramatic stock price fluctuations.  
The U.S. stocks earnings report is presented four times a year, from January to February, April to May, July and September to November. They are usually released a few weeks after the last financial quarter month.
With this, getting acquainted with the release dates of U.S. stock reports and being well prepared in advance may allow investors to take advantage of every price fluctuation. 
The November 2022 calendar for key U.S. stocks earnings reports release date: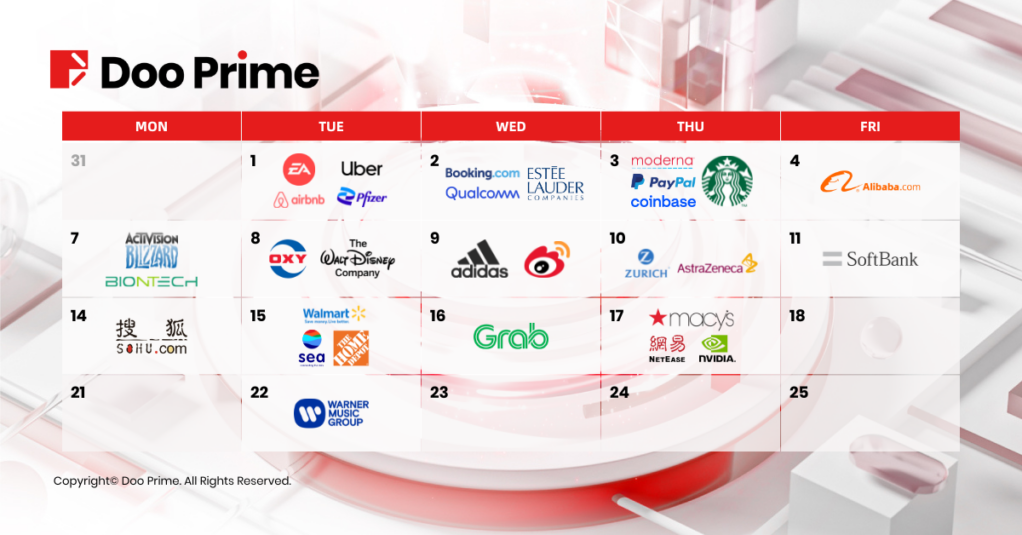 Seize Investment Opportunity With Compatible & Professional Brokerage Platform 
As Confucius once said: "If a craftsman wants to do good work, he must first sharpen his tools."
Based on this context, for investors to grasp every window of investment opportunity, one must be well-equipped. Other than having an adequate amount of preparation, a competent platform is also imperative to match the entire trading process. 
The speed of deposit and withdrawal of most trading platforms in the market often determines the broker's capability.  
To further elaborate on this point, let's look at this case example: 
A regular customer of a certain trading platform said that the previous deposits and withdrawals in the relevant platform were relatively normal. However, in March this year, the first deposit was unsuccessful.
Following that, attempts via other methods were also unsuccessful, resulting in an account blowout.  
At the same time, some customers of the same platform said that their deposits did not arrive even after 4 days.
On top of that, the relevant platform did not have any valid explanation. Thus, this shortcoming has led to their customers suffering huge losses. 


A Variety Of Seamless And Swift Deposit Methods At Your Fingertips 
Doo Prime's prowess in financial technology boasts a secure investment environment by providing a variety of safe, convenient, and fast access to funds. Doo Prime's trading platform supports the most efficient funding process via credit card/debit card, international wire transfers, local bank transfers, and more, allowing clients to invest with peace of mind.  
At Doo Prime, for a single transaction in foreign currency cash on the same day or a large-value transaction with a cumulative value of more than USD 10,000, clients can opt to deposit through the local bank, and the processing time only takes 30 minutes. For international wire transfers, the process takes 2-5 working days. 
Over and above, Doo Prime engages with distinguished banks and reputable payment service providers in Southeast Asia. Through this, clients can securely deposit funds via local bank transfer with any additional fees incurred being covered by us.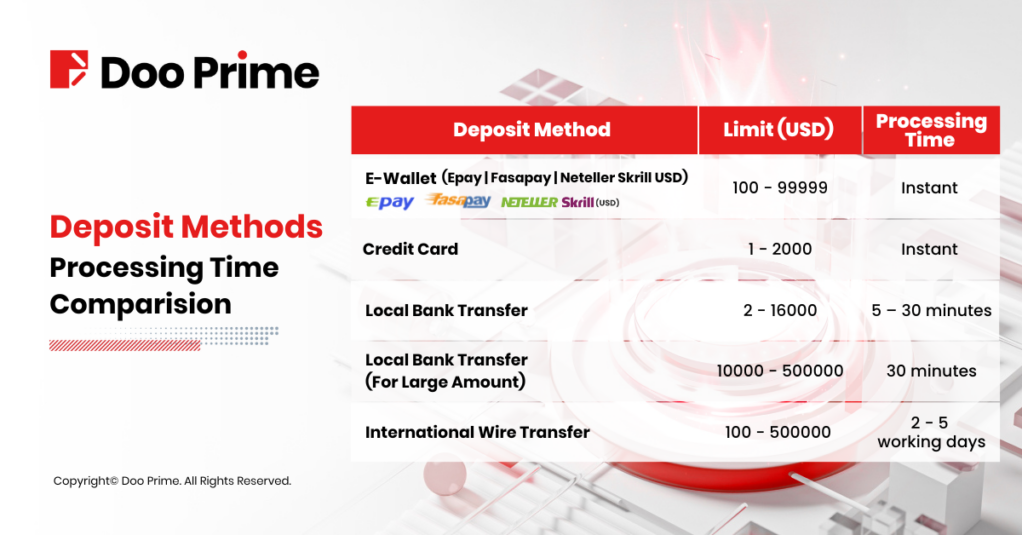 *For further information, please visit our official website https://www.dooprime.com/trading/funding 


Global Market Presence – Supporting Multiple Currencies For Funding  
Doo Prime is dedicated to serving over 90,000 clients worldwide and supports depositing in a wide range of currencies including AED, AUD, CNY, EUR, EUSD, GBP, HKD, KRW, THB, USD, USDT, VND, ZAR, etc. Apart from favorable deposit rates, clients can enjoy the convenience of immediate deposit depending on the deposit method which they opt for.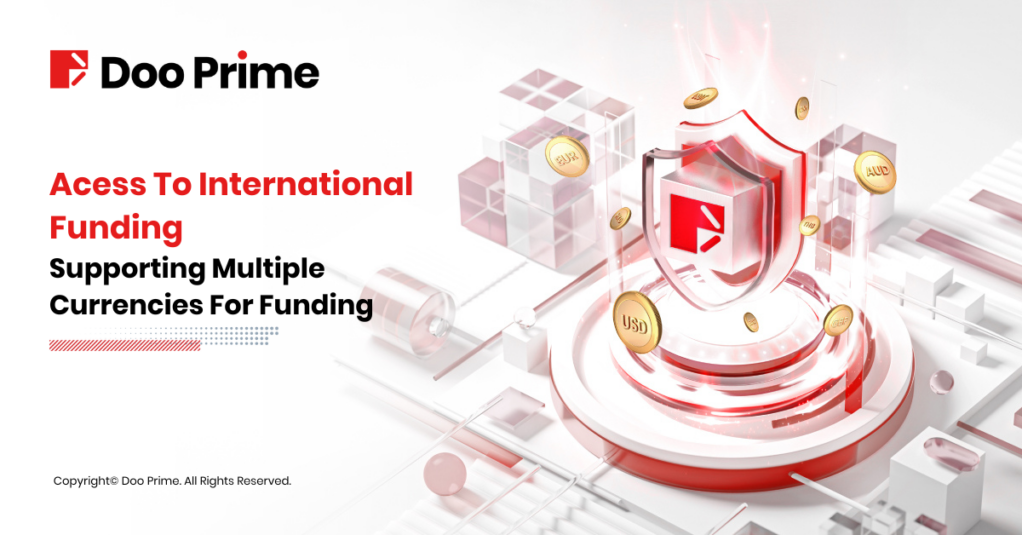 In addition to the speed of deposit, the efficiency and security of withdrawal is also crucial factor for investors. Doo Prime processes the client's withdrawal requests quickly.


Regulated By Authoritative Institutions, Dedicated To Ensure Fund Security 
Doo Prime is an international online broker under Doo Group. The main entities of Doo Group are regulated by the US Securities and Exchange Commission (US SEC), the Financial Industry Regulatory Authority (US FINRA), the UK Financial Conduct Authority (UK FCA), the Australian Securities and Investments Commission (AU ASIC), the Hong Kong Insurance Authority (HK IA), the Hong Kong Customs and Excise Department (HK C&ED), the Hong Kong Companies Registry (HK CR), the Seychelles Financial Services Authority (SC FSA), the Mauritius Financial Services Commission (MU FSC) and the Vanuatu Financial Services Commission (VU FsC). 
With the values of clients first, professionalism, and fairness, Doo Prime strives to deliver the most satisfactory service to all clients. Set your investment in motion with Doo Prime now and tap into adroitness in trading. 


| About Doo Prime
Our Trading Instruments
Securities | Futures | Forex | Precious Metals | Commodities | Stock Indices
Doo Prime is an international pre-eminent online broker under Doo Group, which strives to provide professional investors with global CFD trading products in Securities, Futures, Forex, Precious Metals, Commodities, and Stock Indices. At present, Doo Prime is delivering the finest trading experience to more than 90,000 clients, with an average trading volume of more than USD51.223 billion each month. 
Doo Prime entities respectively holds the relevant financial regulatory licenses in Seychelles, Mauritius, and Vanuatu with operation centers in Dallas, Sydney, Singapore, Hong Kong, Dubai, Kuala Lumpur, and other regions.
With robust financial technology infrastructure, well-established partnerships, and an experienced technical team, Doo Prime boasts a safe and secure trading environment, competitive trading costs, as well as deposit and withdrawal methods that support 10 different currencies. Doo Prime also incorporates 24/7 multilingual customer service and extremely fast trade execution via multiple industry-leading trading terminals such as MT4, MT5, TradingView, and InTrade, covering over 10,000 trading products.
Doo Prime's vision and mission are to become a financial technology-focused broker, streamlining international global financial products investment.
For more information about Doo Prime, please contact us at:
Phone:
Europe : +44 11 3733 5199
Asia : +852 3704 4241
Asia – Singapore: +65 6011 1415
Asia – China : +86 400 8427 539
E-mail:
Technical Support: [email protected]
Account Manager: [email protected]

Forward-looking Statements
This article contains "forward-looking statements" and may be identified by the use of forward-looking terminology such as "anticipate", "believe", "continue", "could", "estimate", "expect", "hope", "intend", "may", "might", "plan", "potential", "predict", "should", or "will", or other variations thereon or comparable terminology. However, the absence of such terminology does not mean that a statement is not forward-looking. In particular, statements about the expectations, beliefs, plans, objectives, assumptions, future events, or future performance of Doo Prime will be generally assumed as forward-looking statements.
Doo Prime has provided these forward-looking statements based on all current information available to Doo Prime and Doo Prime's current expectations, assumptions, estimates, and projections. While Doo Prime believes these expectations, assumptions, estimations, and projections are reasonable, these forward-looking statements are only predictions and involve known and unknown risks and uncertainties, many of which are beyond Doo Prime's control. Such risks and uncertainties may cause results, performance, or achievements materially different from those expressed or implied by the forward-looking statements.
Doo Prime does not provide any representation or warranty on the reliability, accuracy, or completeness of such statements. Doo Prime is not obliged to provide or release any updates or revisions to any forward-looking statements.
Risk Disclosure
Trading in financial instruments involves high risks due to the fluctuation in the value and prices of the underlying financial instruments. Due to the adverse and unpredictable market movements, large losses exceeding the investor's initial investment could incur within a short period of time. The past performance of a financial instrument is not an indication of its future performance. Investments in certain services should be made on margin or leverage, where relatively small movements in trading prices may have a disproportionately large impact on the client's investment and client should therefore be prepared to suffer significant losses when using such trading facilities.
Please make sure you read and fully understand the trading risks of the respective financial instrument before engaging in any transaction with Doo Prime's trading platforms. You should seek independent professional advice if you do not understand any of the risks disclosed by us herein or any risk associated with the trade and investment of financial instruments. Please refer to Doo Prime's Client Agreement and Risk Disclosure and Acknowledgement Notice to find out more.
Disclaimer
This information is addressed to the general public solely for information purposes and should not be taken as investment advice, recommendation, offer, or solicitation to buy or sell any financial instrument. The information displayed herein has been prepared without any reference or consideration to any particular recipient's investment objectives or financial situation. Any references to the past performance of a financial instrument, index, or a packaged investment product shall not be taken as a reliable indicator of its future performance. Doo Prime and its holding company, affiliates, subsidiaries, associated companies, partners and their respective employees, make no representation or warranties to the information displayed and shall not be liable for any direct, indirect, special or consequential loss or damages incurred a result of any inaccuracies or incompleteness of the information provided, and any direct or indirect trading risks, profit, or loss arising from any individual's or client's investment.