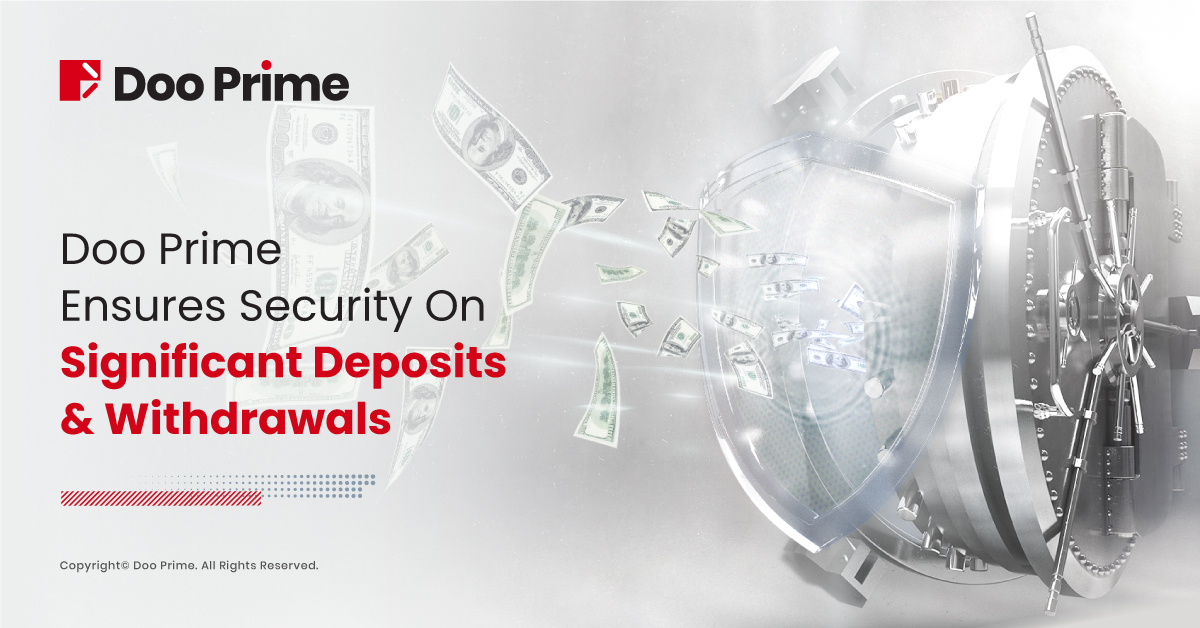 As globalization continues to amplify, trades between countries are fundamentally increasing around the world. That said, financial investment is moving towards the international trend, with more and more investors joining the market.
At Doo Prime, we provide a variety of safe and reliable ways to deposit and withdraw a significant amount of money via our provided funding channels. This is where clients' funding efficiency need is met, by virtue of speed and convenience.
At the same time, Doo Prime incorporates strict approval processes required by the regulatory authorities' regulations to protect the safety of our clients' funds. 


Understanding More About "A Significant Amount Of Transaction"
"A significant amount of transaction" may seem a bit vague to you at this point. But fret not, we are here to break it down to you.
In essence, a single transaction of deposit, withdrawal, settlement and sale of foreign exchange on the same day or a transaction with an accumulated value of more than USD10,000 is defined as a large-amount transaction.
In this case, Doo Prime clients can opt for a deposit channel dedicated for a large-amount transaction, as a single withdrawal of USD100,000 falls under the large-amount funding category.


Doo Prime's Diverse Funding Selection For Large Deposits & Withdrawals
Understanding the liquidity needs of investors with a large amount of funds, Doo Prime offers a variety of deposit and withdrawal methods catered for it.
Deposit Methods For Large Funds: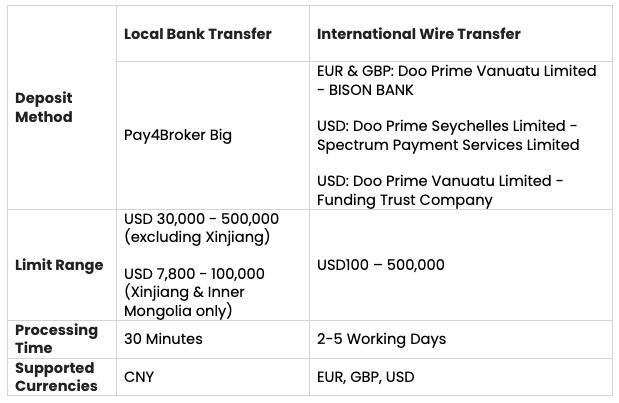 Withdrawal Methods For Large Funds: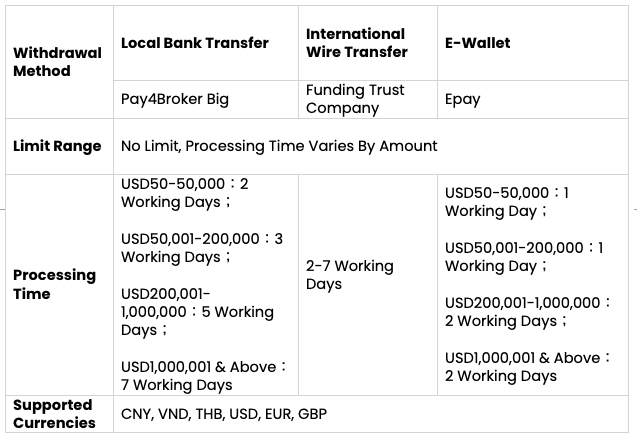 Clients should be mindful of the fact that withdrawing funds moderately is optimal. Frequent withdrawals may affect the utilization of funds; namely, withdrawals might become too slow, or concerns might arise about the safety of funds. Against this backdrop, Doo Prime will promptly process clients' withdrawal requests.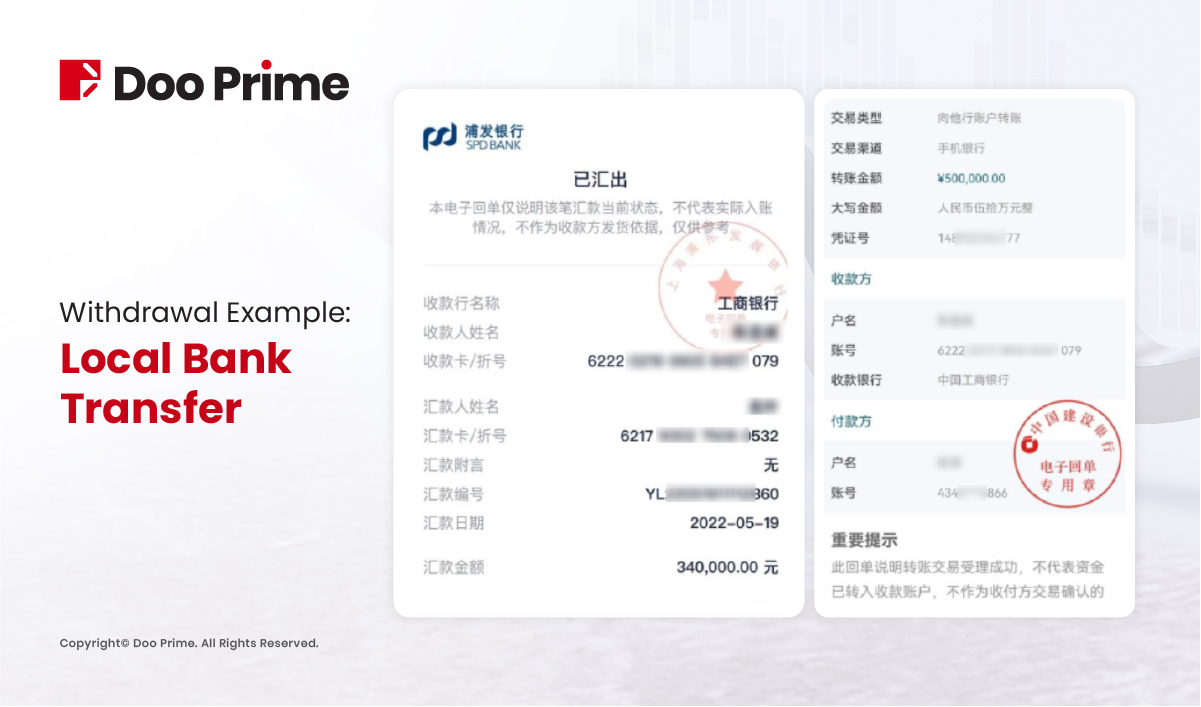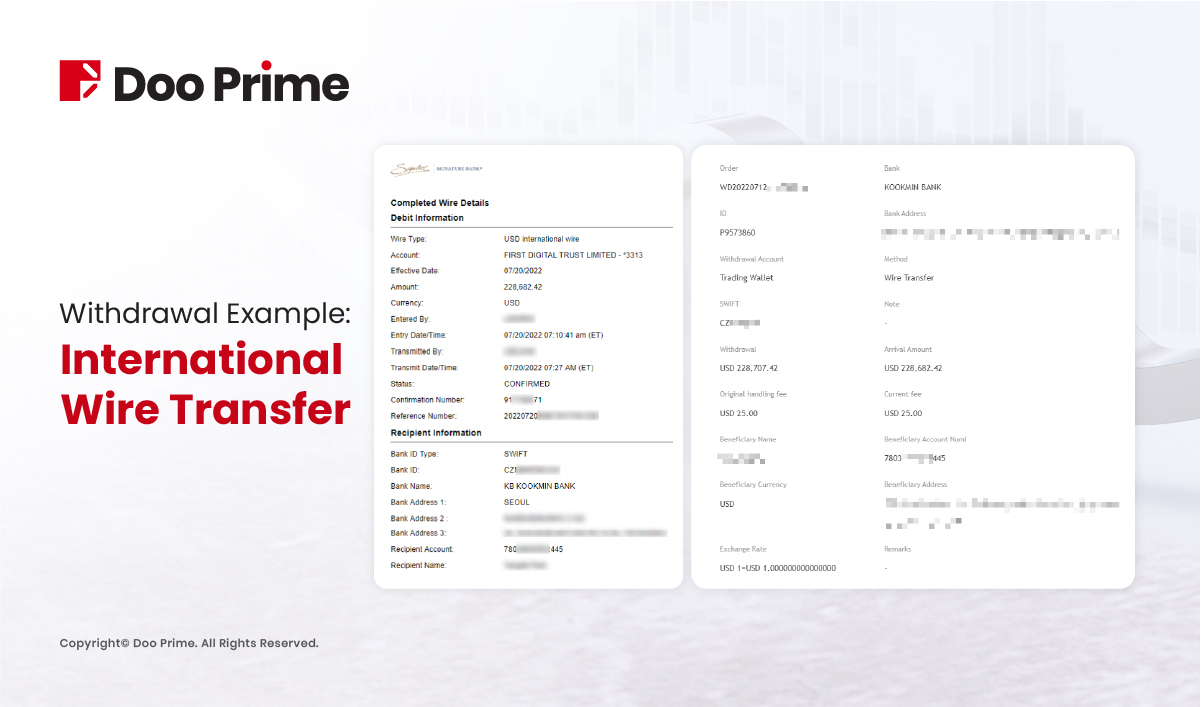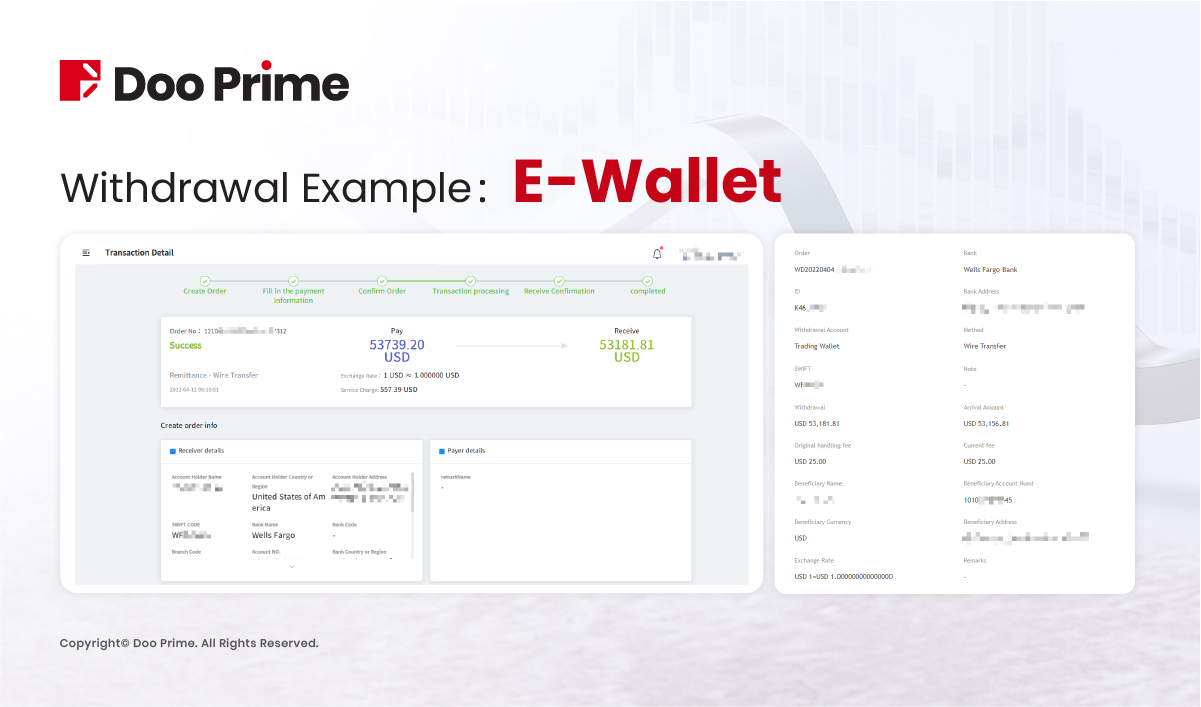 Rest assured that Doo Prime's wide range of safe and efficacious withdrawal methods have also been highly rated by our clients, and it is always our unwavering mission to provide quality services to all investors. 


Strict Approval Processes That Safeguard Clients' Funds 
The core condition of Doo Prime providing a variety of deposit and withdrawal methods is to protect the safety of our clients' funds. Hence, we embody a strict regulatory system and process for the approval of deposits and withdrawals to avoid the risk of any funds.
As a leading broker, Doo Prime complies with all applicable anti-money laundering regulations. We and all our payment partners will emphasize and require strict verification of clients' information to ensure that the funds are accessed from their own accounts.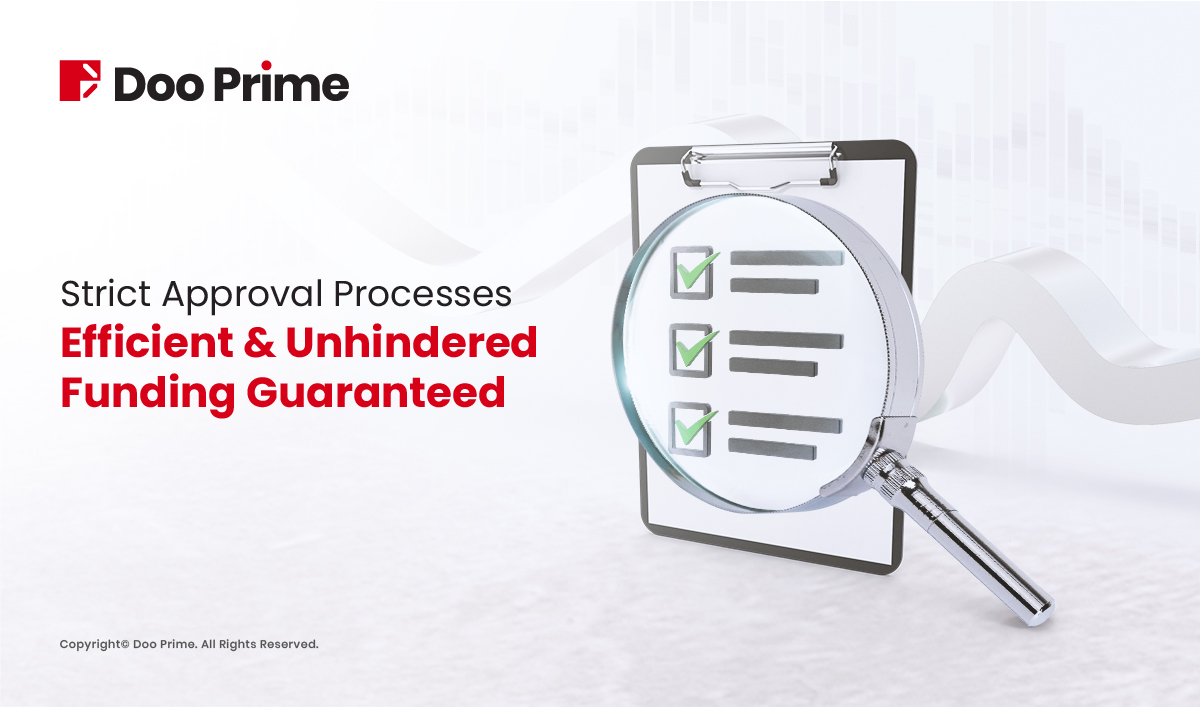 When it comes to handling large deposits, the relevant departments will check and verify thoroughly that the clients' source of funds matches their income declared to ensure that the source of funds is legitimate.  
First of all, Doo Prime does not allow deposits that are of different names nor accept deposits from countries with a high risk of money laundering. 
Secondly, we strictly segregate clients' funds from our company's funds. We segregate clients' funds in custody with financial institutions that hold the appropriate regulatory licenses.
In addition, we boast a complete and comprehensive screening system to ensure our compliance with all applicable statutory, anti-money laundering, and counter-terrorist financing regulations. 
For large withdrawals, Doo Prime will distribute payments in batches and verify that the information provided by the client is accurate to avoid any mistakes due to incorrect information.  
Also, our team of professional finance and risk control executives will strictly and carefully verify the client's account information, as well as authenticate personal information, to ensure that the remitted funds will be safely transferred to their accounts.


Cooperation With Global Leading Banks To Guarantee Segregation Of Clients' Funds
Adding another layer of security is the fact that Doo Prime has established cooperative relationships with many major banks around the world through its strong capital strength. Clients' deposits are distributed across multiple investment-grade banks with a high level of risk management, creating a safe investment environment with its robustness.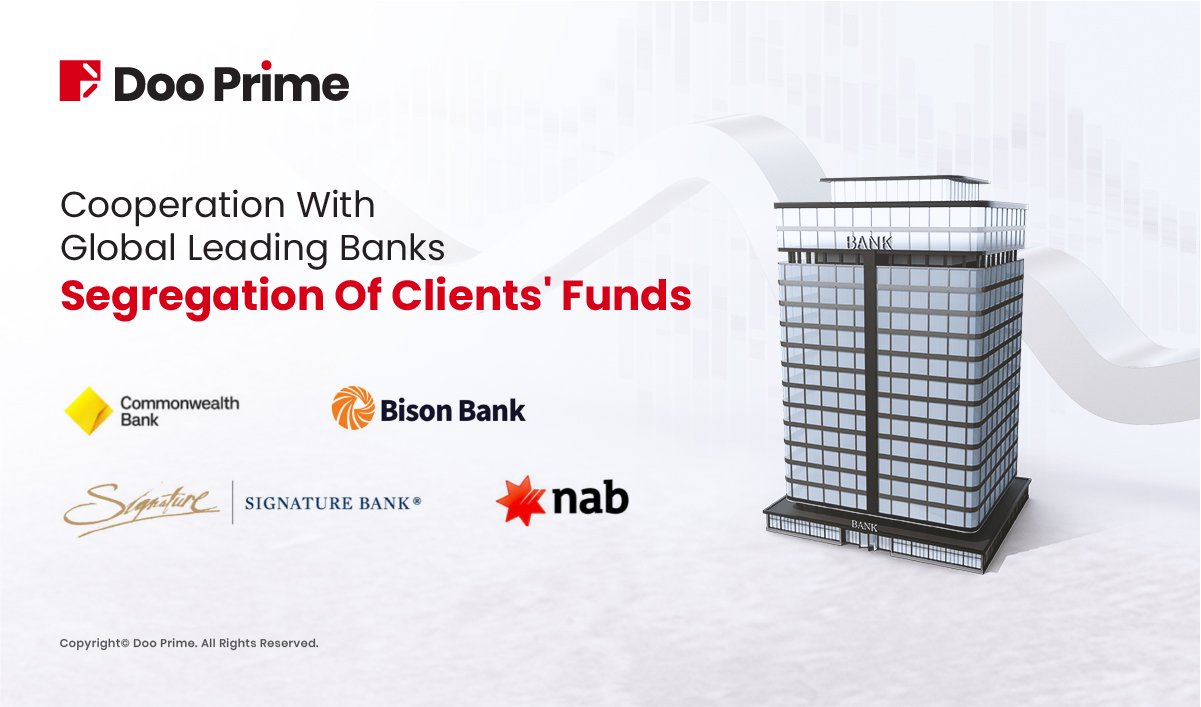 Doo Prime is dedicated to providing professional services to more than 40,000 investors worldwide, with an average monthly trading volume of USD25,886 million.
In order to ensure the safety of our clients' funds and the stability and reliability of investment, Doo Prime segregates our clients' investment funds from our company operating funds and deposits them in Commonwealth Bank of Australia, National Australia Bank, Signature Bank, and Bison Bank.  
Doo Prime has always been subject to the strict review system of international banks so that clients' funds are dedicated and always protected. 


Regulated By Global Financial Institutions To Protect The Rights & Interest Of Clients
In addition to the segregation of funds to ensure security, Doo Prime also holds multiple international regulatory licenses, with operation centers in core financial cities such as Dallas, Sydney, Singapore, Hong Kong, Dubai, and Kuala Lumpur.
We are essentially regulated by international financial regulators in multiple regions across the world, and we strictly comply with the regulatory regulations to protect the rights and interests of clients and asset security.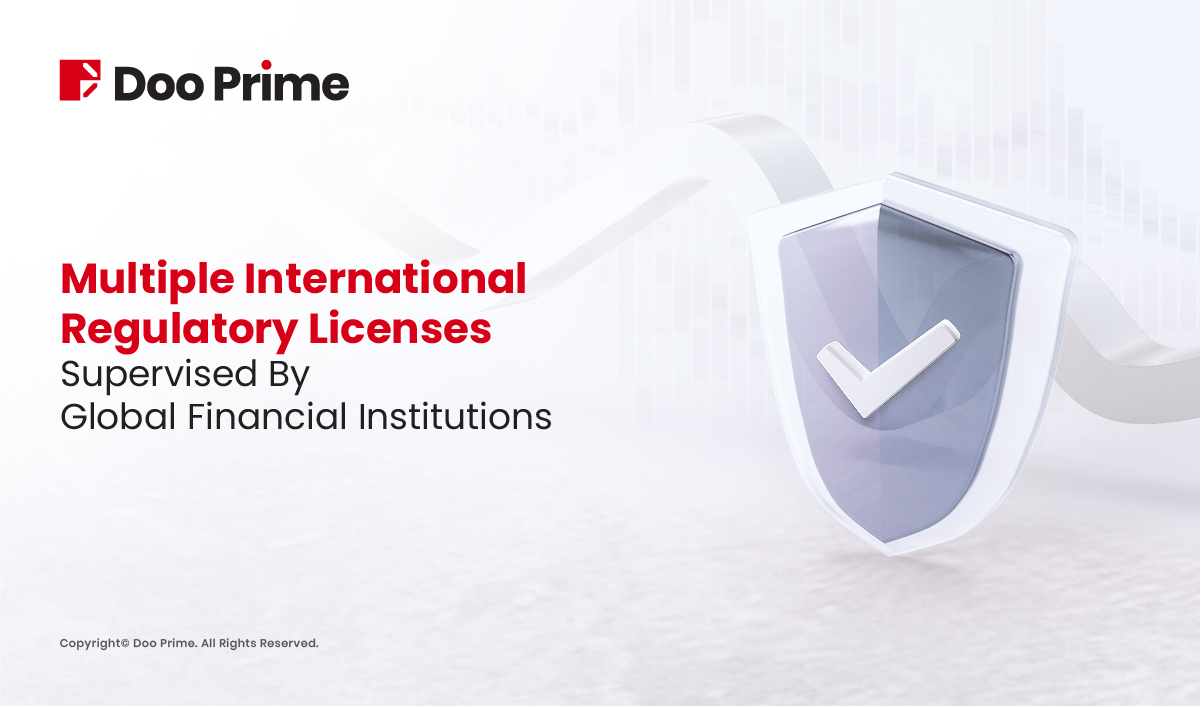 Doo Prime is an international pre-eminent online broker under Doo Group which holds multiple financial services licenses granted by the world's top financial regulatory authorities.
The main entities of Doo Group are regulated by the U.S. Securities and Exchange Commission (US SEC) and the Financial Industry Regulatory Authority (US FINRA), the United Kingdom Financial Conduct Authority (UK FCA), the Australian Securities and Investments Commission (AU ASIC), the Hong Kong Insurance Authority (HK IA), the Hong Kong Customs and Excise Department (HK C&ED), the Hong Kong Companies Registry (HK CR), the Seychelles Financial Services Authority (SC FSA), the Mauritius Financial Services Commission (MU FSC) and Vanuatu Financial Services Commission (VU FSC), each customer's legal rights and interests in the process of trading are protected by professional third-party institutions.
Doo Prime supports your trades efficiently when the market condition changes, and provide withdraw funds quickly within the corresponding amount when you need to allocate your assets.
With Doo Prime, more investors are steadily moving towards the global market and achieve free trading with flexible access to a safe investment environment.


| About Doo Prime
Doo Prime is an international pre-eminent online broker under Doo Group, which strives to provide professional investors with global CFD trading products in Securities, Futures, Forex, Commodities, Stock Indices, and Funds. At present, Doo Prime is delivering the finest trading experience to more than 40,000 professional clients, with over 1 million trade orders fulfilled each month.
Doo Prime entities respectively holds the relevant financial regulatory licenses in Seychelles, Mauritius, and Vanuatu with operation centers in Dallas, Sydney, Singapore, Hong Kong, Dubai, Kuala Lumpur, and other regions.
With robust financial technology infrastructure, well-established partnerships, and an experienced technical team, Doo Prime boasts a safe and secure trading environment, competitive trading costs, as well as deposit and withdrawal methods that support 10 different currencies. Doo Prime also incorporates 24/7 multilingual customer service and extremely fast trade execution via multiple industry-leading trading terminals such as MT4, MT5, TradingView, and InTrade, covering over 10,000 trading products.
Doo Prime's vision and mission are to become a financial technology-focused broker, streamlining international global financial products investment.
Risk Disclosure
Trading in financial instruments involves high risks due to the fluctuation in the value and prices of the underlying financial instruments. Due to the adverse and unpredictable market movements, large losses exceeding the investor's initial investment could incur within a short period of time. The past performance of a financial instrument is not an indication of its future performance. Investments in certain services should be made on margin or leverage, where relatively small movements in trading prices may have a disproportionately large impact on the client's investment and client should therefore be prepared to suffer significant losses when using such trading facilities.
Please make sure you read and fully understand the trading risks of the respective financial instrument before engaging in any transaction with Doo Prime's trading platforms. You should seek independent professional advice if you do not understand any of the risks disclosed by us herein or any risk associated with the trade and investment of financial instruments. Please refer to Doo Prime's Client Agreement and Risk Disclosure Statement to find out more.
[Disclaimer]
This information is addressed to the general public solely for information purposes and should not be taken as investment advice, recommendation, offer, or solicitation to buy or sell any financial instrument. The information displayed herein has been prepared without any reference or consideration to any particular recipient's investment objectives or financial situation. Any references to the past performance of a financial instrument, index, or a packaged investment product shall not be taken as a reliable indicator of its future performance. Doo Prime and its holding company, affiliates, subsidiaries, associated companies, partners and their respective employees, make no representation or warranties to the information displayed and shall not be liable for any direct, indirect, special or consequential loss or damages incurred a result of any inaccuracies or incompleteness of the information provided, and any direct or indirect trading risks, profit, or loss arising from any individual's or client's investment.