Doo Prime's participation at the Trader Fairs & Awards 2022 in Thailand successfully concluded on 23rd April, 2022. The event was a great success – thank you for providing us with the opportunity to further establish our presence in Thailand. It was honorable to meet up with a series of enthusiastic traders and clients at this grand event in the financial world.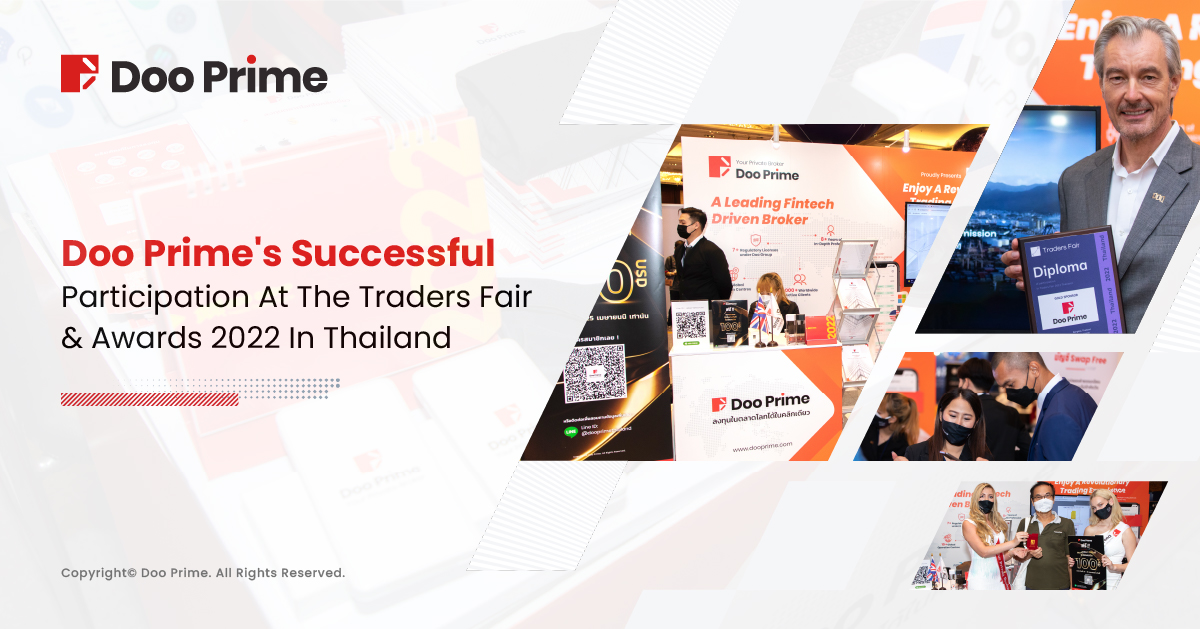 Going Global – Doo Prime Ventures Into Emerging Markets
Organized by Finexpo, Traders' Fair & Awards is a global series of financial events for the entire industry. It is an honor for Doo Prime to be invited to and participate in this prestigious event, where we proudly share our vast variety of global products and evolutionary financial technology with global traders.
"Being a leading global online broker, we take immense pride in our trading technology advancement, and believe that we can bring Thailand traders a one-of-a-kind trading experience. It is always our honor and ultimate goal to capture the rich investment opportunities with our global investors," comments Richard Forese, Chief Commercial Officer of Doo Group, SEA region.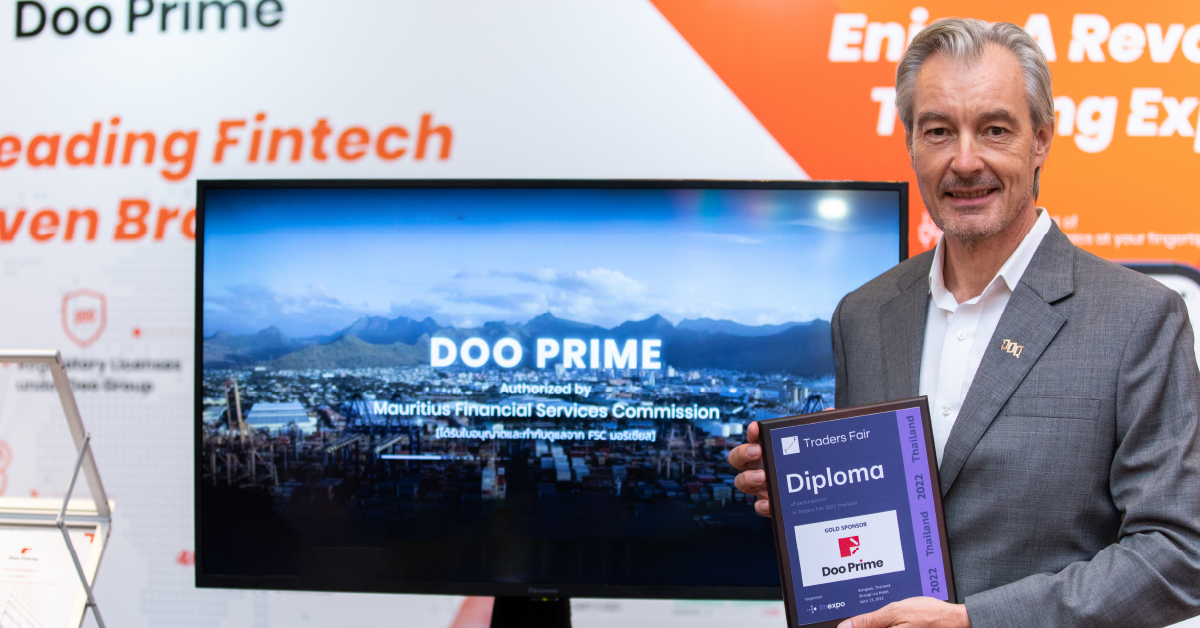 Doo Prime was positioned as one of the gold sponsors in this year's Trader Fairs & Awards. A dedicated team of professional representatives and trading experts were stationed at the prestigious trading event, sharing insightful experiences about investment opportunities, financial technology, and vast investment products including foreign exchange, stocks, futures and more to those present. Another key highlight was our hard-to-beat low cost of swap free offer.
On The Spot – Overwhelming Response From The Crowd
We received overwhelming response during the event, and thank each and every one of you who visited our booth. We look forward to make more valuable connections with our clients in the future.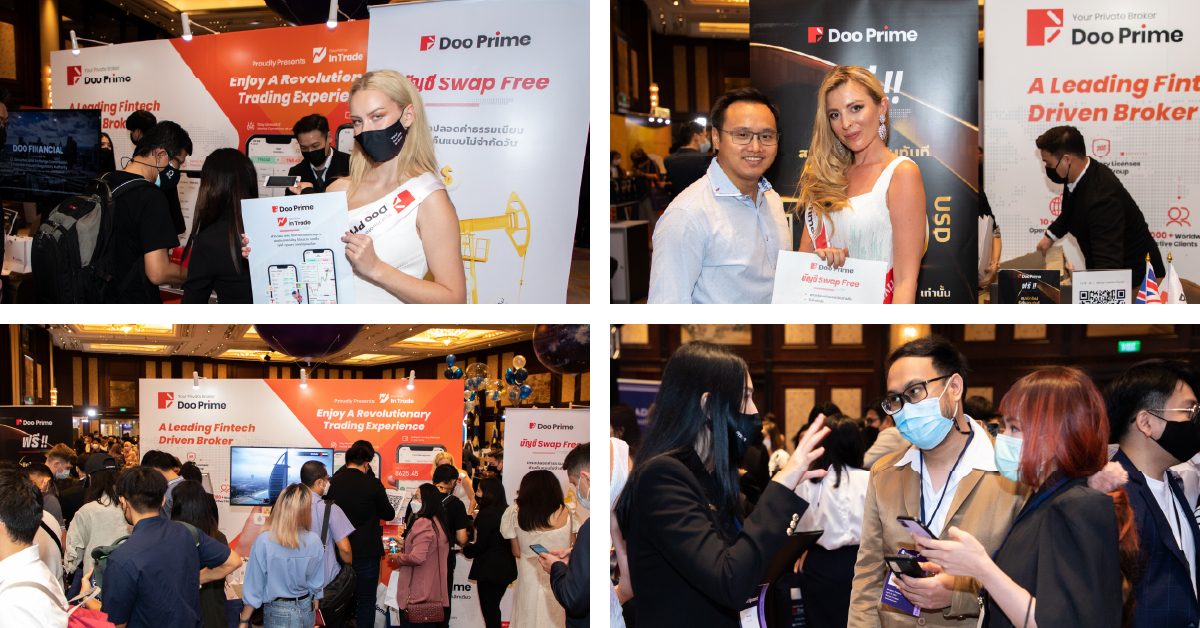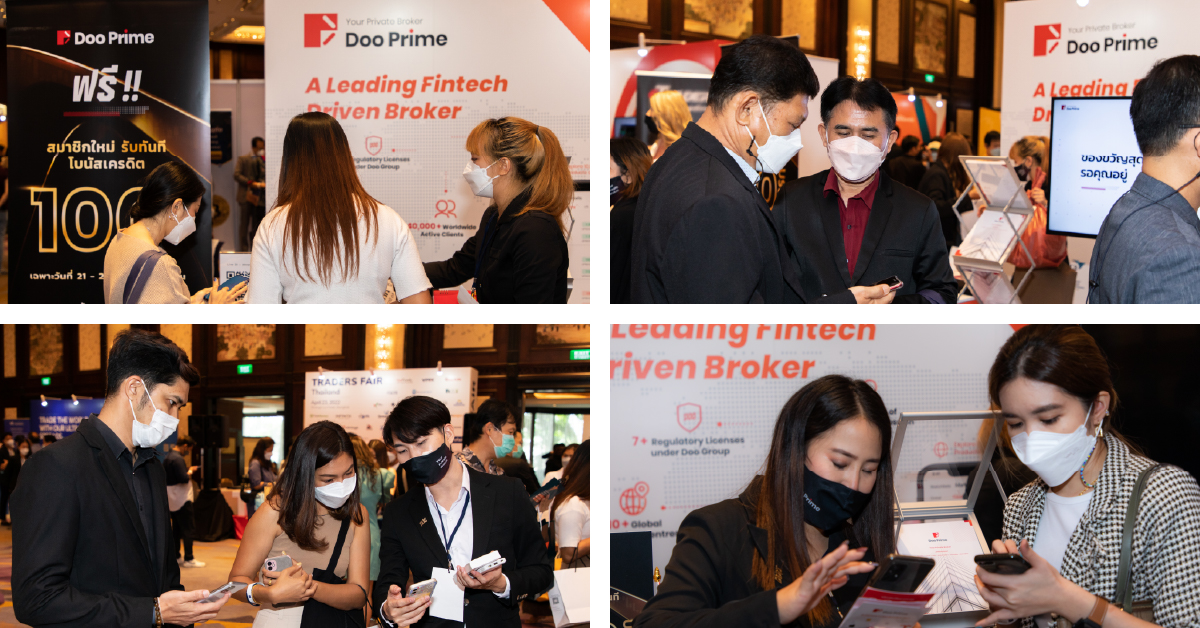 Doo Prime also received satisfying feedback from clients for the onsite trial of our Doo Prime InTrade app, which enables users to perform strategy simulation on different instruments based on professional charts, real-time data and the latest market insight.
"The Doo Prime InTrade app is easy-to-use! I often use mobile to trade, and this app is very convenient – basically, I can perform all the executions in one app," comments a visitor during the exhibition.

"I am surprised to see this app perform funding that quick and hassle-free," shares another visitor.

As a token of appreciation, Doo Prime prepared amazing prizes, such as the iPad Pro, Gold Bar, and more for our clients.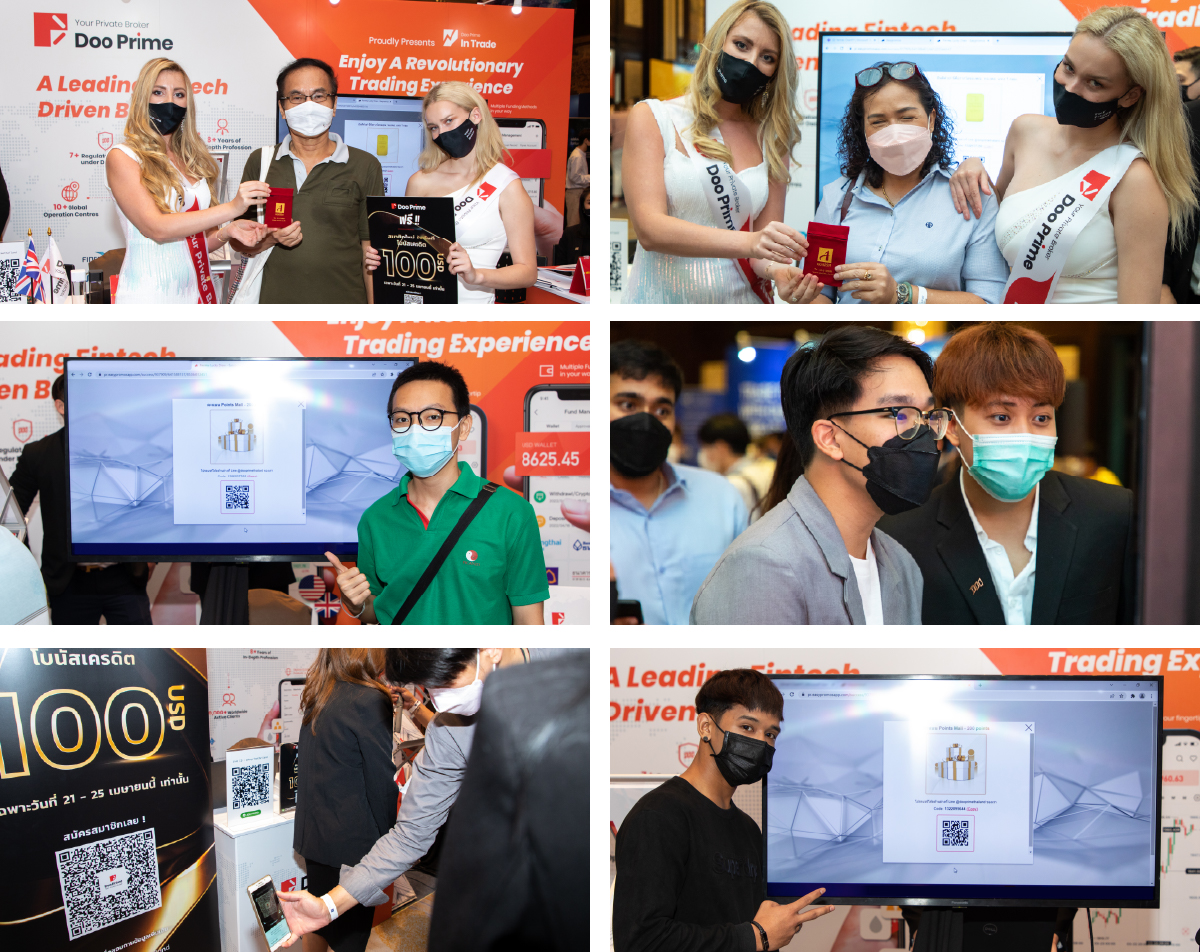 "Go Far, Go Fast"
Operating in over 10 countries and regions, Doo Prime is committed to offering investors over 10,000 trading products and 24/7 professional support. With international regulatory licenses under Doo group, clients can unlock investment opportunities safely in the world's 6 largest financial markets.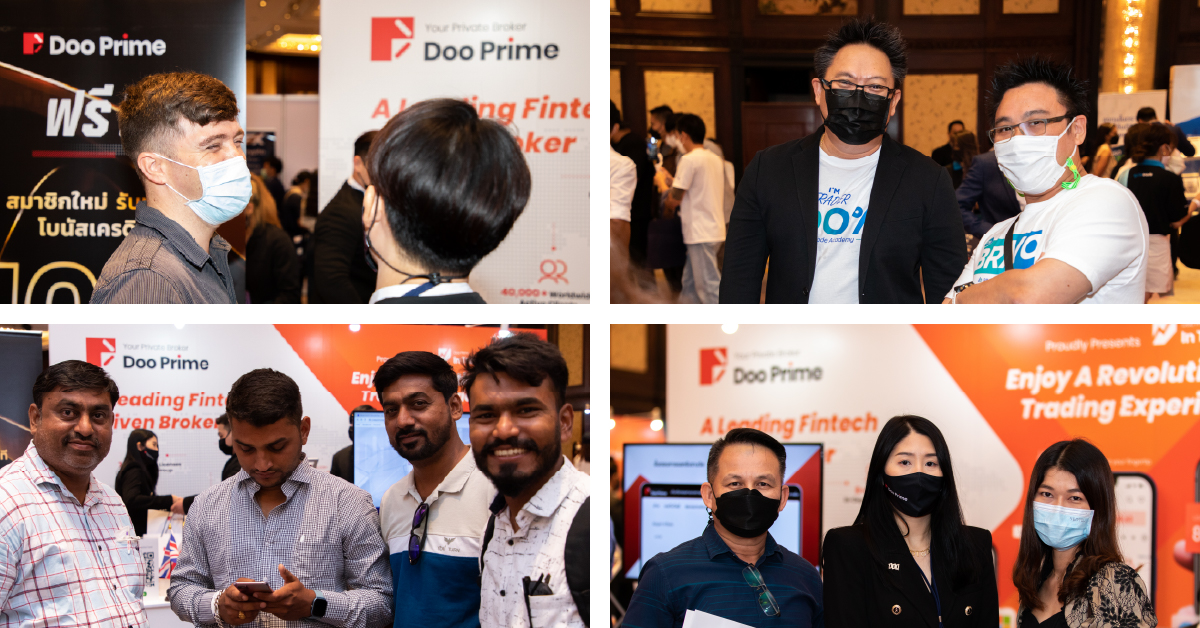 With the vision to "Go Far, Go Fast," Doo Prime has been actively developing global strategy mapping with high-end professionals. So far, we have more than 500 financial professionals working to deliver value to our customers, and strive to be their one and only private broker. We will continue to participate in more global trading occasions, and look forward to seeing you at our future events!
| About Doo Prime
Doo Prime is an international pre-eminent online broker under Doo Group, which strives to provide professional investors with global CFD trading products in Securities, Futures, Forex, Commodities, Stock Indices, and Funds. At present, Doo Prime is delivering the finest trading experience to more than 40,000 professional clients, with over 1 million trade orders fulfilled each month.    
Doo Prime entities respectively holds the relevant financial regulatory licenses in Seychelles, Mauritius, and Vanuatu with operation centers in Dallas, Sydney, Singapore, Hong Kong, Dubai, Kuala Lumpur, and other regions.
With robust financial technology infrastructure, well-established partnerships, and an experienced technical team, Doo Prime boasts a safe and secure trading environment, competitive trading costs, as well as deposit and withdrawal methods that support 10 different currencies. Doo Prime also incorporates 24/7 multilingual customer service and extremely fast trade execution via multiple industry-leading trading terminals such as MT4, MT5, TradingView, and InTrade, covering over 10,000 trading products.
Doo Prime's vision and mission are to become a financial technology-focused broker, streamlining international global financial products investment.
For enquiries and further information, please contact us:
Phone:
Europe : +44 11 3733 5199
Asia : +852 3704 4241
Asia – Singapore: +65 6011 1415
Asia – China : +86 400 8427 539
Email:
Technical Support: [email protected]
Sales Representative: [email protected]
Forward-looking Statements
This article contains "forward-looking statements" and may be identified by the use of forward-looking terminology such as "anticipate", "believe", "continue", "could", "estimate", "expect", "hope", "intend", "may", "might", "plan", "potential", "predict", "should", or "will", or other variations thereon or comparable terminology. However, the absence of such terminology does not mean that a statement is not forward-looking. In particular, statements about the expectations, beliefs, plans, objectives, assumptions, future events, or future performance of Doo Prime will be generally assumed as forward-looking statements.
Doo Prime has provided these forward-looking statements based on all current information available to Doo Prime and Doo Prime's current expectations, assumptions, estimates, and projections. While Doo Prime believes these expectations, assumptions, estimations, and projections are reasonable, these forward-looking statements are only predictions and involve known and unknown risks and uncertainties, many of which are beyond Doo Prime's control. Such risks and uncertainties may cause results, performance, or achievements materially different from those expressed or implied by the forward-looking statements.
Doo Prime does not provide any representation or warranty on the reliability, accuracy, or completeness of such statements. Doo Prime is not obliged to provide or release any updates or revisions to any forward-looking statements.
Risk Disclosure  
Trading in financial instruments involves high risks due to the fluctuation in the value and prices of the underlying financial instruments. Due to the adverse and unpredictable market movements, large losses exceeding the investor's initial investment could be incurred within a short period of time. The past performance of a financial instrument is not an indication of its future performance.
Please make sure you read and fully understand and carefully consider the trading risks of the respective financial instrument before engaging in any transaction with us. This statement does not disclose all risks and other aspects of trading and investing in financial instruments and in using Doo Prime's services. You should seek independent professional advice before making any trading decisions or investment to be fully aware of the risks associated with your preferred type of financial instrument and investment.
Disclaimer 
This information is addressed to the general public solely for information purposes and should not be taken as an investment advice, recommendation, offer, or solicitation to buy or sell any financial instrument. The information displayed herein has been prepared without any reference or consideration to any particular individual's investment objectives or financial situation. Any references to past performance of a financial instrument, index, or a packaged investment product shall not be taken as a reliable indicator of its future results. Doo Prime makes no representation and warranties to the information displayed and shall not be liable for any direct or indirect loss or damages as a result of any inaccuracies and incompleteness of the information provided. Doo Prime shall not be liable for any loss or damages as a result of any direct or indirect trading risks, profit, or loss associated with any individual's investment.