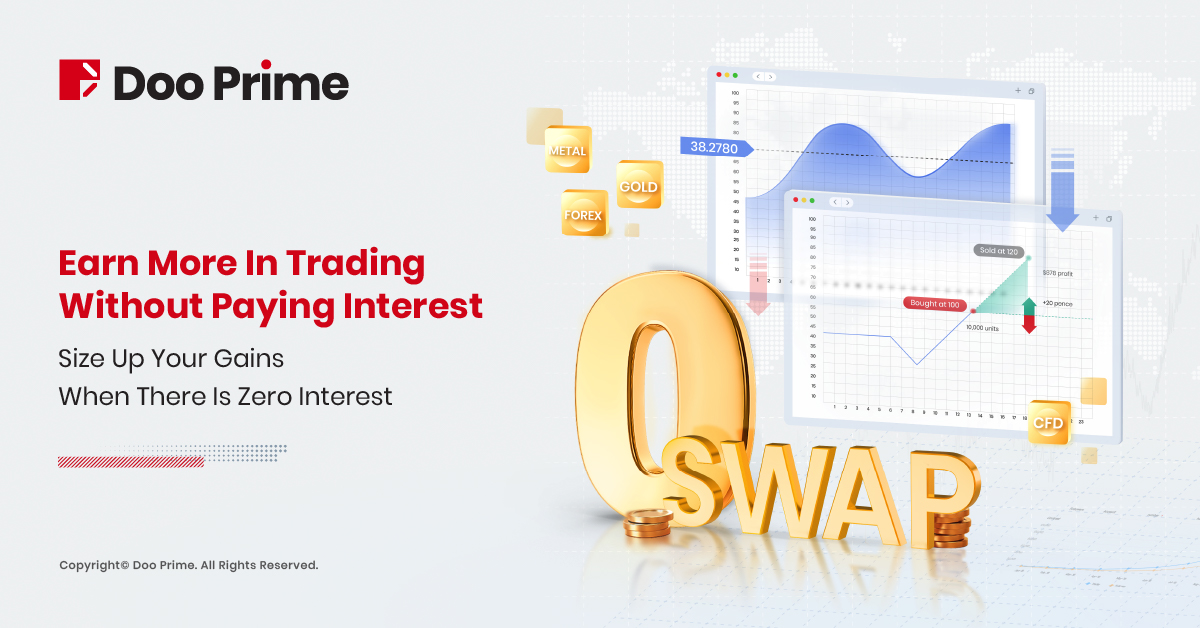 Size Up Your Gains When There Is Zero Interest
In trading, we do pay, or receive, a certain interest rate for holding a position overnight, which is also commonly known as rollover in CFD trading.
With the overnight interest fees being waived or reduced during our Swap-Free and Swap Reduction Campaign, the clients of Doo Prime are more privileged than non-Doo Prime traders as they do not need to pay extra interest fees for holding their position as most of the positions are rolled over on a daily basis until they are closed out, or settled.  
The Swap-Free and Swap Reduction Campaign has been going on for some time as it was initiated on 26th March 2022 at 08:00 until 2nd July 2022 at 08:00 with the server time (GMT +3). It is time to check how much impact this campaign has on our clients.
Strive Our Best To Fulfill "Clients Come First"
Doo Prime is committed to providing every client with professional services, satisfactory experience and continuously creating value for our clients. Therefore, we always spare no effort in pursuance of our "Clients Come First" goal.
The very reason of this campaign is to assist Doo Prime's clients in maximizing their trading yields by minimizing the trading cost and reducing the risk in trading.
On that account, here is the amount of Swap fees waived for Doo Prime clients during the campaign period.  
How Does This Campaign Benefits Doo Prime's Clients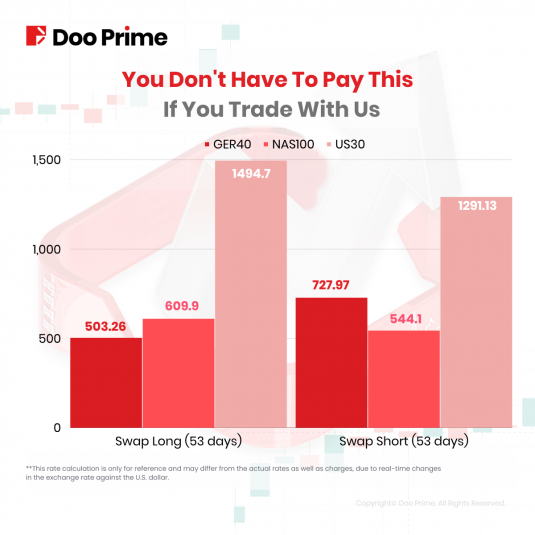 With this amount of fortune being waived, our clients could have utilized it to pay their bills and purchase necessities. If the clients decide to invest in other financial instruments, which leads to more chances for them to size up their assets.
Here are the ideas of how the salvaged fortune can be utilized for better purposes: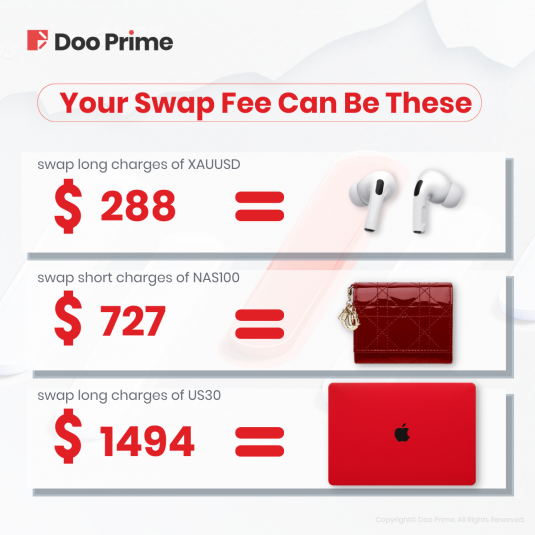 A Guide For You To Select Your Products
Doo Prime provides our clients with industry-renowned social trading platforms ( e.g. Outrade, Myfxbook and FOLLOWME ) that provide traders with more than 100,000 high-quality trading signals or information sharing with expert traders around the world.  
A sharing of our top 3 most popular traded product types might give you a clearer picture of your game.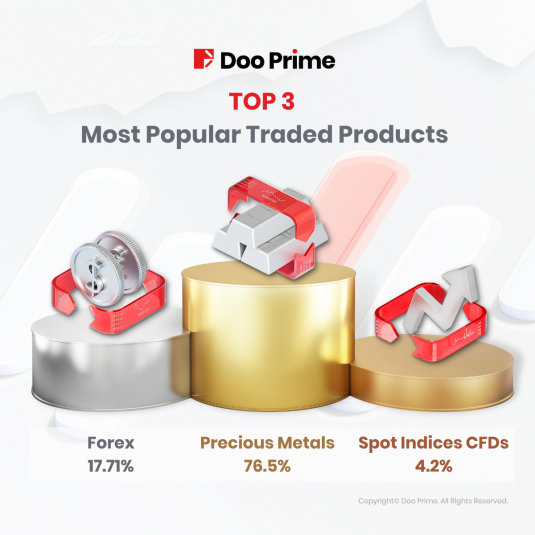 Based on the latest numbers acquired** , precious metal, forex, and spot indices CFDs were the top choices for traders that took up 94.25% of total trading volume during the Swap-Free and Swap Reduction Campaign. 
It is no surprise that XAU/USD (precious metal) recorded the highest trading volume within the campaign period as gold has always been one of the most traded volumes in Doo Prime due to its volatility being higher than traditional currency pairs in CFD markets. Hence, gold CFDs are usually found more profitable for a successful trade as stock market volatility is generally associated with investment risk, but the increased investment risk is usually coupled with higher dispersions of returns.
Top Currency Pairs To Trade
The second most traded product type in Doo Prime is forex trading as it is popular due to its high degree of accessibility. To add, the champion among all the currency pairs is EUR/USD, which is also known as "The Fiber", followed by GBP/USD which is commonly known as "The Cable".
EUR/USD is generally considered the most traded currency pair as it stems from two of the world's largest and most reputable economies. This currency pair is usually associated with low spreads, high liquidity and the ability to place large volumes of trade.
"The Cable" is a particularly volatile currency pair compared to the
"Fiber" combo, due to its frequent fluctuations in price, exchange rate and pip movements. Some would say volatility is a gift as it makes large profit gains possible. However, some would call it a curse as some equally great losses might occur if the volatility is high and unstable.
Which Spot CFDs To Invest In?
If precious metals and forex are not what you are looking for, maybe Spot Indices CFDs could be your next favourite trading product.
As per the graph shown, the third most favoured traded product type during Doo Prime's Swap-Free and Swap Reduction is spot CFDs index. They are US30 and NAS100, which contributed 2.28% and 1.63% of trading volume within the campaign period separately.  
It explained that some traders prefer to trade Spot Indices CFDs as they have more consistent trends than currency trading, which leads to rather lower risks against individual stocks. Thus, it became one of the preferred traded products during this campaign.
Never Too Late To Join The Campaign
Grab the very last chance to be one of the beneficiaries of this campaign as Doo Prime welcomes everyone to trade with us regardless if you are a beginner or an experienced trader.
Seize this window of opportunity, and trade with Doo Prime without paying exorbitant overnight interest rates. Contact Doo Prime's 24/7 multilingual support team now to activate the Swap-Free option on multiple trading terminals including MetaTrader 4, MetaTrader 5, TradingView, Doo Prime InTrade, and more before the campaign is gone!
* Please note that the Swap-Free and Swap reduction are only applicable within the Campaign period.  
** The following information is acquired as of 24th May 2022.
| About Doo Prime
Doo Prime is an international pre-eminent online broker under Doo Group, which strives to provide professional investors with global CFD trading products in Securities, Futures, Forex, Commodities, Stock Indices, and Funds. At present, Doo Prime is delivering the finest trading experience to more than 35,000 professional clients, with over 1 million trade orders fulfilled each month.
Doo Prime entities respectively holds the relevant financial regulatory licenses in Seychelles, Mauritius, and Vanuatu with operation centers in Dallas, Sydney, Singapore, Hong Kong, Dubai, Kuala Lumpur, and other regions.
With robust financial technology infrastructure, well-established partnerships, and an experienced technical team, Doo Prime boasts a safe and secure trading environment, competitive trading costs, as well as deposit and withdrawal methods that support 10 different currencies. Doo Prime also incorporates 24/7 multilingual customer service and extremely fast trade execution via multiple industry-leading trading terminals such as MT4, MT5, TradingView, and InTrade, covering over 10,000 trading products.
Doo Prime's vision and mission are to become a financial technology-focused broker, streamlining international global financial products investment.
For enquiries and further information, please contact us:
Phone:
Europe : +44 11 3733 5199
Asia : +852 3704 4241
Asia – Singapore: +65 6011 1415
Asia – China : +86 400 8427 539
Email:
Technical Support: [email protected]
Sales Representative: [email protected]
Risk Disclosure
Trading in financial instruments involves high risks due to the fluctuation in the value and prices of the underlying financial instruments. Due to the adverse and unpredictable market movements, large losses exceeding the investor's initial investment could incur within a short period of time. The past performance of a financial instrument is not an indication of its future performance. Investments in certain services should be made on margin or leverage, where relatively small movements in trading prices may have a disproportionately large impact on the client's investment and client should therefore be prepared to suffer significant losses when using such trading facilities.

Please make sure you read and fully understand the trading risks of the respective financial instrument before engaging in any transaction with Doo Prime's trading platforms. You should seek independent professional advice if you do not understand any of the risks disclosed by us herein or any risk associated with the trade and investment of financial instruments. Please refer to Doo Prime's Client Agreement and Risk Disclosure and Acknowledgement Notice to find out more.
Disclaimer
This information is addressed to the general public solely for information purposes and should not be taken as investment advice, recommendation, offer, or solicitation to buy or sell any financial instrument. The information displayed herein has been prepared without any reference or consideration to any particular recipient's investment objectives or financial situation. Any references to the past performance of a financial instrument, index, or a packaged investment product shall not be taken as a reliable indicator of its future performance. Doo Prime and its holding company, affiliates, subsidiaries, associated companies, partners and their respective employees, make no representation or warranties to the information displayed and shall not be liable for any direct, indirect, special or consequential loss or damages incurred a result of any inaccuracies or incompleteness of the information provided, and any direct or indirect trading risks, profit, or loss arising from any individual's or client's investment.