Swap-Free Products Including Gold, Stocks Indices and U.S. Stocks!
Overnight Interest Rate Completely Reduced!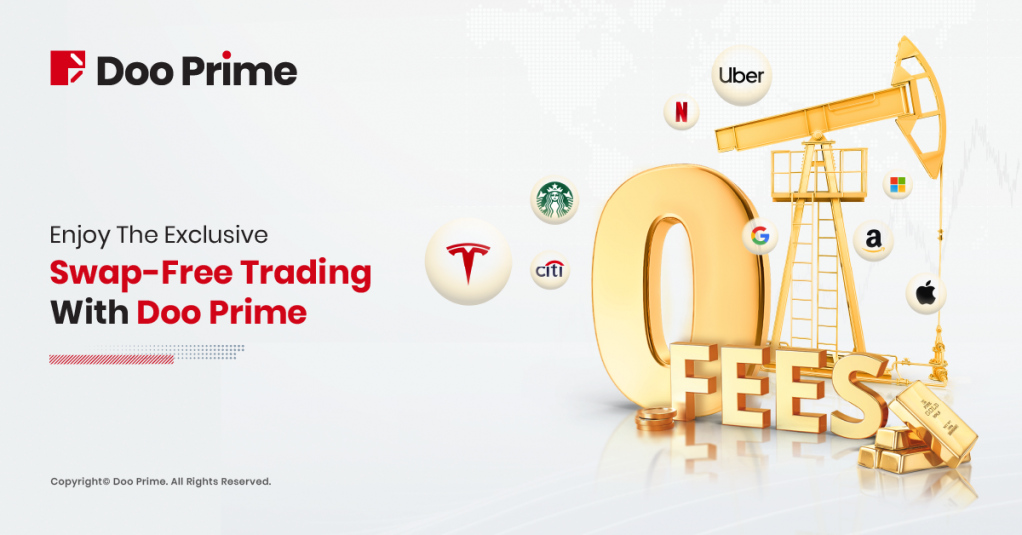 Doo Prime will never stop providing better trading experiences for all clients.
This time, we are here to announce a notable campaign for clients around the world — an opportunity to enjoy Swap-Free Trading and Swap Reduction with Doo Prime. Both perks are applicable only for specific products accordingly.
Doo Prime launched the exclusive perk in response to the overwhelming response from the global trading community, as well as to welcome more new traders from every corner of the world in joining Doo Prime.
From 26th March 2022 to 2nd July 2022, Doo Prime global customers can use their existing accounts with Doo Prime to participate in this event. Your existing ECN, STP or Cent account with Doo Prime is eligible to enjoy the Swap-Free and Swap Reduction deals of this event on the MT4, MT5, Doo Prime InTrade, and Trading View platforms.
Details of the Promotions are as such:
The products listed are eligible for Swap-Free and Swap Reduction promotion:
Swap-free
The products listed are eligible for Swap-Free promotion:
| | | |
| --- | --- | --- |
| Product Types | Before Adjustment | After Adjustment |
| Metals | With Overnight Interest Rate | Swap-free |
| Spot Index CFD | With Overnight Interest Rate | Swap-free |
| US Equities CFD | 4% of Overnight Interest Rate | Swap-free |
To accommodate current market liquidity, Doo Prime is offering a complete reduction in overnight interest rates for Forex products along with Commodities, which provides a more advantageous trading condition for our clients.
Limited-Time Perks 
The campaign and perks will be initiated at the following server time (GMT +3):
Swap-Free and Swap-Reduction
March 26, 2022 08:00 – July 02, 2022 08:00 

All the listed products will take effect on Monday, 28th March 2022.
Benefits Of Joining the Swap-Free Event
Swap is the interest rate you receive or pay for holding a position overnight. In CFD trading, it is also known as rollover.
At Doo Prime, having to remove or reduce the overnight interest rate meaning that it does not require clients to pay an interest when it comes to any trades for the listed financial products on our platform.
Other pros of Swap-Free include:
Reduce Daily Swap Charges
As the term suggests, swap-free means free of swap and could eliminate the risks of earning swaps. Trading without the complexity of the swap system eliminates the risks of swaps that can arise overnight.
For instance, gold is traded against the dollar, and the dollar comes with an interest rate set by the central bank.
Without a waiver or discount on overnight interest, traders trading gold will have to pay the interest rate according to the trade they have opened.
Zero Down With Strategic Trading
In times of market spikes, most of the traders will sell into the market or buy into the market and hold their position. This will result in an extremely high swap interest rate.
Thus, not all traders are willing to take a chance to pay such a fee. It is only normal for traders to consider the risk of negative swaps in their risk management.
With a waiver or discount on overnight interest, traders will not bear the high swap interest rate imposed on their trades.
Maximum Yields, Minimum Trading Costs
In addition, rates & holding period is subject to change to reflect market conditions when necessary. The interest rate calculation can also differ based on your order, in which buy and sell can have different outcomes of swap rate. This could also be another factor that contributes to the risks and a burden on the trading cost.
For example, in March 2020, the Oil future is on negative value and the spot oil dropped to USD14 per 1000 ton.
At that time, many of the traders buy into the market with ask price, but the swap interest per day was around USD200 to 300 per lot/per day.
No Fees On Your Trades
Swap-free is an option to have an account free from fees. As of now, Doo Prime is among one of the internationally renowned brokers that offer a limited-time event that removes or reduces the overnight interest of your trading.
Do not miss your window of opportunity! Contact Doo Prime's 24/7 multilingual support team to activate the Swap-Free option now on multiple trading terminals including MetaTrader 4, MetaTrader 5, TradingView, Doo Prime InTrade, and more!
* Please note that Doo Prime reserves the right to determine the eligibility of participants in this event:
1. Some professional clients will not be allowed to participate in this Swap-Free event.
2. Event eligible region including but not limited to China, Thailand, Taiwan (China), Turkey, South Korea, and more.
3. Any abnormal transactions found including but not limited to abusing the Swap-Free event, Doo Prime reserves the right to cancel the client's participation in the event, and will not rule out the possibility of disqualifying the open orders and interest charges will be charged for subsequent open orders.


| About Doo Prime
Doo Prime is an international pre-eminent online broker under Doo Group, which strives to provide professional investors with global CFD trading products in Securities, Futures, Forex, Commodities, Stock Indices, and Funds. At present, Doo Prime is delivering the finest trading experience to more than 35,000 professional clients, with over 1 million trade orders fulfilled each month.
Doo Prime entities respectively holds the relevant financial regulatory licenses in Seychelles, Mauritius, and Vanuatu with operation centers in Dallas, Sydney, Singapore, Hong Kong, Dubai, Kuala Lumpur, and other regions.
With robust financial technology infrastructure, well-established partnerships, and an experienced technical team, Doo Prime boasts a safe and secure trading environment, competitive trading costs, as well as deposit and withdrawal methods that support 10 different currencies. Doo Prime also incorporates 24/7 multilingual customer service and extremely fast trade execution via multiple industry-leading trading terminals such as MT4, MT5, TradingView, and InTrade, covering over 10,000 trading products.
Doo Prime's vision and mission are to become a financial technology-focused broker, streamlining international global financial products investment.
For enquiries and further information, please contact us:
Phone:
Europe : +44 11 3733 5199
Asia : +852 3704 4241
Asia – Singapore: +65 6011 1415
Asia – China : +86 400 8427 539
Email:
Technical Support: [email protected]
Sales Representative: [email protected]
Risk Disclosure
Trading in financial instruments involves a high degree of risk due to fluctuations in the value and price of the underlying financial instruments. Due to the adverse and unpredictable market movements, large losses exceeding the investor's initial investment could incur within a short period of time. The past performance of a financial instrument is not an indication of its future performance.
Please make sure you read and fully understand the trading risks of the respective financial instrument before engaging in any transaction with us. You should seek independent professional advice if you do not understand the risks disclosed by us herein.
Disclaimer
This information is addressed to the general public solely for information purposes and should not be taken as an investment advice, recommendation, offer, or solicitation to buy or sell any financial instrument. The information displayed herein has been prepared without any reference or consideration to any particular recipient's investment objectives or financial situation. Any references to past performance of a financial instrument, index, or a packaged investment product shall not be taken as a reliable indicator of its future results. Doo Prime makes no representation and warranties to the information displayed and shall not be liable for any direct or indirect loss or damages as a result of any inaccuracies and incompleteness of the information provided. Doo Prime shall not be liable for any loss or damages as a result of any direct or indirect trading risks, profit, or loss associated with any individual's investment.