Were there expectations of inflation going down? Quite the opposite. Measures of U.S. inflation have been hitting multi-decade highs since mid-2022 and remain unsettled in the third quarter of 2022.
People have been finding a way to curb the surge of inflation and buying safe heaven assets. In fact, financial products like precious metals stand as one of the most popular items to date.
With our most wanted campaigns — Swap-Free and Swap Reduction Campaign – you can trade precious metals like gold CFDs without paying an overnight interest rate, which is also commonly known as rollover or swap in CFD trading.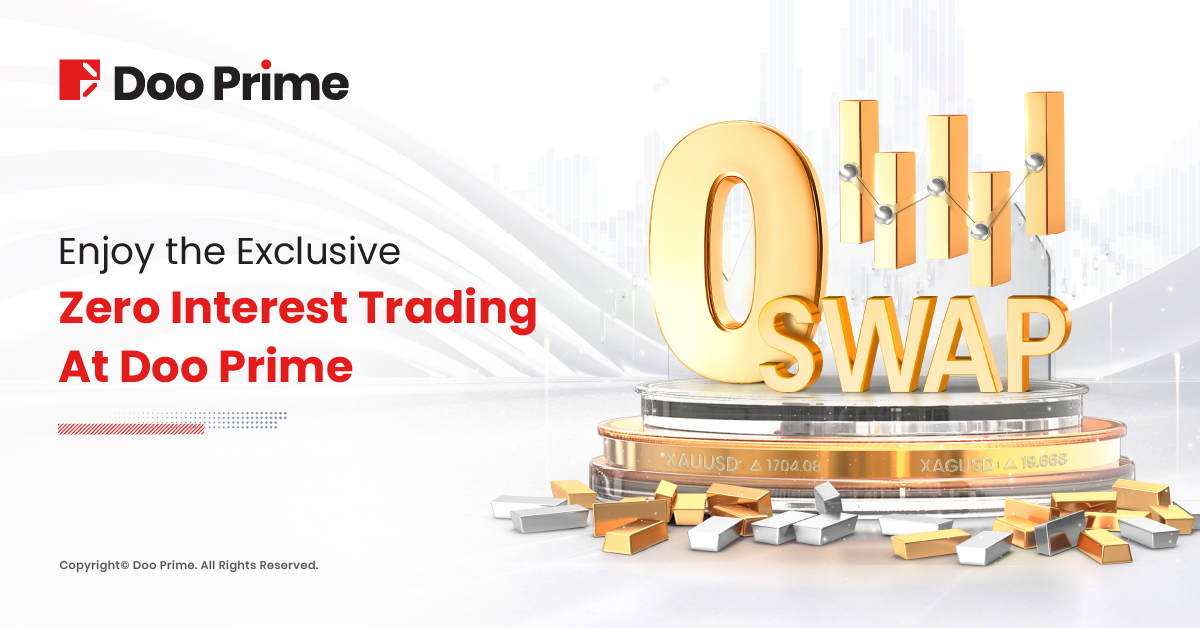 Is Precious Metals Your Preferred Purchase?
It is not hard to see why people love trading precious metals, especially gold and silver, as safe-haven assets. For thousands of years, humans have owned gold and silver as a store of value.
Unlike fiat currencies, there is a relatively limited supply of precious metals. Hence, precious metals are better at fighting devaluation. They could be in the form of jewelry and electronics that provides more tangible value, or it could be in CFDs form for convenient trading purposes.
Gold CFDs trading has been one of the most popular instruments among traders. In Doo Prime, you can always find precious metals CFD having the highest traded volume. Namely, in Doo Group's August Trading volume and the first round of Swap-Free and Swap Reduction campaign conclusion.
For instance, XAU/USD recorded the highest monthly trading volume with USD34.61 billion in August and precious metals CFDs trading also hit a total of 76.5% during the first round of the Swap Free and Swap Reduction Campaign period (26th March 2022 until 2nd July 2022 ).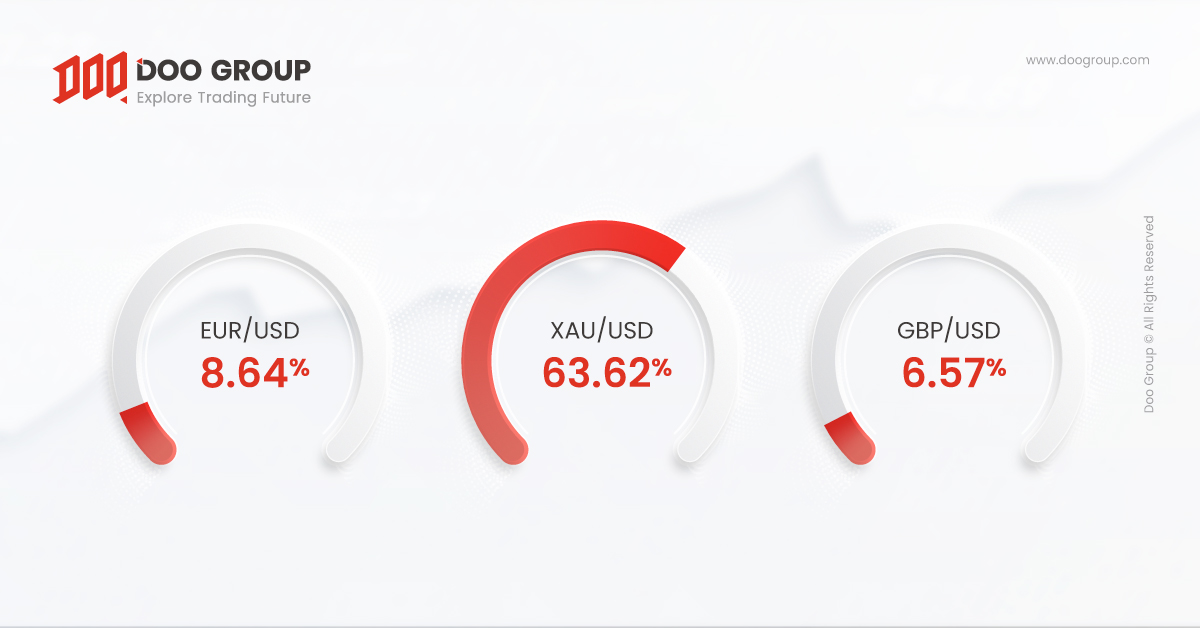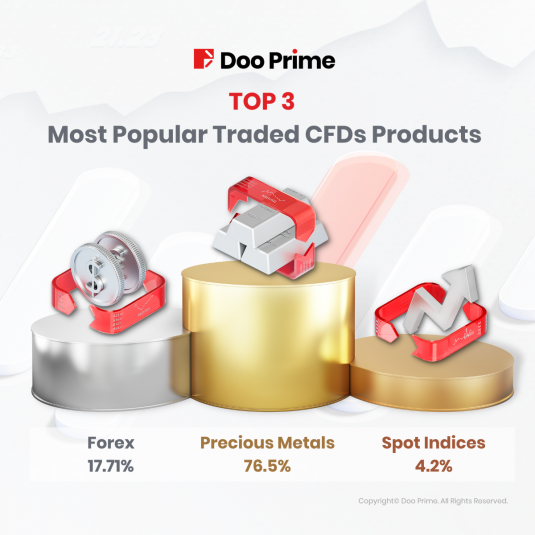 It is no surprise that XAU/USD (precious metals) recorded the highest trading volume within the campaign period as gold has always been one of the most traded volumes in Doo Prime due to its volatility being higher than traditional currency pairs in CFD markets.
CFDs – The Best Way To Trade Precious Metals
For those unfamiliar with how Contract For Difference (CFD) works, it is a bond between a trader or investor and us, an online broker. Trading precious metals CFD is the greatest and most current way to speculate in gold and silver.
CFD allows traders to venture and invest in the price of gold and silver. Just like the term suggests, the value of CFD is the price difference between the opening and closing of the contract.
To further elaborate, individuals trade CFDs through a regulated broker like Doo Prime and the prices are determined on its value in the market. Hence, the transaction in between will prompt whether the trade is financially rewarding or not.
Other pros of CFDs trading with Doo Prime include:
Doo Prime offers leverage up to 1:500
In Doo Prime, we offer flexible leverage of up to 1:500, allowing our clients to amplify the cost of capital invested. Leverage brings higher profits with lower capital but great leverage is associated with high risks of big losses too. Hence, you are encouraged to proceed your order with caution.
A comparison of CFD trade and traditional trade is shown for better understanding.
If you have placed USD 1000 of traded amount for the position (XX), Doo Prime only requires you to pay the margin of USD 2 when the leverage is 1:500.
| | | | |
| --- | --- | --- | --- |
| | DP CFD Trade | CFD Trade | Traditional Trade |
| Margin | USD 2 | USD 5 | USD 1000 |
| Position (XX) earns USD 100 | You make USD 100, or 5000% | You make USD 100, or 2000% | You make USD 100, or 10% |
| Position (XX) lose USD 100 | You lost USD 100, or 5000% | You lost USD 100, or 2000% | You lost USD 100, or 10% |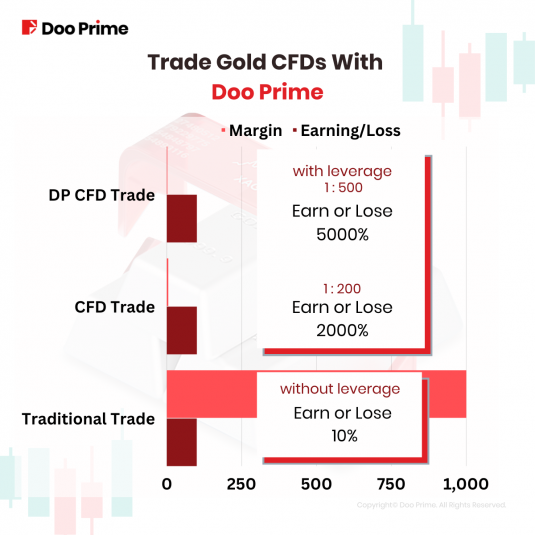 Hence, CFDs will give you better flexibility in your trades when compared to some conventional forms of trading.
Short Selling
Short selling is an investment technique that seeks to profit from the decline in a security's value.
Due to the flexibility of CFD trade, traders are allowed to trade on markets that are heading down, as well as up. Clients normally trade at buy price if the market showing signs of going to go up in price, and trade at sell price when they think the market is going to go down in price.
Hedging
Speaking of the flexibility of CFDs trading, some traders love to use CFDs to hedge against the issue of physical gold devaluation they hold. As the gold prices were greatly affected by all geopolitical events like Russia-Ukraine war and recent surged inflation, a number of physical gold owners, gold shoppers or gold miners, would utilize the flexibility of CFDs to minimize their loss in capital.
Let's have another example for hedging:
Say that you owned some physical gold bars and you plan on holding them over the long term. You believe that gold positions may be in for a downturn, therefore, you want to offset the potential short-term losses of your gold bar by purchasing gold CFDs short position.
If the gold position did dive further, then your short position of will earn you a profit, offsetting the loss of the physical gold value. If the gold position is back on increasing trail, then you can close the short position to offset the loss you incurred against future profits.
Another glad tiding to add is that you are not required to pay for the overnight interest rates for holding a position of precious metal CFDs during our Swap-Free campaign! In a way, you have sized up your gains by paying 0% interest.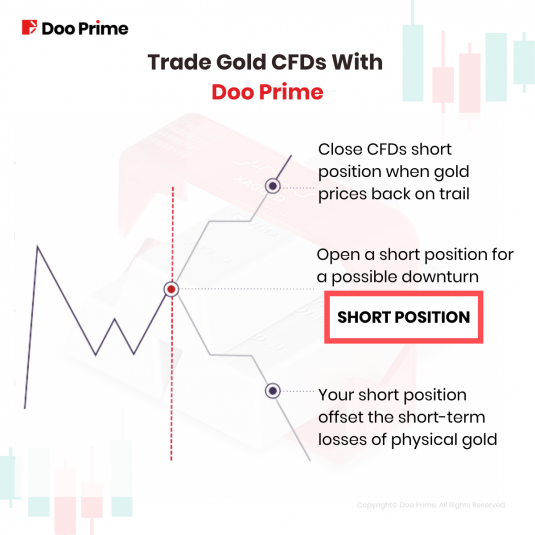 For these advantages, precious metals CFDs, especially gold CFDs have long been considered a safe-haven investment and a hedge against inflation, especially when gold prices rose due to the recent inflation surge.
While gold and inflation are connected: this precious metal also safeguards investors against economic events like currency devaluation as well as an acting cushion during periods of political instability.
Wondering which precious metal CFDs are included during the Swap Free Campaign?
Details of the Promotions are as such:
The products listed are eligible for Swap-Free and Swap Reduction promotion:
| | | |
| --- | --- | --- |
| | Precious Metal CFDs | Overnight Interest |
| XAU/USD | Gold Spot CFD | Swap Free |
| XAG/USD | Silver Spot CFD | Swap Free |
| RKG/CNH | Chinese Kilo Gold vs Chinese Yuan Spot CFD | Swap Free |
| HKG/HKD | Hong Kong Gold vs Hong Kong Dollar Spot CFD | Swap Free |
| SKG/CNH | Silver Kilo Gold vs Chinese Yuan CFD | Swap Free |
Kick-Start Your Swap-Free Trading Journey Now!
Give it a shot to be one of the beneficiaries of this campaign as Doo Prime welcomes everyone to trade with us, whether you are a beginner or an experienced trader.
Contact Doo Prime's 24/7 multilingual support team now to activate the Swap-Free option on multiple trading terminals including MetaTrader 4, MetaTrader 5, TradingView, Doo Prime InTrade, and more.
For more campaign-related terms and conditions, clients may access our help center or contact your 1-on-1 dedicated account manager. 
| About Doo Prime
Our Trading Instruments
Securities | Futures | Forex | Precious Metals | Commodities | Stock Indices
Doo Prime is an international pre-eminent online broker under Doo Group, which strives to provide professional investors with global CFD trading products in Securities, Futures, Forex, Commodities, Stock Indices, and Funds. At present, Doo Prime is delivering the finest trading experience to more than 60,000 professional clients, with an average trading volume of more than USD51.223 billion each month.
Doo Prime entities respectively holds the relevant financial regulatory licenses in Seychelles, Mauritius, and Vanuatu with operation centers in Dallas, Sydney, Singapore, Hong Kong, Dubai, Kuala Lumpur, and other regions.
With robust financial technology infrastructure, well-established partnerships, and an experienced technical team, Doo Prime boasts a safe and secure trading environment, competitive trading costs, as well as deposit and withdrawal methods that support 10 different currencies. Doo Prime also incorporates 24/7 multilingual customer service and extremely fast trade execution via multiple industry-leading trading terminals such as MT4, MT5, TradingView, and InTrade, covering over 10,000 trading products.
Doo Prime's vision and mission are to become a financial technology-focused broker, streamlining international global financial products investment.
For more information about Doo Prime, please contact us at:
Phone:
Europe : +44 11 3733 5199
Asia : +852 3704 4241
Asia – Singapore: +65 6011 1415
Asia – China : +86 400 8427 539
E-mail:
Technical Support: [email protected]
Sales Representative: [email protected]
Forward-looking Statements
This article contains "forward-looking statements" and may be identified by the use of forward-looking terminology such as "anticipate", "believe", "continue", "could", "estimate", "expect", "hope", "intend", "may", "might", "plan", "potential", "predict", "should", or "will", or other variations thereon or comparable terminology. However, the absence of such terminology does not mean that a statement is not forward-looking. In particular, statements about the expectations, beliefs, plans, objectives, assumptions, future events, or future performance of Doo Prime will be generally assumed as forward-looking statements.
Doo Prime has provided these forward-looking statements based on all current information available to Doo Prime and Doo Prime's current expectations, assumptions, estimates, and projections. While Doo Prime believes these expectations, assumptions, estimations, and projections are reasonable, these forward-looking statements are only predictions and involve known and unknown risks and uncertainties, many of which are beyond Doo Prime's control. Such risks and uncertainties may cause results, performance, or achievements materially different from those expressed or implied by the forward-looking statements.
Doo Prime does not provide any representation or warranty on the reliability, accuracy, or completeness of such statements. Doo Prime is not obliged to provide or release any updates or revisions to any forward-looking statements.
Risk Disclosure
Trading in financial instruments involves high risks due to the fluctuation in the value and prices of the underlying financial instruments. Due to the adverse and unpredictable market movements, large losses exceeding the investor's initial investment could incur within a short period of time. The past performance of a financial instrument is not an indication of its future performance. Investments in certain services should be made on margin or leverage, where relatively small movements in trading prices may have a disproportionately large impact on the client's investment and client should therefore be prepared to suffer significant losses when using such trading facilities.
Please make sure you read and fully understand the trading risks of the respective financial instrument before engaging in any transaction with Doo Prime's trading platforms. You should seek independent professional advice if you do not understand any of the risks disclosed by us herein or any risk associated with the trade and investment of financial instruments. Please refer to Doo Prime's Client Agreement and Risk Disclosure and Acknowledgement Notice to find out more.

Disclaimer
This information is addressed to the general public solely for information purposes and should not be taken as investment advice, recommendation, offer, or solicitation to buy or sell any financial instrument. The information displayed herein has been prepared without any reference or consideration to any particular recipient's investment objectives or financial situation. Any references to the past performance of a financial instrument, index, or a packaged investment product shall not be taken as a reliable indicator of its future performance. Doo Prime and its holding company, affiliates, subsidiaries, associated companies, partners and their respective employees, make no representation or warranties to the information displayed and shall not be liable for any direct, indirect, special or consequential loss or damages incurred a result of any inaccuracies or incompleteness of the information provided, and any direct or indirect trading risks, profit, or loss arising from any individual's or client's investment.