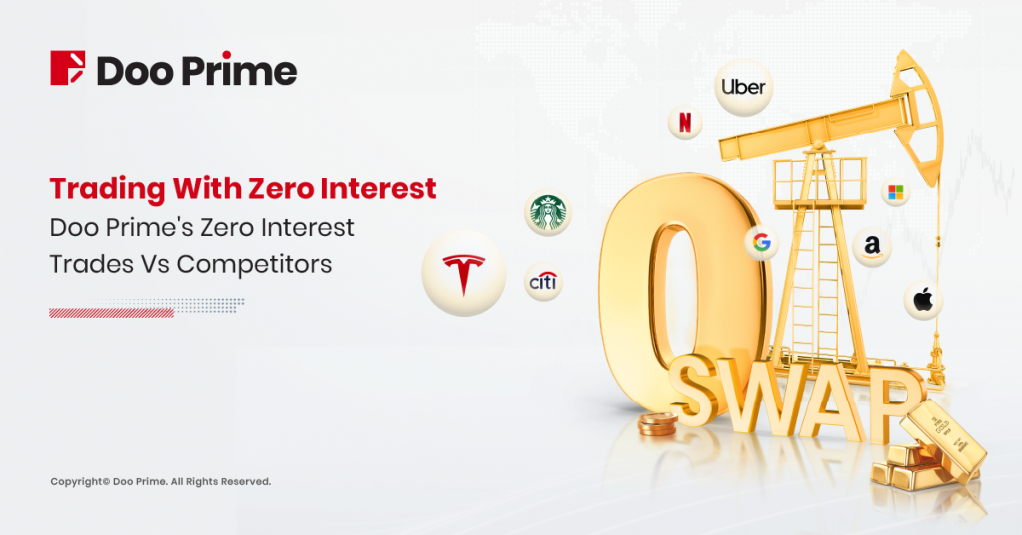 Doo Prime's Zero Interest Trades Vs Competitors
Even when a skillful trader is excellent in planning trading strategy in theory, it is very unlikely to make said strategies work on a consistent basis because nothing is completely assured in the trading market.
In an industry where ups, downs, and fluctuations are constant, Doo Prime is now offering traders a near consistent and yet effective deal that is aimed at boosting your trading experience — presenting the Doo Prime Swap Free Campaign.
This is a great opportunity for traders around the world, where one can trade with Doo Prime without paying any overnight interest fees at all. To all beginners in trading, this is also the best opportunity for you to enter the market during this campaign as we have eased the burden of the overnight interest rates for all Doo Prime traders in the period of time limited within the Campaign.
Trade Swap-Free At Doo Prime
The interest rate one receives, or pays, for holding a position overnight is called Swap. It is also commonly known as rollover in CFD trading.
For traders, most positions are rolled over on a daily basis until they are closed out, or settled.
Different products have specific calculation formulas. Take one of the trending products – US stock CFD – as an example: the overnight interest of US stock CFD products is charged at an annualized 4% of the contract value of the actual position held by the customer. Meanwhile, the overnight interest of spot gold is calculated according to the points size, and calculation is liquidity provider calculated.
However, these extra overnight interest rates now should not be your concern anymore as Doo Prime has waived it during the Swap Free Campaign.
In consequence, trading with Doo Prime now* holds an advantage when compared with other trading platforms.
Top Reasons To Join Swap Free Campaign
Having the Overnight Interest Rates waived is a beneficial booster to all the traders at Doo Prime. After all, nobody would like to pay extra in general.
Still having second thoughts on how Swap Free Trading can benefit you? Here are the many advantages of trading Swap-Free: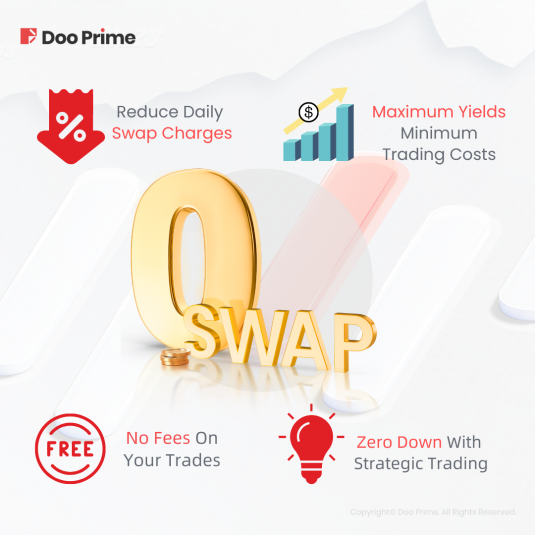 And these are just the start of the benefits. More information on how Swap-free trading can benefit you, along with details related to this exclusive perk, are available in this article. Check it out now and make your first Swap Free trading with us!
A Better Broker Choice In The Industry
As the preferred trading platform that was chosen by more than 40,000 traders alongside over 250+ institutional partners globally, Doo Prime prioritizes, and is committed to, delivering global investors with stellar trading experiences. All the while unremittingly improving the quality of our products and services among the competitors.
In pursuance of our "Clients Come First" goal, Doo Prime decided to launch a Swap Free and Swap Reduction Campaign that was requested by many of you. We heard your voice, and we are ready to serve you with better trading conditions.
Below is the comparison of swap charges between Doo Prime and other brokers after the Swap reduction for selected products.**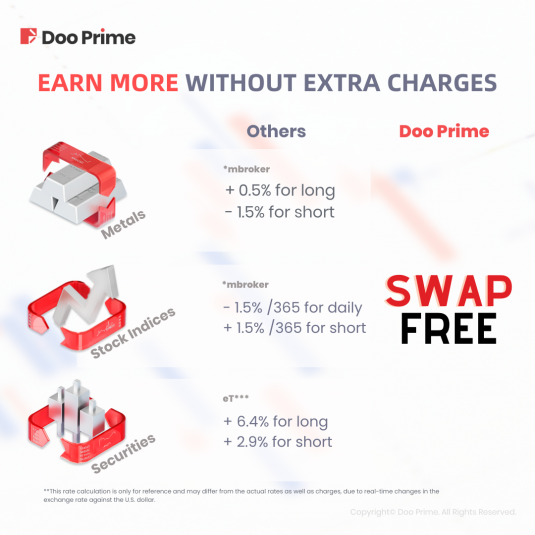 And here is another picture to show the comparison between some brokers in the industry that still charge overnight interest rates, when compared with reduced trading charges at Doo Prime**.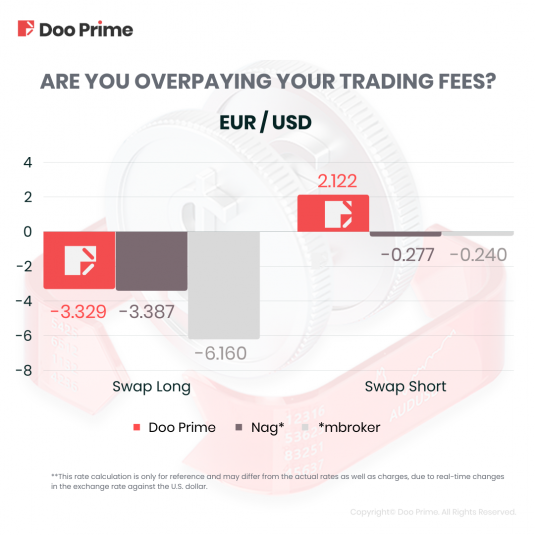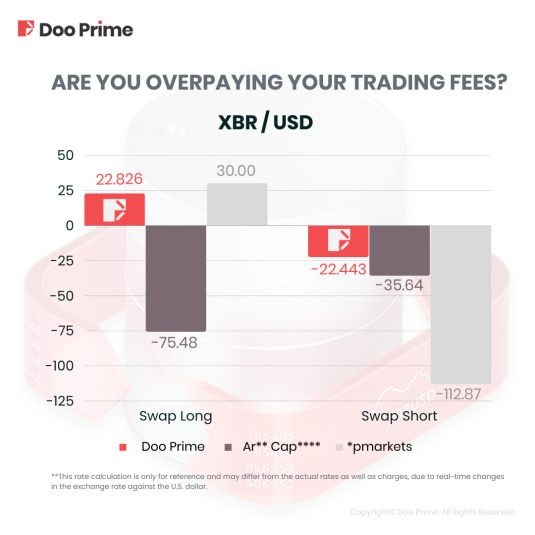 In this sense, trading in Doo Prime allows you to focus more on trading itself and likely have a better return compared to other trading platforms because we always aim to strive our best for clients.
Seize this window of opportunity, and trade with Doo Prime without paying exorbitant overnight interest rates. Contact Doo Prime's 24/7 multilingual support team now to activate the Swap-Free option on multiple trading terminals including MetaTrader 4, MetaTrader 5, TradingView, Doo Prime InTrade, and more before the campaign is gone!
* Please note that the Swap Free and Swap reduction are only applicable within the Campaign period.
** The following information is acquired as of 20th April 2022.
| About Doo Prime
Doo Prime is an international pre-eminent online broker under Doo Group, which strives to provide professional investors with global CFD trading products in Securities, Futures, Forex, Commodities, Stock Indices, and Funds. At present, Doo Prime is delivering the finest trading experience to more than 35,000 professional clients, with over 1 million trade orders fulfilled each month.
Doo Prime entities respectively holds the relevant financial regulatory licenses in Seychelles, Mauritius, and Vanuatu with operation centers in Dallas, Sydney, Singapore, Hong Kong, Dubai, Kuala Lumpur, and other regions.
With robust financial technology infrastructure, well-established partnerships, and an experienced technical team, Doo Prime boasts a safe and secure trading environment, competitive trading costs, as well as deposit and withdrawal methods that support 10 different currencies. Doo Prime also incorporates 24/7 multilingual customer service and extremely fast trade execution via multiple industry-leading trading terminals such as MT4, MT5, TradingView, and InTrade, covering over 10,000 trading products.
Doo Prime's vision and mission are to become a financial technology-focused broker, streamlining international global financial products investment.
For enquiries and further information, please contact us:
Phone:
Europe : +44 11 3733 5199
Asia : +852 3704 4241
Asia – Singapore: +65 6011 1415
Asia – China : +86 400 8427 539
Email:
Technical Support: [email protected]
Sales Representative: [email protected]
Risk Disclosure
Trading in financial instruments involves a high degree of risk due to fluctuations in the value and price of the underlying financial instruments. Due to the adverse and unpredictable market movements, large losses exceeding the investor's initial investment could incur within a short period of time. The past performance of a financial instrument is not an indication of its future performance.
Please make sure you read and fully understand the trading risks of the respective financial instrument before engaging in any transaction with us. You should seek independent professional advice if you do not understand the risks disclosed by us herein or any risk associated with the trade of financial instruments.
Disclaimer
This information is addressed to the general public solely for information purposes and should not be taken as an investment advice, recommendation, offer, or solicitation to buy or sell any financial instrument. The information displayed herein has been prepared without any reference or consideration to any particular recipient's investment objectives or financial situation. Any references to past performance of a financial instrument, index, or a packaged investment product shall not be taken as a reliable indicator of its future results. Doo Prime makes no representation and warranties to the information displayed and shall not be liable for any direct or indirect loss or damages as a result of any inaccuracies and incompleteness of the information provided. Doo Prime shall not be liable for any loss or damages as a result of any direct or indirect trading risks, profit, or loss associated with any individual's investment. The financial instruments and/or services and/or campaign which are offered by Doo Prime may not be available or offered to certain individuals or institutions, or individuals or institutions of certain jurisdictions, for more information in this respect, kindly contact us.