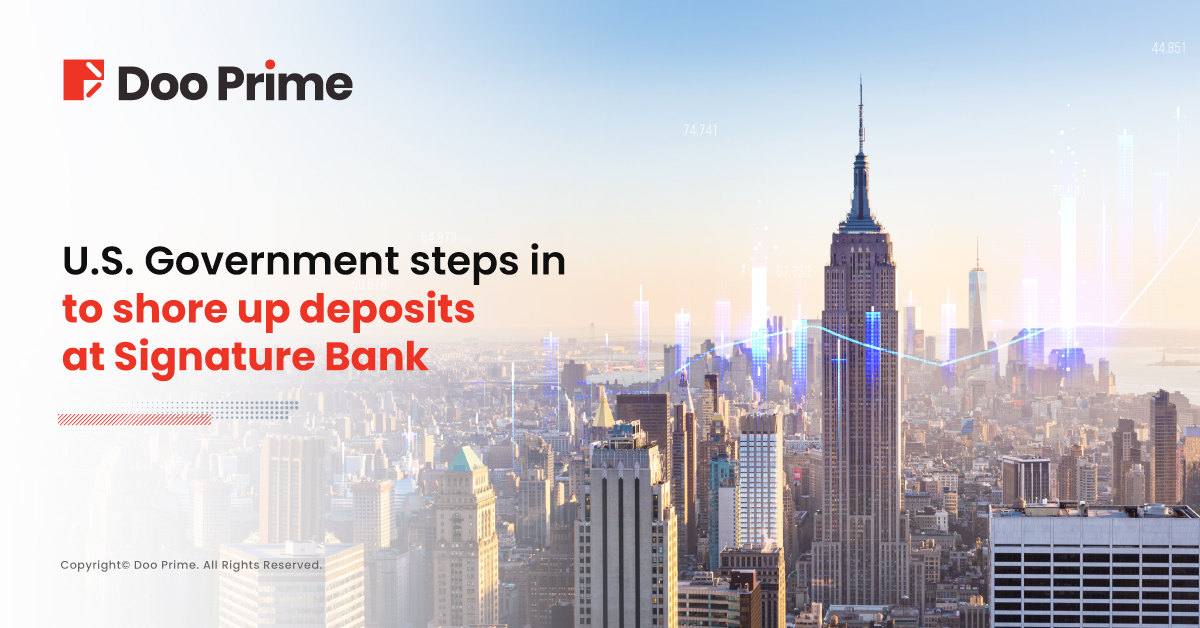 The U.S. Treasury Department, the Federal Reserve and the Federal Deposit Insurance Corporation (FDIC) announced in a joint statement on 12th March 2023 to shut down New York-based Signature Bank in a bid to prevent the spreading banking crisis. It will be taken over by the New York Financial Services Department, and depositors at Signature Bank will be able to access their funds on 13th March 2023.
Signature Bank depositors will be made whole
Signature Bank is the largest crypto-friendly bank in the United States, ranking 29th among large U.S. commercial banks. The bank has offices in several states, including New York and Connecticut, and offers up to 9 types of businesses, including commercial real estate and digital asset banking.
Nearly a quarter of the Signature Bank's deposits derived from the crypto industry as of September 2022 and the bank announced in December that it would scale back USD 8 billion in deposits related to cryptocurrencies. As of the end of last year, Signature Bank had total deposits of USD 88.6 billion and total assets of USD 110.4 billion.
In the wake of this bank's collapse, U.S. regulators are struggling to contain the damage to avoid the impact of the incident spreading to other financial institutions, which could trigger a more serious chain reaction.
As to the joint statement, "All depositors of this institution will be made whole. As with the resolution of Silicon Valley Bank, no losses will be borne by the taxpayer." However, shareholders and certain unsecured debtholders will not be protected.
FDIC establishes bridge bank; U.S. officials move to protect all deposits
Meanwhile, the FDIC has announced that it has established a "bridge bank" to handle the accounts of recently closed Signature Bank customers. The government-run institution will ensure that the accounts' operations will remain uninterrupted while regulators find buyers for the closing bank's assets.
It is worth noting that the FDIC's deposit insurance fund is over USD 100 billion, this will be more than sufficient to cover all of Silicon Valley Bank and Signature Bank's deposits.
The Federal Reserve said, " The U.S. banking system remains resilient and on a solid foundation, in large part due to reforms that were made after the financial crisis that ensured better safeguards for the banking industry. Those reforms combined with today's actions demonstrate our commitment to take the necessary steps to ensure that depositors' savings remain safe."
Faced with two major bank failures in just 48 hours, the U.S. government agencies have actively stepped in to "underwrite" the situation, which will somewhat alleviate market concerns about the spread of the banking crisis. If the impact of the banking crisis can gradually subside in the short term, it will also help in restoring public confidence in the banking system.
| About Doo Prime
Our Trading Instruments
Securities | Futures | Forex | Precious Metals | Commodities | Stock Indices
Doo Prime is an international pre-eminent online broker under Doo Group, which strives to provide professional investors with global CFD trading products in Securities, Futures, Forex, Precious Metals, Commodities, and Stock Indices. At present, Doo Prime is delivering the finest trading experience to more than 90,000 clients, with an average trading volume of more than USD51.223 billion each month.
Doo Prime entities respectively holds the relevant financial regulatory licenses in Seychelles, Mauritius, and Vanuatu with operation centers in Dallas, Sydney, Singapore, Hong Kong, Dubai, Kuala Lumpur, and other regions.
With robust financial technology infrastructure, well-established partnerships, and an experienced technical team, Doo Prime boasts a safe and secure trading environment, competitive trading costs, as well as deposit and withdrawal methods that support 10 different currencies. Doo Prime also incorporates 24/7 multilingual customer service and extremely fast trade execution via multiple industry-leading trading terminals such as MT4, MT5, TradingView, and InTrade, covering over 10,000 trading products.
Doo Prime's vision and mission are to become a financial technology-focused broker, streamlining international global financial products investment.
For more information about Doo Prime, please contact us at:
Phone:
Europe : +44 11 3733 5199
Asia : +852 3704 4241
Asia – Singapore: +65 6011 1415
Asia – China : +86 400 8427 539
E-mail:
Technical Support: [email protected]
Sales Representative: [email protected]
Forward-looking Statements
This article contains "forward-looking statements" and may be identified by the use of forward-looking terminology such as "anticipate", "believe", "continue", "could", "estimate", "expect", "hope", "intend", "may", "might", "plan", "potential", "predict", "should", or "will", or other variations thereon or comparable terminology. However, the absence of such terminology does not mean that a statement is not forward-looking. In particular, statements about the expectations, beliefs, plans, objectives, assumptions, future events, or future performance of Doo Prime will be generally assumed as forward-looking statements.
Doo Prime has provided these forward-looking statements based on all current information available to Doo Prime and Doo Prime's current expectations, assumptions, estimates, and projections. While Doo Prime believes these expectations, assumptions, estimations, and projections are reasonable, these forward-looking statements are only predictions and involve known and unknown risks and uncertainties, many of which are beyond Doo Prime's control. Such risks and uncertainties may cause results, performance, or achievements materially different from those expressed or implied by the forward-looking statements.
Doo Prime does not provide any representation or warranty on the reliability, accuracy, or completeness of such statements. Doo Prime is not obliged to provide or release any updates or revisions to any forward-looking statements.
Risk Disclosure
Trading in financial instruments involves high risks due to the fluctuation in the value and prices of the underlying financial instruments. Due to the adverse and unpredictable market movements, large losses exceeding the investor's initial investment could incur within a short period of time. The past performance of a financial instrument is not an indication of its future performance. Investments in certain services should be made on margin or leverage, where relatively small movements in trading prices may have a disproportionately large impact on the client's investment and client should therefore be prepared to suffer significant losses when using such trading facilities.
Please make sure you read and fully understand the trading risks of the respective financial instrument before engaging in any transaction with Doo Prime's trading platforms. You should seek independent professional advice if you do not understand any of the risks disclosed by us herein or any risk associated with the trade and investment of financial instruments. Please refer to Doo Prime's Client Agreement and Risk Disclosure and Acknowledgement Notice to learn more.
Disclaimer
This information is addressed to the general public solely for information purposes and should not be taken as investment advice, recommendation, offer, or solicitation to buy or sell any financial instrument. The information displayed herein has been prepared without any reference or consideration to any particular recipient's investment objectives or financial situation. Any references to the past performance of a financial instrument, index, or a packaged investment product shall not be taken as a reliable indicator of its future performance. Doo Prime and its holding company, affiliates, subsidiaries, associated companies, partners and their respective employees, make no representation or warranties to the information displayed and shall not be liable for any direct, indirect, special or consequential loss or damages incurred as a result of any inaccuracies or incompleteness of the information provided, and any direct or indirect trading risks, profit, or loss arising from any individual's or client's investment.