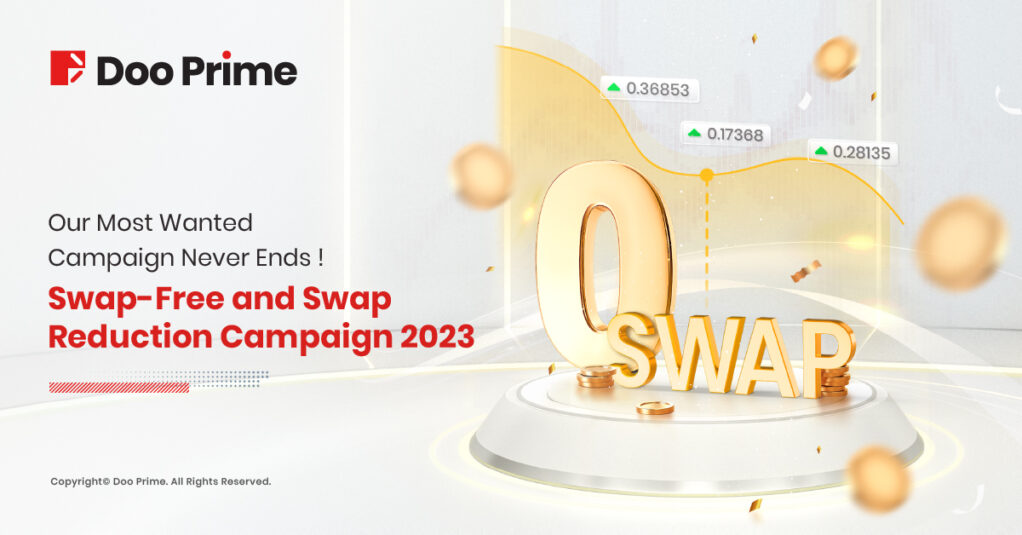 Our Most Wanted Campaign Never Ends!
2022, an eventful year for all of us. It started off strong with great conflicts — The Russia-Ukraine War, the never-ending Covid-19 pandemic, following by the aggressive Fed Rate Hikes which have curbed the inflation surge. However, great volatilities come along with great opportunities.
Doo Prime has introduced multiple campaigns and events in response to these arising trading opportunities. One of the most popular campaigns that have benefited our clients in multiple ways would be the "Swap Free and Swap Reduction Campaign". This is an event that allows clients to trade certain types of products with lowered swap and some without any swap at all!
The first round of campaign started since 26th March 2022 and ended on the 2nd July 2022. Without further ado, Doo Prime decided to start a new round of the campaign from 4th July 2022 onwards until year-to-date due to overwhelming requests from our clients.
Let's take a rewind on our Swap-Free and Swap Reduction Campaign.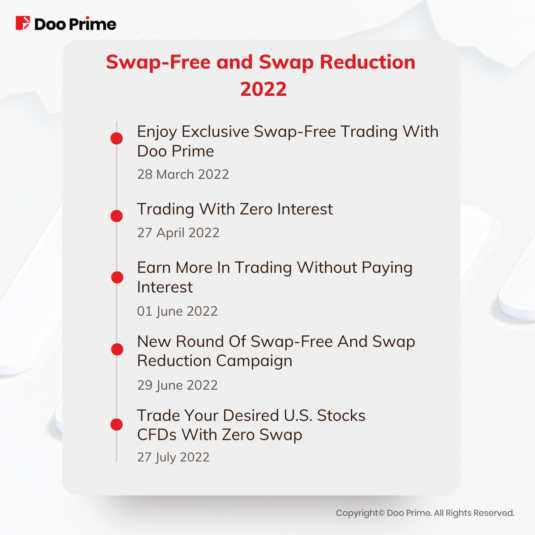 "Clients Come First" – Always Our Top Priority
Firstly, the sole reason we introduced this campaign to assist Doo Prime's clients in maximizing their trading yields by minimizing the trading cost and reducing the risk in trading. Basically, to benefit our clients in every way we could. You can read-up about the advantages of joining the Swap-Free and Swap Reduction Campaign here.
As Doo Prime is committed to providing every client with professional services, satisfactory experience and continuously creating value for our clients, we always spare no effort in pursuance of our "Clients Come First" goal.
On that account, various trending products are included in this campaign to ensure clients are able to trade the trending products.
A Campaign With Tremendous Product Choices
The waived overnight interest fees promotion has been applied to multiple trending trading products, namely the securities CFDs, forex major CFDs, Precious Metals CFDs and Stock Indices CFDs.
Other than fully waived swap fees promotions, some of the products are eligible for a reduction on swap fees such as: Forex Cross CFDs, Forex Minor CFDs, and Commodities CFDs.
Details of the Promotions are as such:
Swap-Free
The products listed are eligible for Swap-Free promotion: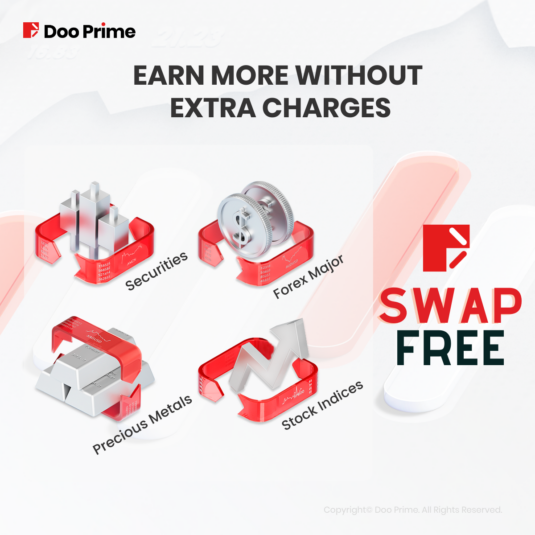 Swap Reduction
The products listed are eligible for Swap Reduction promotion: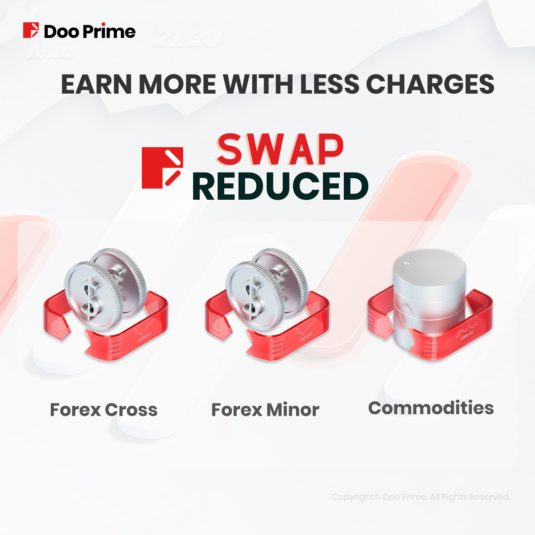 Seize Your Opportunity During The Santa Claus Rally
Santa Claus Rally, a sustained increase in the stock market that occurs in the week leading up to Christmas day. There are theories that the Santa Claus rally is caused by the fueled holiday spirits, increased holiday shopping, and spending of year-end bonuses. Some say, this is the time of year when institutional investors go on vacation and leave the market to retail investors, who tend to be more bullish.
"Santa Claus rallies are particularly predictable and strong," said Ed Yardeni, president of Yardeni Research during the 2022 U.S. midterm election years, which often provides a tailwind to the stock market.
Will Santa Claus Rally happen this year? Ride the wave of Santa Claus Rally by performing trades with zero interest with Doo Prime! Enjoy Swap-Free and Swap Reduction.
Contact Doo Prime's 24/7 multilingual support team now to activate the Swap-Free option on multiple trading terminals including MetaTrader 4, MetaTrader 5, TradingView, Doo Prime InTrade, and more.
Together We Create Impact
Doo Prime is thankful to have you with us through this adventurous year. . We would not have our tremendous growth in all aspects without your participation in our campaign. This has contributed to our trading volume, and breakthrough growth in May 2022.
Another glad tiding to note is that we managed to salvage up to USD 990,000++ of overnight interest fees for Swap-Free and Swap Reduction Campaign participants.
With yet another eventful year drawing to a close, we would like to thank our clients for being supportive to Doo Prime through thick and thin. We pride ourselves on your hard work and dedication to in making this campaign a great success. It has been an amazing experience for us and we are glad that we have marched through this journey together with our dearest clients.
We look forward to more campaigns with great rewards in the upcoming year. Stay tuned to our official channels for the latest news and offers from us!
For more campaign-related terms and conditions, clients may access our help center or contact your 1-on-1 dedicated account manager. 
| About Doo Prime
Our Trading Instruments
Securities | Futures | Forex | Precious Metals | Commodities | Stock Indices
Doo Prime is an international pre-eminent online broker under Doo Group, which strives to provide professional investors with global CFD trading products in Securities, Futures, Forex, Commodities, Stock Indices, and Funds. At present, Doo Prime is delivering the finest trading experience to more than 60,000 professional clients, with an average trading volume of more than USD51.223 billion each month.
Doo Prime entities respectively holds the relevant financial regulatory licenses in Seychelles, Mauritius, and Vanuatu with operation centers in Dallas, Sydney, Singapore, Hong Kong, Dubai, Kuala Lumpur, and other regions.
With robust financial technology infrastructure, well-established partnerships, and an experienced technical team, Doo Prime boasts a safe and secure trading environment, competitive trading costs, as well as deposit and withdrawal methods that support 10 different currencies. Doo Prime also incorporates 24/7 multilingual customer service and extremely fast trade execution via multiple industry-leading trading terminals such as MT4, MT5, TradingView, and InTrade, covering over 10,000 trading products.
Doo Prime's vision and mission are to become a financial technology-focused broker, streamlining international global financial products investment.
For more information about Doo Prime, please contact us at:
Phone:
Europe : +44 11 3733 5199
Asia : +852 3704 4241
Asia – Singapore: +65 6011 1415
Asia – China : +86 400 8427 539
E-mail:
Technical Support: [email protected]
Sales Representative: [email protected]
Forward-looking Statements
This article contains "forward-looking statements" and may be identified by the use of forward-looking terminology such as "anticipate", "believe", "continue", "could", "estimate", "expect", "hope", "intend", "may", "might", "plan", "potential", "predict", "should", or "will", or other variations thereon or comparable terminology. However, the absence of such terminology does not mean that a statement is not forward-looking. In particular, statements about the expectations, beliefs, plans, objectives, assumptions, future events, or future performance of Doo Prime will be generally assumed as forward-looking statements.
Doo Prime has provided these forward-looking statements based on all current information available to Doo Prime and Doo Prime's current expectations, assumptions, estimates, and projections. While Doo Prime believes these expectations, assumptions, estimations, and projections are reasonable, these forward-looking statements are only predictions and involve known and unknown risks and uncertainties, many of which are beyond Doo Prime's control. Such risks and uncertainties may cause results, performance, or achievements materially different from those expressed or implied by the forward-looking statements.
Doo Prime does not provide any representation or warranty on the reliability, accuracy, or completeness of such statements. Doo Prime is not obliged to provide or release any updates or revisions to any forward-looking statements.
Risk Disclosure
Trading in financial instruments involves high risks due to the fluctuation in the value and prices of the underlying financial instruments. Due to the adverse and unpredictable market movements, large losses exceeding the investor's initial investment could incur within a short period of time. The past performance of a financial instrument is not an indication of its future performance. Investments in certain services should be made on margin or leverage, where relatively small movements in trading prices may have a disproportionately large impact on the client's investment and client should therefore be prepared to suffer significant losses when using such trading facilities.
Please make sure you read and fully understand the trading risks of the respective financial instrument before engaging in any transaction with Doo Prime's trading platforms. You should seek independent professional advice if you do not understand any of the risks disclosed by us herein or any risk associated with the trade and investment of financial instruments. Please refer to Doo Prime's Client Agreement and Risk Disclosure and Acknowledgement Notice to find out more.

Disclaimer
This information is addressed to the general public solely for information purposes and should not be taken as investment advice, recommendation, offer, or solicitation to buy or sell any financial instrument. The information displayed herein has been prepared without any reference or consideration to any particular recipient's investment objectives or financial situation. Any references to the past performance of a financial instrument, index, or a packaged investment product shall not be taken as a reliable indicator of its future performance. Doo Prime and its holding company, affiliates, subsidiaries, associated companies, partners and their respective employees, make no representation or warranties to the information displayed and shall not be liable for any direct, indirect, special or consequential loss or damages incurred a result of any inaccuracies or incompleteness of the information provided, and any direct or indirect trading risks, profit, or loss arising from any individual's or client's investment.